Crocs – the shoe of choice for the long term travelling family!
Note:  I am not being paid by Crocs for this review. This is an independent thumbs up!
When I first came across Crocs I really wasn't a fan.  I couldn't understand what all the excitement was about and didn't have any thought of buying any of those weird plastic shoes with holes.  But last year in good old Strongsville Ohio, the local Crocs shop had a buy 2 pairs get one pair free special.  I was in the market for some sturdy travel shoes so I Skyped my husband and told him to check out the Crocs website to choose himself a style of shoe and to measure the kids feet!  This he did and with information in hand I returned to the Crocs shop and bought 3 pairs; one for each of the boys. At that stage I still couldn't bring myself to buy a pair, although the Crocs boots looked pretty cool. Not the right thing to wear for the first 4 months of travel in Asia however.  So, all of my boys had Crocs and we set off for our RTW adventure.
The Crocs very quickly proved their worth as they handled getting wet, muddy, dirty, washed in the shower and then again the next day and the next.  My poor old walking shoes weren't holding up so well and whilst they were still comfortable and doing a good job, they looked pretty daggy and not something you could wear for all ocassions. By the time we got to Taiwan I needed new walking shoes quite desperately. I'd replaced broken sandals in Hong Kong and bought runners but I didn't have anything that really suited lots of walking and all weather.  I trotted off to the local Crocs shop in Taipei and bought myself a pair of Crocs.  I still wasn't 100% convinced of my purchase but my boys were happy that I joined the Crocs family.
Patrick's first pair of Crocs were stolen off the beach in Cambodia and we couldn't find more until Ho Chi Minh City.  We bought fake ones for $5 in the markets and by the time we got to through China they were falling apart and needed replacing in Beijing.  Harris's first pair of Crocs met their demise in Shanghai.  All those warnings signs about Crocs and Croc-like sandals and escalators are true.  Be very careful because our son found out why you must 'Stand Firm' with your feet away from the side of the escalator.  It will suck your Crocs in with your toes inside!
Harris had other shoes as a back up so we didn't buy any Crocs straight away. By the time we got to Sweden it was evident he needed new sandal like shoes to slip on quickly. He and I went to a local shoestore and spent a ridiculous $40 on a pair of walking sandshoes.  They looked pretty cool and were quicker to put on than tying laces but within one week they became a big problem.  By this I mean, they stunk to high hell!  If Harris took them off in the car, within seconds I was having to put the car window down to breathe and had to get him to put them into a plastic bag so they didn't stink us all out.  Crocs were too expensive to buy in Europe so I found there was a Crocs shop in Brighton that we could visit on our first day back in England.
We left the stinky shoes in Paris on the fence outside the hostel. They had to go! Who knows what happened to those stinky shoes but if they made it home with someone they may well think something has died in their house with the horrible smell.  First stop in Brighton, the local mall with the Crocs shop and 19 pounds later Harris had a new pair of Crocs.  Our Crocs family was complete with all of us owning a pair at the same time.  I even invested in the cleaning sponge they sell since we now all owned a pair.
Here are our lovely Crocs. Who says you can't wear Crocs and socks?!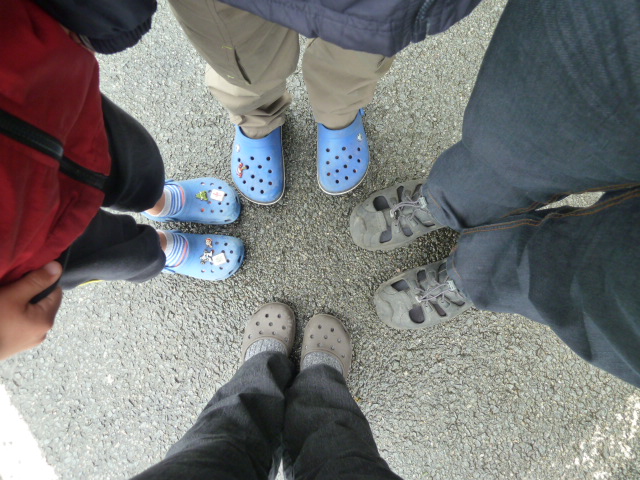 Why we love our Crocs for long term travelling:
They are light.

They are sturdy.

You can wash them in the shower overnight and they dry very quickly.

The boys are collecting Jibbitz from different countries so they have souvenirs they can't lose.

You can wear them in wet weather and your feet stay dry despite the holes in them (really).

You can't break them; apart from unfortunate brushes with escalators.

They are quick to put on so you aren't chasing children to put their shoes on when you want to get out the door quickly.

There are enough styles to suit picky shoe people like me.

They last. You can't kill the things (except in an escalator); although Steve is the only person to have his original pair of Crocs from the very beginning and they are doing him proud! They haven't been stolen, fake or crushed.
The real Crocs really are better than the fake versions.
Overall if you haven't worked it out … we love our Crocs. They are the best shoes for us for 12 months of travel and we highly recommend them.  I can't wait to try on the winter boots!
Leave a comment