Day 100 Internet issues and drenched in Danshui!
We awoke to a wet wet day and the issue of finding more internet access since our 24 hour pass had expired.  We did have thoughts of going to the Taipei Zoo and the nearby Maokong Gondola but the weather was not suitable, plus we desperately needed to access email to confirm our Taroko Gorge tour booking and to book more accommodation in China.  The hotel we were staying in was a 'business' hotel, Han She Business Hotel in Ximen – great location; but was of absolutely no real assistance with helping us access the internet and I am sure they thought we were making up our difficulties!  We headed off on an internet mission – first to one Starbucks in Ximen but they didn't sell the access cards, so we headed back to QSquare to the Starbucks there.  Steve bought a card and the young guy making coffee helped Steve to set it up again; which finally did work. 
As for me, I spotted a Business Centre in the QSquare mall just near the Starbucks. Go here if you are in Taipei!  For just NTD $15 (50 cents Australian) you can buy one hour of internet access. There is also a printer and each page of printing is just NTD $2!  The staff were extremely helpful, had great English and even let me use the phone to make two local phone calls to the tourist booking office.  I was able to sort out our tour booking, book accommodation, email and even did our 90 day visa applications for the USA.  I printed out the written directions for our China accommodation and could breathe easy that we would have a place to lay our heads for our last 2 weeks in Asia! 
By this time it was lunch and we discovered a Subway at QSquare that we had previously missed. That had a special where you could buy a 6" ham sub for $59 and for $29 add a drink and cookie = $3 Australian!  Bargain – we all had the special each and I have to say Taiwanese Subway bread is much nicer than any I have eaten before.  
Keen to get out and explore Taipei after our frustrating morning of internet finding, we decided to pick a train line and ride it to the end. We chose the Danshui line and off we went to Danshui.  What a great choice.  We arrived in Danshui and as we got out of the station saw there was a stage and stalls set up. We still don't actually know what the occasion was but all the performers that got on stage performed dance routines. We called it 'So You Think You Can Dance Danshui!'.  We also had no idea what the hostess was saying about the performers or what any of their responses were but we had fun making them up e.g. the belly dancing lady might have said … "I used to be 50 kilos heavier and then I started belly dancing. Look at me now!" 
The boys had front rows seats for the dances and we ended up watching for 1 ½ hours in the rain!  The best dancers to watch were the young men hip hop dancing and then the young boy, aged about 7 years who did a fantastic routine to 'Beat It'.  When the performances were over we headed down the main street, only to discover it is like a regular side-show alley with food stalls, gift/souvenir shops and people galore!  
It rained the entire time we were in Danshui and the kids in particular were quite damp, even with raincoats on by the time we had walked up the street and back to the station along the waterfront.  
Danshui would be a fantastic spot on a sunny day and then to get the ferry across to Bali (no relation to Bali, Indonesia) … but we headed back to Ximen and our hotel to get dry and ready for another cheap dinner. Danshui was a fantastic outing even in the rain and we'd love to go back and explore one day when the sun shines. 
Today was also Day 100 of our travels.  We thought we would celebrate and eat somewhere other than our ultra cheap favourite restaurant … so we went next door to the Korean restaurant; which still only cost us about $15 Australian for a big dinner. Here we are!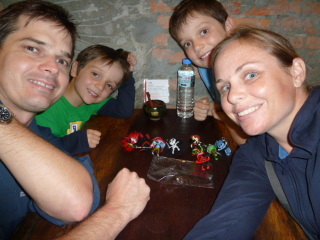 Leave a comment