Day 101 National Palace Museum and wash day
One of the premier attractions in Taipei is the National Palace Museum. I was super keen to see it but not everyone was as enthused!  Harris decided that accompanying me with the chance of including a further hunt for Dooodolls was worth a try and the best option for his day.  Steve decided he and Patrick would have a quiet day and catch up on a load of washing at a Laundromat not far from the hotel. They actually had a great time doing the laundry and chatting with the owner and her English/French/Taiwanese speaking daughter who worked for the Burkina Faso embassy.
Harris and I headed off for the train station once more and easily found our way to Jiantan station and the appropriate bus for the museum.  It really was a piece of cake to find where we needed to be and get there!  The bus for the museum takes you right to the museum front door so you don't have to park and walk a mile to get there.  There were busloads of tourists everywhere.
We bought our tickets but skipped getting a headset because we didn't want to spend too much time slowly moving through the vast number of exhibits.  I could have spent hours causally looking around but nine year old boys don't enjoy artefacts as much as adults!  The museum is huge.  Each floor has multiple rooms with different exhibits and many interesting things to see, plus the technology used in the displays is unreal.  There is a whole room of computers for people to search and learn about different exhibits and in the basement of the museum is the children's area.  It truly is an amazing museum with enough to please a nine year old as well!  If we had more time and better weather we would have explored the adjoining palace garden.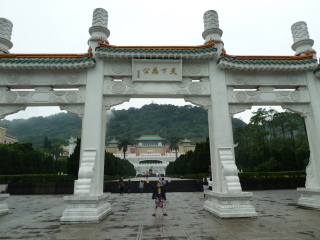 The bus back to the train station was just about to pull out from the museum when we ran to catch it.  Harris had a plan – to head back to QSquare for lunch; find the Business Centre for internet access and try to find out stockists for the illusive Dooodoll.  We grabbed more bargain Subway deals for lunch and then started our internet searching.  This time the Business Centre staff came in handy trying to translate the listing of stockists of the above mentioned doll.  We ended up with one address close to Ximen station and set off on our search.  We stopped in to see Steve and Patrick at our hotel and they joined us on the quest. Well, sadly the mall was being renovated and we presume that perhaps the Dooodolls store was once located there but was no longer.  The search will move to Shanghai!
We enjoyed people watching in Ximending, which is the local teen/young people area with cool shops and eateries. The boys returned to the hotel early and I continued shopping and people watching.  It was quite amusing to see the line up for 'Cold Stone Creamery' ice cream shop – a good 50 people had queued like it was the only ice cream around.  Maybe it was?  The streets were crammed with people and their umbrellas.  At a corner a group of Western tourists asked me if there was something special happening in Taipei because so many people were around.  I said no, not that I really knew, but surely when you cram 23 million people onto an island ½ the size of Tasmania then it is going to be busy at any time!
Anyway, last full day in Taipei over. Tomorrow we were headed to Hualien for our Taroko Gorge 2 day tour day.
No comments yet.
Leave a comment