Day 102 East Coast of Taiwan adventure
I had read on the Taiwan travel site, www.taiwan.net.tw about Taroko Gorge and the surrounding area and decided that it was worth paying the money to go on an organised tour from Taipei for two days.  Through my research on the website I contacted a travel company called Have Fun Travel www.havefuntravel. tw    Both are fantastic websites and were a great help in the planning of our Taiwan holiday.  The latest edition of the Taiwan Lonely Planet was also very helpful (March 2011) and I am glad I purchased it even for just one week. I am sure it will be used again since we'd love to go back to Taiwan … but back to the gorge trip. 
We booked the Two Days East Coast National Scenic Area and Taroko Gorge Tour; at a cost of about $950 Australian. I did 99% of my correspondence online with the company; only had to make one phone call when there was a slight hitch with our credit card payment. The trip was fantastic, well worth the money and the tour company was organised and efficient.  We were very happy with our two day tour even considering the inclement weather – it rained most of the first day and consistently the entire second day! Here is how our trip begun.
The alarm went off at 5 am on the Monday so we could be ready to meet our driver in the hotel lobby at 5.50 am.  We made it downstairs in plenty of time and luckily the kitchen was open for breakfast.  They were happy for us to make strawberry jam sandwiches to go!  Into a minivan and off to the airport to catch a 9am flight to Hualien.  I hadn't mentioned to Steve and the boys that the trip involved a flight so they were quite surprised when we arrived at the airport.  They had prepared themselves for a long bus ride.
We flew TranAsia Airlines, a new airline for us. We were barely in the air 40 minutes when we arrived in Hualien and were met by our tour guide Paula.  We were joined in our van by two ladies from Hong Kong for most of the day as we headed down the east coast of Taiwan along the coastal highway. What a spectacular drive!  We were treated to a view of the ocean most of the way south and made a few stops along the way to enjoy the scenery.
Side note: I had read that the drivers in Taiwan were dangerous and the roads just as bad but I was presently surprised and actually rank them as some of the best in Asia in our experience; certainly beats Vietnam roads and drivers hands down.   
All along the coastal highway there are well maintained and modern facilities for cycling, picnics and camping.  Some stops have clean toilets and shower facilities and are well signed for English readers.  We stopped at a number of places including the Tropic of Cancer marker; Pachi Scenic Lookout and Caves of the 8 Immortals – Lingyan Cave. 
Whilst Steve and I were happy to look out the window and take in our surroundings, children are less inclined to want to look at the view.  They were allowed some gadget time between stops and mini hikes.  Our favourite spot was the Platform of the Three Immortals (Sansiantai) which is a series of arched bridges linking the small coral island to the mainland.  If we had more time we would have explored the island more.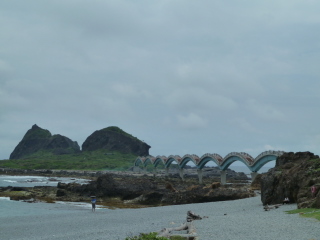 We were taken to a seafood restaurant for lunch but we really didn't want to spend that much money.  As lunch wasn't included in the tour we really could have chosen to eat anywhere; but given there is quite a small population along the east coast and thus limited food opportunities, we finally got the message across that we would be happy just to have noodles. No prices were listed on the English menu which is never a good sign – means they can make up the price on the day!  Finally two large servings of noodles with a few added vegetables arrived for TND $120 ($4) – within our budget!  The noodles were pretty good and kept the worms at bay.
After lunch we were heading north again back to Hualien and were given the choice of returning along the coast road or going inland – inland it was. Our driver Paula was glad that we choose this option and that we stayed awake for the journey. Many tourists select the alternate route but fall asleep on the way and miss it!  The inland road was very windy but also very scenic.  The best thing about heading inland was the Hualien Sugar Cane Factory. I had seen advertisements about the ice cream and we were not disappointed.
For NTD $35 the boys scored double scoop mint and chocolate cones. Check them out!  Steve and I chose the taro and peanut butter on Paula's recommendation – we were not disappointed!  There was no fish food available in the large fish so we fed the local carp, swimming in ponds made by WWII bombings, some crumpled up waffle cone.  It was then time to head back to Hualien to check into our hotel.
The 'Marshal Hotel' was the tour group hotel and obviously the choice of many tour companies.  Our room was large and comfortable and had a great hot shower.  We headed out to find food for dinner in the rain (still raining!).  The Lonely Planet listed a dumpling restaurant called 'Ye Hsiang Shi Dian' and we were going to find it.  Finally we did!  It sells one thing – a bowl of pork and seafood dumplings. The place was packed and had a high turnover of people so that is always a good sign.  Our dumplings were NTD $60 a bowl each, steaming hot and were just enough to fill us up.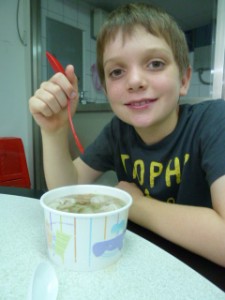 We headed back along the same street sampling some of the local delicacies at the many many souvenir food shops.  Taiwanese people love their snack foods and we couldn't believe how many shops were in one street selling the same thing; and in fact the same chain store in the same street selling the same thing!  We enjoyed taste testing without buying anything, although we really have no idea what we were eating!  Off to bed ready for a big day at Taroko Gorge ahead.
No Comments
No comments yet.
Sorry, the comment form is closed at this time.