Day 103 Taroko Gorge is gorgeous!
The Marshal Hotel does a mean buffet breakfast. In our travels so far we haven't seen anything like it!  Four long sections of tables set up, one with fruits;  one with cereal, toast, juice and milk; one with rice porridge and more fruit and one massive long set up of tables with egg, meats, vegetables, steamed buns and everything that Asian people love for breakfast!  We made sure we got our fill to start our day off well.
Our new guide Josephine met us in the lobby to start the day. Firstly we had to return to the airport to pick up those that were arriving for the day tour.  They were a little delayed as apparently a military person on board the flight had a weapon with them! Duh! The tour begun and we headed 20km out of town to Taroko Gorge National Park.  The park was everything I had expected and more.  The bus driver drove competently and even though numerous times the bus came extremely close to the edge of a cliff that dropped away into a rushing river and rocks below, I had nowhere near the same anxiety and dread that Vietnamese driving caused! 
Our guide stated numerous times throughout the day that "Taroko Gorge is gorgeous" and "Marble is marbelous!"  We do agree and the photos speak for themselves ….
We needed to wear hard huts for safety, especially when we walked through Swallow Grotto. Due to the wet weather, the grotto was actually cordoned off with a road block, but this didn't stop our guide taking us there!
Lunch was included in our tour today and we were treated to a local Aborigine meal at a fantastic location.  We enjoyed 'bamboo rice' – rice cooked in bamboo; something we have seen throughout Asia but our first experience.  This was accompanied by fish, taro, pork soup and other accompaniments.  The rice wine was served in a small ceramic pig and we 'kissed the pig' – put the mouth of the pig to our lips so the wine came out through the small hole!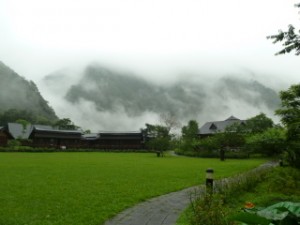 Back on the bus we enjoyed more of the park scenery including the spectacular Eternal Springs Shrine.
One of our lasts stops for the day was to see a local Aborigine dance performance. We paid an extra TND $400 for tickets (kids free) to see the show and it was well worth it to learn more about Taiwanese culture.  Of course no tour could be complete without an obligatory trip to a 'factory'/shop.  We were taken to a 'marble factory' that was one large shop basically. We'd seen our share of marble in Vietnam so it held very little interest for us and even less interest to two boys! 
Finally the tour was over and we were taken to the Hualien Train Station to return to Taipei. We grabbed some snacks at the 7-Eleven as the train journey was 2 ½ hours; a good amount of time to sit and update the website!
We arrived at the station after a pleasant train ride and were met by our driver who returned us to the Han She Business Hotel. I'd booked another night here for our last night in Taipei because it was familiar; close to the train station for our journey to the airport tomorrow and also we knew where to find food.  We settled in for an early night as we had a big day of travel from Taipei to Shanghai the next day.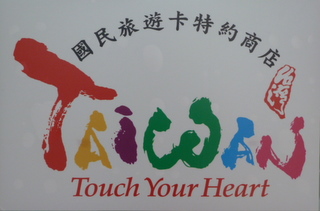 So long Taiwan. We loved our stay and hope to return again one day!
No comments yet.
Leave a comment