Day 109 – Terracotta Warrior Day
Finally the day had arrived – Terracotta Warriors Day!  I was really looking forward to seeing the guys myself.  Our tour guide Mary picked us up at 8.30 am and we joined an Australian couple and a US couple in the minivan for our day tour.  
First we headed off to the Big Goose Pagoda; named because when the monks were hungry one day and prayed for food, a flock of geese flying past fell from the sky and voila – food!
Second stop, the Banpo Museum.  According to the guide information the Banpo site is "a typical Neolithic matriarchal community of the Yangshao Culture dating back about 6,000 years. At that time, the Banpo people used tools made primarily of wood and stone. Women, the crucial labor force, were responsible for making pottery, spinning, and raising the family, while men fished".  We walked around the site and looked at the exposed skeletons laying in dirt in glass cabinets.  People were buried facing west which symbolised the end of the day and the end of a life.  In this culture it was also common to bury children in large pottery urns so that the family could keep the urn in their house to keep the children close to them;  understandable, except apparently it was also common to have a hole in the urn.  Was this to inspect your decaying child?  I can only imagine the odour when such an urn was kept in a tiny wooden house in summer.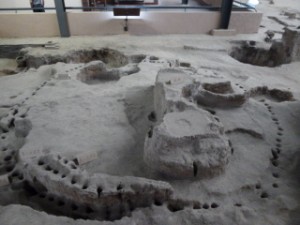 This photo shows holes in the ground where wooden poles were once dug for houses.  There are three layers of holes which indicated the house was rebuilt three times on three different layers of ground.
Next stop, the Silk Museum aka silk shop!  We listened intently to the talk and demonstration about silkworms, obviously old news to us; and then we were welcomed into the showroom to learn all about how wonderful the company's comforters and silk covers were!  They were very keen to offer us the 'Horticulture Expo' special collection at a special price and show us how compactly they could pack it all so we could mail it home; in the event we had no room in our bags!  We kindly declined; although if I had money to burn I would consider getting a beautiful silk bed cover. 
Next stop, the Terracotta Warrior Museum aka shop.  Here we saw women making miniature replica warriors and then traipsed through the extensive gift shop which sold miniature warriors from $3 US right up to lifesize versions costing $20,000 USD!  The only thing good from stopping here were the following photos!  At the Terracotta Warrior shopping street you have to pay to pose in these costumes but here was free.
Next stop lunch which appeased my starving children.  Lunch was a set menu and whilst I have tasted better Chinese food in our favourite cheap food court, it was edible.  Finally we were able to head to the warriors.  The area surrounding the warriors has become one large tourist attraction in itself with restaurants and shops everywhere including a KFC.  The walk to the museum buildings, that house the ancient collection, is also lined with more shops. The shops sell everything from mini warriors to kites and food and coffee.  Many advertise themselves as 'museums', which really means 'shop'!
We made it into the museum.  I had read that Pit 1 is the most impressive pit and should be left to last.  There was no signage telling us which pit was which so we ended up in Pit 1 first; nevermind.  We were lucky to make it into Pit 1 at all because whilst we stood outside looking at all the buildings in front of us, Harris and Patrick were stretching their legs running around.  Suddenly we heard a large thump, immediately followed by a very loud bellow … Patrick had tripped and landed chin first onto the concrete pavers. I saw his landing, as did many other tourists.  I thought we would surely be heading to Xian Children's Hospital. I knew they had one because it is opposite the Children's Park we found earlier in Xian.  Fortunately he has a very tough head and was ok after some medicine and a lolly pop I found in the bottom of my bag.
Can we just see some warriors now!  Pit 1 – here are the photos …
Yep, pretty impressive and worth the wait (and for Patrick the tears!)  An Australian tourist came up and asked how the little guy was because he had witnessed Patrick's rough landing.  Patrick was amazingly well and suffered very little swelling and bruising from the incident but was pretty tired by the time we made it to Pit 2 and 3; which are less impressive but still worth venturing into.  Thousands of the warriors are still encased in dirt and have not been painstakingly dug out; they may stay this way forever.  It really only took us just over 1 1/2 hours to peruse the warriors.  Without children you could linger longer!  We headed back to the shopping area to meet our tour group and grab a quick drink.  Along the way the boys had a photo with the little character that is the symbol of the International Horticulture Expo.
We had really enjoyed our day out and can certainly recommend the warriors.  Whist we got a 'tour', next time we would just book a car with the hotel and skip the English guide; who really didn't guide us at all.  We would also get our own lunch at one of the many food places in the museum area or equally you could take a picnic and eat it along the way to the museum.
Leave a comment