Day 111 Xian to Beijing, China
We walked the 500 metres to the bus stop down the street from the Citadine at the Melody Hotel in Xian.  The bus goes directly to the airport and stops at the two terminals. We got off at the wrong terminal and to walk to the next terminal; lucky we had a luggage trolley.  We did the check in thing and got our tickets, then went through another security check and got to our gate.  We were happily sitting at Gate 19 before realising we actually needed to be at Gate 17 at the opposite end of the terminal!
We rushed there thinking we only had 5 minutes till boarding but when we arrived we then sat for an extra hour. A large group of high school girls sat next to us and practiced their English with us; whilst Steve practiced his Mandarin; to their great amusement!  They chatted with us for 1/2 hour and took about a million photos of us in that time too! Harris was very popular!!  We finally boarded our flight and headed to Beijing.
When we arrived in Beijing, the first thing I saw was 'Pizza Hut'!  We got the Airport Express train line to the metro train and then had to walk to the hostel.  It was quite a long way but not too bad a walk. The Beijing Heyuan Hostel is in a lovely quiet area and the family room was going to be big enough for the next 8 nights.  The boys would have to sleep top and tale again.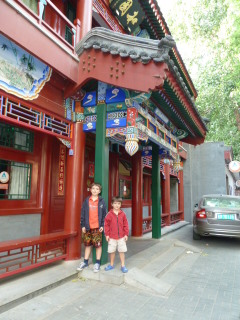 The boys were hanging out in the large common room at the hostel when they met Simone, a Chinese girl with great English. She had worked at this hostel previously and took a liking to the boys. She offered to take us to a great place for dinner so we accepted.  We had to walk and catch a train and walk again to the restaurant but it was worth it! They didn't have Peking Duck so we would have to find that another night.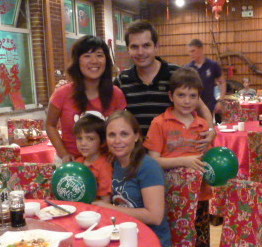 The restaurant staff gave the boys balloons to play with and actually joined in playing hitting the balloons back and forth!  After we gorged ourselves, on food other than duck, we headed back to the train station; found a grocery store on the way and finally made it back to our hostel.  Day 1 in Beijing over …
Leave a comment