Day 115 Peking Duck Day!
Our day didn't start with Peking Duck but certainly ended with it.  How could we come this far and not try the signature dish?!  We asked at the hostel to recommend somewhere local to eat duck and they recommended a restaurant about 2 km away. We set off with a piece of paper in hand with a basic map and the restaurant name in Chinese and pinyin 'Jin Ba Wan'.
We found it easily and were given a card with a number and the time we arrived; it was very busy and we had to wait about 25 minutes for a table. Luckily none of us were starving and we used the time to peruse the Chinese only menu and work out which pictures of food we should get.  By the time we were seated we had an idea of what we wanted, although we weren't entirely sure what it all was. 
Here is our Peking Duck with sauces and extra stuff for rolling in circular wrappers; pork with dumplings and a vegetable dish …
Before our duck dinner we spent the day exploring the local area that we were staying in – Jishuitan.  We went to West Lake and followed the lake system for awhile before heading back to get some snacks and I discovered the local supermarket 'Wu Mart'. 
The lake system is very popular for men to fish in; we watched them fish and they watched us. People watching in Asia is a wonderful pasttime … even if they watch us more than we watch them.
People watching can be good and bad … and just plain ugly. Like the man fishing beside the lake who decided to blow his nose by placing one finger to block one nostril and then blow the contents of the other nostril directly into the lake and vice versa!  My favourite was the lady in Xian dress and demeanour like my very polite mother-in-law … until she gave an all mighty hack and spat on the ground beside us and walked on like nothing had happened! 
That's part of life in China/Asia.  Anyway … here are some lake photos.  We were told that they don't eat the fish that they catch … luckily!
The other Peking Duck …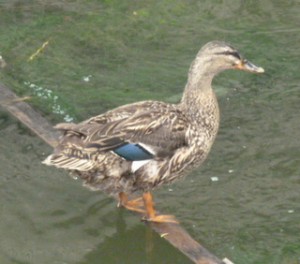 Leave a comment