Day 116 Great Wall of China Day!
We woke early to get ourselves ready for a 7.10 am pick-up by the tour driver at the hostel.  We were joined by a number of other people from our hostel and the other YHAs in Beijing.  We had thought about trying to get public transport to the wall but after we sat in the horrendous traffic we were glad that we just paid money through the hostel to organise it all.  It seemed like a very long time before we made it out of the city limits and started to see some more countryside on the way to Mutianyu.  The drive in total was about 90 minutes.
We were heading to the Mutianyu Great Wall, quieter than the Badaling section of wall and supposedly more authentic and interesting.  When we arrived we bought tickets to ride the open cable car up to the top (our first open cable car for this trip).  We were going to get the tobaggan ride down after our hike!
We hiked from tower 6 to tower 16 and back again.  That was enough in the middle of a sunny day.  We would retreat to the shade of the towers and catch a cool breeze when we needed a break and enjoyed a picnic of water and Skittles sitting in the shade of one of the towers.  The tobaggan ride down the hill back to the stall area was a fun ride. Obviously someone's Great Wall experience didn't go as well as ours because whilst we were enjoying a cold drink, we watched the local ambulance service take a stretcher up towards the wall!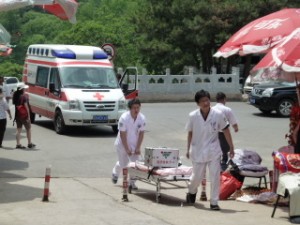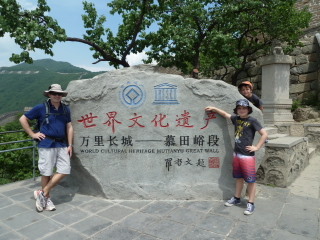 After our hiking we enjoyed a set menu lunch at 'Mr Yang's Restaurant'. We had 10 different dishes which were all really good.  Following our feast we were shuffled back onto the bus and back to Beijing.  What a great day.  The boys think the wall should be called 'The Awesome Wall of China!'
No comments yet.
Leave a comment