Day 14 – Menara KL Tower and Berjaya Times Square Mall
Today we ate noodles and roti for breakfast!  We are still working out the transport system and changed our plans to go to the KL Tower and the surrounding forest first today.  
We made it to the Bukit Nanas Forest Reserve and then walked 300 steps up through the forest and across a suspension bridge to the Menara KL Tower centre.  On our way through the forest we spotted a number of monkeys and numerous mosquitoes.  The tower complex has numerous other tourist trap activities that are included with the admission price; including the animal zoo, pony ride and Formula One simulator ride.  The tower is 421 metres tall;  the world's 4th tallest telecommunications tower.   The observation viewing deck is at 276 metres and gives a brilliant 360 degree view of KL. Each person is given a free headset with sound and visuals as you walk around the 12 viewing stations. Patrick and Harris really enjoyed listening to their own headsets.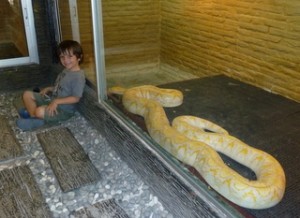 In the search for airconditioning we headed to the Berjaya Times Square shopping mall; not far from our accommodation.  We found the downstairs food court and the boys tried dim sum.  The top of the mall has an indoor theme park complete with roller coaster. We skipped that and went the to bowling alley. For $13 AU we got one game, shoe hire and a sexy pair of socks each. None of us are particularly good so the top score was Steve on 106, closely followed by Karina on 103!  We also got a few groceries from Cold Storage and headed home what we thought would be a quiet night.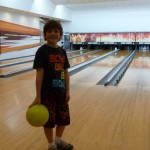 But … when we arrived back to the flat we had been invited out for dinner with our guesthouse hosts and other guests from Australia and USA to celebrate the last night of Chinese New Year. At 7 pm we headed to the restaurant. Christina, our host, ordered all the dishes. We started with a traditional dish where everyone uses their chopsticks to mix the ingredients by lifting them high into the air, the higher the more good luck; then you eat it. We also had stuffed duck, rice, noodles, vegetable dish, pork – actually don't know what it all was but it was great. As if we needed anymore food, we then went to a traditional dessert shop where we ordered egg custard, lotus seed soup, red bean soup etc. Absolutely delicious and very refreshing. Just when we thought the night was over we heard firecrackers and saw Chinese dragons. 
We headed over and got to watch a cool dragon dance show and fled for cover when they set off more fireworks; remembering a story from my cousin about his friend who is missing an eye after a firework accident! When we made it back to the flat it was after 11 pm – a late night for 2 kids after a big day.
Leave a comment