Day 142 – Road trip Sweden begins
We packed the car once again and farewelled our friends in Horby  as we commenced our road trip to Stockholm, Gotenburg and back to Horby.  I had a done a little research about places we should stop at along the way but as we headed north we had nothing definite planned and no accommodation booked.  Our LP guide, 'Europe on a Shoestring', only has a very small section on Sweden and doesn't go into great detail about the anything other than the major cities – means we have and were to find many little places of interest during our Swedish road trip that we 'discovered' all by ourselves … many of them were actually well recognised sightseeing destinations and we didn't even know until we arrived!  
It was Saturday, Midsommar Day, but we thought we'd take our chances on getting a campsite since we only had a tent and we didn't need a powered site. The Sweden 2011 Camping guidebook is a godsend – don't even consider camping in Sweden without one.  It lists hundreds of campgrounds and gives an extensive rundown on their facilities.  With that in hand we drove to Karlskrona to the Dragso Camping and Stugby (cabin) camp ground www.dragso.se
Lucky for us there were tent sites available. When we arrived it was already after 5pm.  It isn't a concern to set up camp at this time of day in Sweden since the sun doesn't go down for hours!  Steve set up the tent; I did the beds and the boys discovered the nearby playground overlooking the water.  What a beautiful spot, even if we did share it with a few hundred people and their dogs!  We explored our 'backyard' and discovered the troll garden and walked around the water's edge.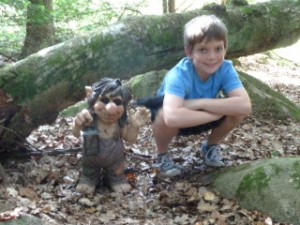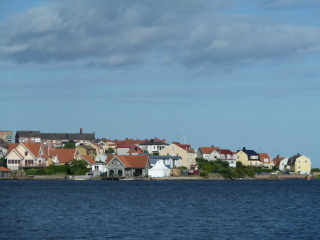 There was a basic shared kitchen that I used to cook spaghetti for dinner.  Showers cost 5 krona each for 3 minutes! Being a holiday weekend, they had organised entertainment in the park but we decided give the boys an early night. 
I headed down to the office to use their wifi because our camp was too far away for it to work effectively.  Their office closed at 10pm and I was very tired by then. I was all ready for a good night sleep but the 11pm curfew was ignored by our neighbours and I have no idea how late it was when they were finally were quiet.  Thank God for ear plugs because they are essential in campgrounds and noisy apartments.  Our black eye pads, that we bought in China, have also come in handy to block out the light since it is still daylight until 10 pm or later.  Even then it doesn't get terribly dark to encourage sleep. Our first night camping in Sweden was a success and we enjoyed fantastic weather after so many wet days.
Leave a comment