Day 143 – Road trip Sweden (Karlskrona)
A brand new day dawns.  With the camp packed up we ready to hit the road again.  Harris squeezed in a quick swim; quick because it was freezing cold. Patrick barely put his toes in before he decided it wasn't for him.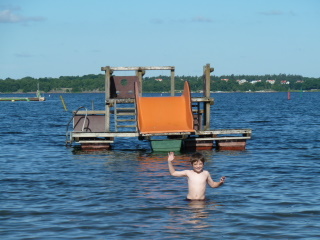 We headed into nearby Karlskrona to have a look around. It is a beautiful old city. Without children we would have lingered longer, but they weren't as keen to walk the streets as us.
Following our short stop in Karlskrona we headed to Kalmar for lunch.  We grabbed some supplies at the very large shopping complex as you head into town.  I hung out in the ICA Maxi and Steve and the boys found 'Jula', a large chain store that keeps men happy for hours! We dragged ourselves away from the shopping and as we drove further into Kalmar we spotted the famous castle (slot).  We found a fantastic spot to sit and view the castle from a nearby park. Only thing missing was a bit of sun and we could have easily done without the aggressive duck who stole Patrick's sandwich right out of his hand! 
After lunch we took a closer look at the castle but decided that more than $50 to venture in was out of our budget.  Also, as it was getting late in the day we really needed to hit the road to find a place to set up camp for the night.
Back on the road and we consulted the Swedish campground guide book. We were headed to Valdemarsvik to a small campground. We arrived to a virtually deserted campground since the holiday weekend was over.  We pitched the tent within easy access of the service building; which we had pretty much to ourselves the whole time we were there. We paid a small fee to access the internet during our stay and I was able to sit in the dining room and update the website and even Skype.  We enjoyed walking around the grounds in the afternoon and sitting and looking out over the water.  The kids got to bed for an early night as we had another big day of driving tomorrow to get to Stockholm.
No comments yet.
Leave a comment