Day 145 – Road trip Sweden (Stockholm)
We didn't sleep easily because the room was a little stuffy.  If we opened the window then we got to hear the local hoons in their cars roaring up the main road.  Nevermind. We set off into Stockholm. The hostel was a short distance from train station. We bought tickets for 3 for 75 krona to get just 2 stations away to T-Centralen!  When we arrived there we promptly bought Stockholm cards for 2 adults and one child for 1000 krona.  These give you free admission to numerous museums and attractions as well as free public transport – we bought 2 day passes. It took us a little while to get the hang of the Stockholm public transport system but once we worked it out we had no issues getting around.  Only issue is the fact that there is absolutely no airflow in the trams or trains.  We experienced brilliant 26 C weather in Stockholm whilst we were there, but I don't know how many times I thought I might faint on a train or tram in those 2 days that we tripped around!
Our first stop in Stockholm was the Vasa Museum, one of the must see sights in Stockholm and the world. I knew we were going to see an old boat but I knew nothing else.  Our Stockholm cards got us in. Well, I have to say that along our travels so far there are some sights that have a real wow factor e.g. Great Wall of China, Royal Palace Museum in Taipei, Angkor Wat in Cambodia.  The Vasa Museum has wow factor! 
We stepped into the purpose built museum, after lining up with the crowds; and chatting with the Australians in front of us!  The wooden boat sank in Stockholm Harbour on its maiden voyage in 1628.  Once it was found again in harbout and recovered, it took years to fully restore it .  It is now the only almost complete 17th century ship.  The boat was sprayed with a special chemical for 18 years and then took another 9 years to dry out!  It is now 95% original which is truly remarkable given that it sat in murky water and mud for 300 years.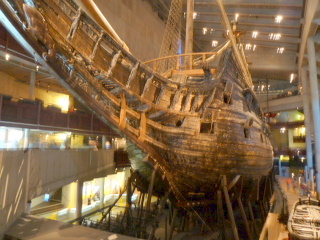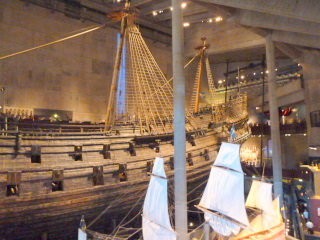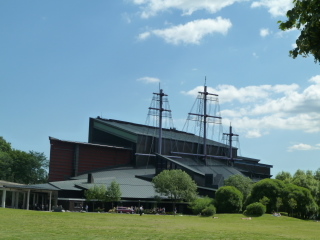 The water in the harbour doesn't allow shipworm to live so the wood in the boat didn't get riddled with ship worm holes. We hung out in the museum for 2 hours; watched a short documentary on its restoration, walked up and down the many levels of the museum and checked out the museum shop.  We were all in need of food so we set off to find lunch.
Normally we are more organised and have food and drinks with us, but today we weren't.  We decided to check out 'Junibacken', a nearby attraction for children which features the storybook characters invented by famous Swede Astrid Lindgren.  Our Stockholm passes got us into the centre and we headed to the back for lunch in their restaurant.  Harris had the meatballs for 75 kr, Patrick and I had small sandwiches for 20 kr each and Steve had a sandwich for 55 kr – not cheap but necessary.  We then got in line for the 'Junibacken' train ride.  We had no idea what to expect but were pleasantly surprised to find a thoroughly enjoyable and English language ride on something that isn't a train at all.  We got into a single carriage for 4 people that moves up and down and spins as it passes through different  settings  showcasing Astrid Lindgren's story characters.  The ride is really well done and I would recommend it if you buy a Stockholm card.  We were unfamiliar with Astrid Lindgren's characters, apart from Pippi Longstocking, but we thoroughly enjoyed the ride … and the opportunity to sit down.  The centre has a kid's playground as well and a lovely gift shop, although the books were expensive and not many in English. 
We were all quite tired by now but thought we'd try our luck at getting the Historic Canal Tour that is offered for free with our Stockholm card.  We finally found ourselves in the right location, only to learn that the 4.30pm boat was fully booked; we couldn't book ahead for the next day with a Stockholm card; and were only left with the option of booking for the 5.30 pm trip or perhaps missing out altogether. This meant that we had over 1 hour to fill waiting for the boat.  We found the local kiosk and sat down to rest.  I went for a little walk to the City Hall directly opposite us on another island which is quite a sight.  I didn't make it into the Blue Hall, but this is the room within the hall that they use for the Noble Prize awards. Here is a photo the tower with the 3 crown symbol.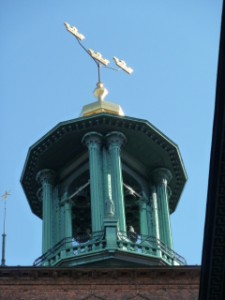 Finally we made it onto the boat. Everyone has a headset that gives a commentary in your chosen language as you ride around. It was a relaxing 50 minute around the canals.  I don't recall anything of major significance that we saw along the way but it was fun ride and the kids enjoyed it.
After our canal ride it was dinner time. We knew we were going to go to Max Burger for dinner. This is a Swedish burger joint that competes for customers with Burger King and McDonalds.  We managed to find a table for four which was really lucky given it was rush hour.  Well, I can now say I've had Max Burger. We all ordered meal deals and $50 AUS later we were full and wallet was empty!  Back on train, walk to the hostel and into bed to get some sleep before another day of adventure in Stockholm.
No comments yet.
Leave a comment