Days 147 & 148 – Road trip Sweden (Granna)
Leaving Stockholm the only thing we knew was which road we were going to drive on and that we would divert off the highway to Berg Slussar, another town made famous by the Gota Canal and it's many locks.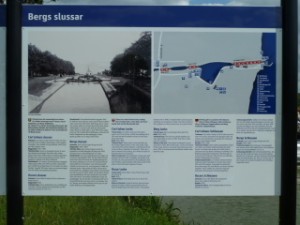 We arrived in Berg in time for lunch.  We chose to stop here because Berg has not just one lock, but 11 of them; one set of 7 and then 2 sets of 2 locks all in a row. It really is quite a sight.  What is also a sight are the locals. Setting up with a picnic to sunbathe along the canal is obviously the thing to do in Berg so we set up our picnic and watched the steady procession of boats going through the locks.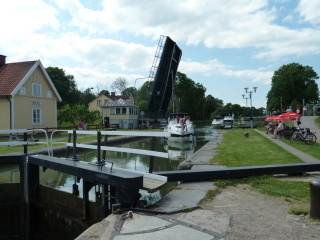 At the lake end of the canal system is a swim area. Steve and Harris couldn't help but strip off and hit the water. Patrick and I chose the warmth of the small beach and enjoyed people watching. 
As Harris popped out of the water, his face says it all – "Man is this water cold!".
After a quick swim we had to get going because once again we had to find a camp site.  We were heading to the nearby small town of Granna, located on the shores of Lake Vattern. We passed more amazingly beautiful Swedish countryside on our way and went under the Gota Canal – yep under!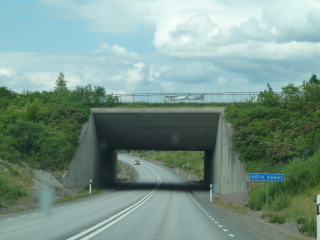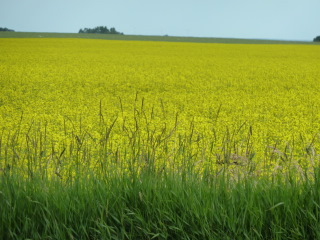 We easily scored a tent site in the very large camping field and decided to stay 2 nights since it looked like such a lovely place; plus easier to put the tent up for 2 nights rather than just one and have to move to another place the next day.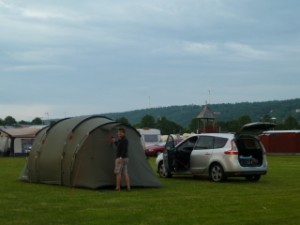 We immediately started to set up the tent as the skies looked black. Within minutes of tent assembly it started to pour with rain and Steve continued to set up the tent in the rain whilst I sheltered in the car and the boys stayed in the playground fort.  Once the tent was up the rain cleared and we were able to walk around the grounds; go down to the water and check out our surroundings.
The facilities in the Granna campsite were unreal and we used them to their full capacity over the 2 nights that we were there.  We particularly loved the large kitchen and dining room area, where we could also access the wifi. There was also a spot for people to relax and watch a large screen tv; family bathrooms and a large laundry. We enjoyed another home cooked meal for dinner and great hot showers before heading to bed.
The rain continued overnight and we awoke to a very large puddle on the ground sheet between our two rooms and wet bedding, particularly the boys' sheets as their room was situated over a hallow that had filled with water and seeped through the bottom of their tent floor. Aaah!  I was hoping for a nice relaxing day but it begun with stripping all beds so we could wash sheets. Thankfully the sleeping bags were dry.  Granna campsite luckily has a great laundry so we put on a load of washing and got it all through the drier early in the day.  The tv room came in handy for keeping the boys busy whilst we moved things and dried out the tent.
Finally the sun started to shine and in the afternoon we were able to walk into town, an easy 10 minute walk away.  Once again we were surprised to learn that the little place we chose to camp was in fact a famous location in Sweden; famous for candy or polkagriser.  Every second shop in town appears to be a candy store, complete with candy makers that you can watch through Perspex windows. 
Granna is also the birthplace for a man who lead a hot air balloon expedition from Sweden to the North Pole. Sadly it was a failed attempt and everyone died, but the artifacts belonging to the expedition were found and are on display in the local museum. We chose not to see inside the museum as it was quite expensive; some of that money was better spent on candy!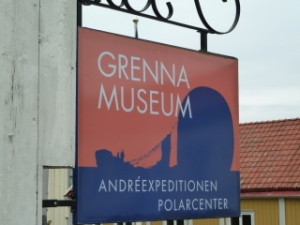 We enjoyed a light dinner that night before heading down to the water to have some 'SIA Glass'; that's a brand of Swedish icecream.  The shop had 2 large freezers of flavours to choose from.  For 20 krona each we got one scoop in a waffle cone – yum! 
Back to the tent and off to bed. Fingers crossed that it wouldn't rain again tonight.  We thought we had water proofed the tent in case it rained heavily again.  Only the daily light would reveal if our efforts were effective or not.
Leave a comment