Days 149 & 150 – Road trip Sweden (Hono Island)
We woke to find everything in the tent survived the night without getting wet even though we'd had more rain overnight.  We packed up camp; spent some time on the internet at the campground office (where it worked best) to book some of our upcoming travel. Finally we hit the road to Gotenburg.  We didn't have too far to drive and we made it to Gotenburg for lunch.  After finding a supermarket; park to sit in; picnic over; back in the car; mapped surveyed and GPS set; we headed to Hono Island to visit the Sandell Family. 
Patrick and I met the Sandells in Dalat, Vietnam when we went for a walk one day.  We were actually lost and found a small restuarant for lunch and the Sandells were also eating there.  We got talking and then went to visit the 'Crazy House' with them.  The Sandells were nearing the end of a 6 month journey with their two daughters, Vendela and Freya. We have kept in touch via email since we met and now we were headed to see them and camp in their backyard!
To get to Hono Island we needed to catch the free ferry.  We just missed one but only had to wait about 15 minutes to catch the next one.  The ferry ride across took only about 10 minutes and we easily found our way to their house.
 It was great to see them all again in their 'natural environment'  and catch up on their homecoming.  Vendela made a fantastic strawberry cake – tak!  The Sandells  had just welcomed a new puppy called Alice into their lives and we shared in playing with her and keeping her out of trouble!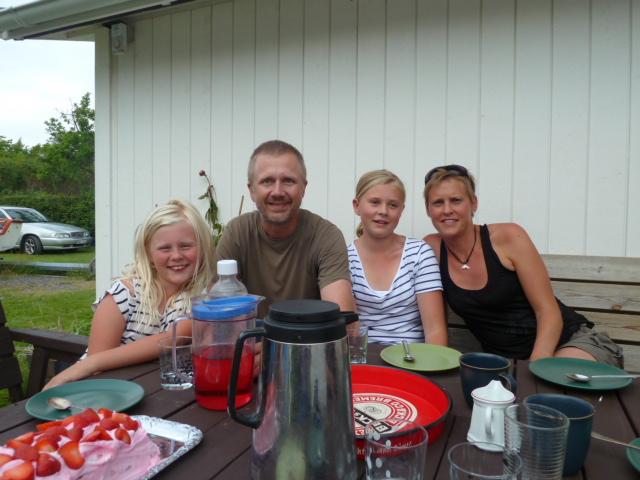 We spent two lovely nights camped in their backyard and enjoying their hospitality. Thank you!  We had a wonderful time learning more about Sweden and again eating and drinking merrily.  Many people were camped on the island over the weekend but we had the best spot.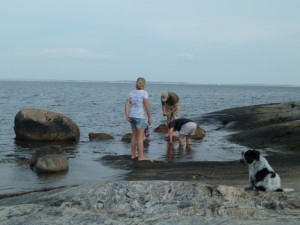 Our first afternoon on the island was enjoyed by the water, only a short walk from their house.  We took supplies and the pup and headed down to catch some crabs for crab racing.  It was a beautiful evening and we were happy to enjoy some warmer, less wet weather!
The Sandells have a boat that they enjoy taking out on the water as often as they can in the summer and we were lucky enough to enjoy a day out on their boat.  We headed to a nearby island to base ourselves for the day and had hot dogs for lunch. Alice the pup had her first outing on the boat and wore the cutest little doggie life jacket.  Alice love the rock island and especially eating the goose poo on the rocks!
Steve, Harris and Vendela even braved the cold water for a swim. We rock hopped ourselves around the island after lunch before heading back to home.
We really enjoyed our relaxing two nights on the island with our wonderful hosts.  Tack to the Sandell Family for sharing their beautiful part of the world with us … and their backyard, tv, playstation, food, drink and washing machine!  Good luck with your endeavours and puppy training!  We look forward to keeping in touch with them and following their lives in Sweden in the years to come.
Leave a comment