Day 163 – Bremen to Wernigerode via Hameln, Germany
Up early and ready to go and we got to enjoy a lovely buffet breakfast at the hotel in a bright and sunny breakfast room.  The last time we ate out for breakfast was when we stayed at the hotel in Flensburg, Germany; this was much nicer.  On the road to Hannover first and from my reading, the best thing to see was the Herrenhauser Garten.  We plugged in the details directly into the GPS and set off.  We arrived; parked the car about as far away from the entrance as you possibly could; walked a kilometre and then discovered that the garten would cost us 10 Euro to get in.  It was huge and we didn't have the time to justify the 10 Euro because it really needed a whole day and a good size picnic to do it justice – next time.  We drove around downtown Hannover quickly to get an overview of the place and passed the local Saturday flea market.  Next time we come to Germany I would like to spend a day or so in Hannover on a Saturday!
Our major sightseeing destination for the day was Hameln, made famous by the 'Pied Piper of Hameln' fairy tale.  I read the story to the boys the night before when I found it online.  I'd never read the Robert Browning version before in old English; it was quite entertaining but I had to decipher it at times for the kids.  They got a good understanding of the story so when we arrived in Hameln they were on the lookout for rats and the piper.
Small towns in Europe are great because it is so easy to find a carpark and not too expensive; plus there is sometimes free street parking at certain times over the weekend.  We parked and followed our noses down the street to find food.  We came across the tourist information office first which was next to a park.  At 2pm a food and wine festival was starting but our children couldn't wait for food that long.  After a play in the cool water playground we headed back to the main streets and found a bakery for lunch. 
We enjoyed pretzels, sandwiches and drinks and sat as watched the crowd go by.  Hameln was really busy with tourists on a bright sunny day. 
Back in the car because we were headed for Wernigerode (Verner-ger-road-ah).  We were headed here because it was close to a number of small towns we wanted to visit and when searching for accommodation the best place was in the Harz Hostel in this town.  I booked us two nights accommodation in the hostel.  Our room had 2 bunk beds and a private bathroom; always nice!  It also had a kitchen which is great for self-catering.
We arrived and settled into the hostel before going for a walk down the Markt area.  I was surprised because I didn't realise what a cute little town this was.  We marveled at all the old buildings, cobbled streets and shops and restaurants galore.  Right outside our hostel if we looked down the street we got a perfect view of the local castle that we would visit the next day.  We cooked dinner in the hostel; played some of the board games that were available; ate 1 Euro supermarket icecream and attempted to get an early night for a change.  Our room was really quiet which was greatly appreciated.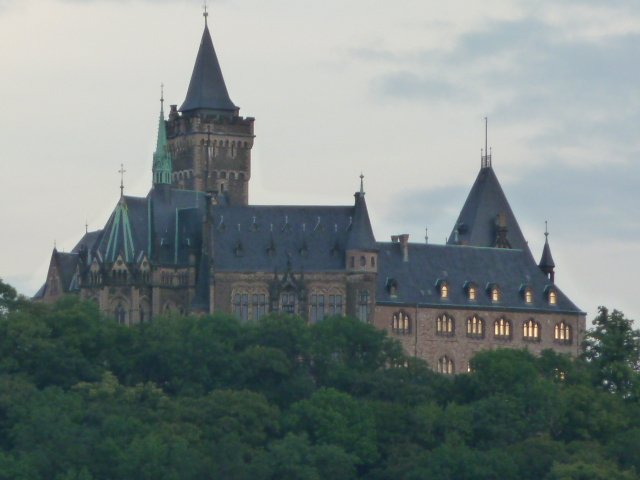 Leave a comment