Day 165 Nuremberg, Germany
At 4 am we were all wide awake and sitting in our car; not because we wanted to get a jump start on the driving but because we were rudely awakened by the shrill of the fire alarm in the hostel.  We did the right thing by evacuating and decided in the cold morning air that sitting in the car was the best place to be.  We were pretty sure there wasn't a fire but we waited outside the hostel manager turned off the alarm.  I was hoping to see the fire brigade turn up thinking that they would be the only ones to officially search and turn off the alarm like in Australia, but no … no one came and we went back to our room hoping that it was only a false alarm.  The kids went back to sleep easily but not Steve and I.  Maybe we should have just stayed in the car and drove off early!
The alarm went off at 7.30 am and we then packed up and hit the road.  We drove the country roads through to Nordhausen, passing some rundown small German towns, fields and forest in the process.  We made it to along the highway to Erfurt where we stopped at McDonalds for their clean and free toilets.  Bought some pommes frites (fries) to make chip sandwiches for lunch then back on the road to Bamberg. 
Bamberg is a UNESCO World Heritage listed city.  We drove through some heavy rain to get there but by the time we arrived the sun was out and we could walk downtown.  It was a great little place to make a stop and quite different to the other little towns we have been to. Numerous bridges criss cross over the Regintz River and we saw buildings with paintings on them which we haven't seen before.  The boys enjoyed a 35 Euro cent bretzel (pretzel) and then back in the car to drive the last 60 kms to Nurnberg for the night. We made it to the Derag Hotel Maximilian Nurnberg without a hitch and to our room. I had forgotten what I booked so I was equally surprised to find an apartment style room with kitchenette, balcony and mini courtyard with a loft bedroom for Steve and I; all for $120 Euros with parking.  That's pretty good. 
There were two supermarkets down the street, one 'Lidl' which I have been into before and a new chain store I found today 'Norma'.  Just seems like such a funny name for a supermarket.  Of course I had to shop at Norma for groceries so we could have spag bolg for dinner.  The boys had a heap of energy to burn off after sitting in the car most of the day so with map in hand we set off to discover Nurenberg.  I didn't know that the old city is surrounded by a wall!  We found the wall and one of the entrances you use to enter the city and headed to the pedestrian area.
What a beautiful city.  It really was enjoyable to walk around at 7.30 pm until 9pm as it was still light.  We walked until we came to the Imperial Castle and took in the view from the top looking out of Nurenberg.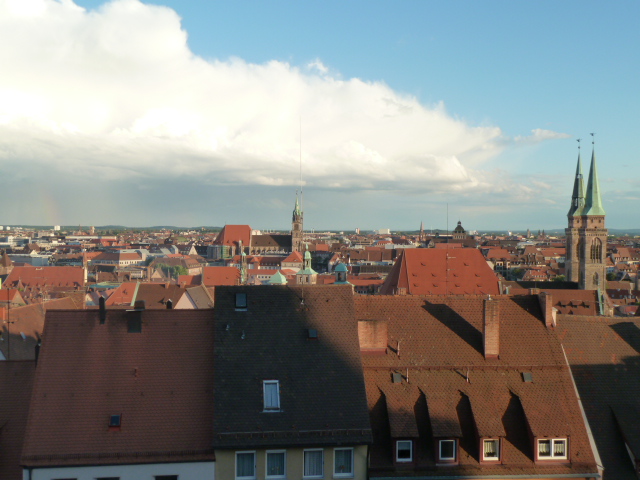 Back to the apartment we put on some washing in the basement laundry and the kids to bed.  We have decided to stay in Nurenberg another night so we can see more of the city and discover some of the other local attractions.  I love finding new places and like I have said before, Europe has so many gems you can't go wrong!  I'm looking forward to another day out tomorrow and have a surprise up my sleeve for one young man about to turn 6 on Friday!
Leave a comment