Day 166 Nuremberg, Germany (Playmobil Mini-Golf)
We all enjoyed a good night's sleep in our apartment and headed out to our secret destination for the day.  Patrick has been requesting to play mini-golf since we first played in England and saw numerous courses in Sweden at campgrounds that kept his interest alive.  We kept holding off due to the expense as it would cost about $30 Aus for all of us to play.  I told him that we would find the best mini-golf in Europe for his birthday.  Thankfully last night I read the Nurnberg tourist guide and discovered that the 'Playmobil Fun Park' has an attached mini-golf course; we could play golf without having to pay for the theme park. Great! We have certainly seen enough theme parks and the like.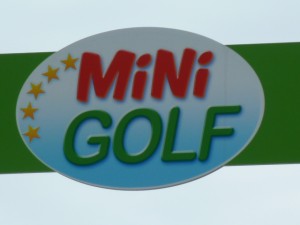 Mini-golf was the first thing on our list for the day.  As we were driving, Harris worked out where we were going because he could read the signs and as we got closer to the park he recognised the small Playmobil characters dotted along the highway.  We arrived, parked and entered the mini-golf area with one excited nearly 6 year old.  We all got in for 16 Euro which is pretty good value.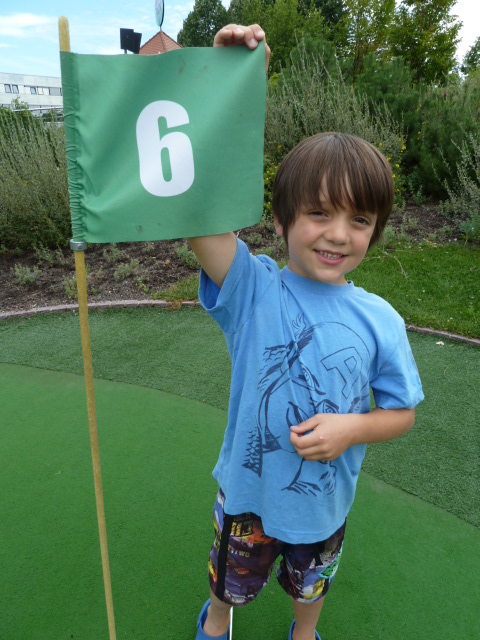 We got to play 18 holes of mini-golf.  Some holes were played well by all and others were a disaster!  We had a lot of laughs; lost one yellow ball in a bush with yellow flowers and enjoyed our game at our designated 'Best Mini-Golf course in Europe'!  (If there is better I wouldn't know but this certainly ticked all the boxes for a nearly 6 year old and it saved me searching for another place).  For the record, Steve won with a score of 68 and closely followed by Karina on 77; both boys gained scores in the hundreds; great scores for ten-pin bowling but not mini-golf. 
We spent a bit more time in the adjoining 'Aktiv Park' which had a playground, air hockey table (1 Euro for 2 games), fuseball table (0.50 Euro for 1 game) and a number of outdoor games.  We had fun playing a game with large Playmobil characters and a big foam dice.  Patrick was the winner!
No visit to the Playmobil Fun Park would be complete without a visit to the shop.  We popped in for a quick visit and ½ hour later left with a set of cool knights each.  Thanks to my Auntie Nola and Uncle Bob for the spending money they gave the boys because it is being spent wisely by each other them.  I stopped in at the Lidl supermarket on the way back for some groceries for lunch and dinner. We dined on German bread rolls, coleslaw, a selection of cold meat, cheese and salad for lunch. Yum.
The boys had a rest in the afternoon playing with their new knights; Steve rested and
Leave a comment