Day 168 Nuremberg to Munich, Germany
Up and another day of driving, this time from Nurnberg (Nuremberg) to Munich (Munchen); a relatively small day of driving compared to the day before … or so we thought. We checked out of the hotel; bought some fresh bread for the road and set the GPS to get us to Munich.   Steve had requested we go to Munich; maybe to add to his beer bottle cap collection! We packed up, without getting wet since we were in our cozy apartment and headed on the highway.  All was going well until we tried to get onto the highway. The traffic was bumper to bumper on the highway so to reduce the congestion the entrance to the highway was blocked off! Trying to tell this to a GPS was impossible and a couple more attempts to get on the highway ended with the same unsuccessful result.
Lucky we have a small European map book with us and I chose a small town out of Nuremberg and set the GPS for there. This got us out of Nuremberg but not in the right direction for Munich. I reset the GPS again for another town south of Munich and we then headed there. One hour of driving saw us go in a south-westerly loop around Nuremberg and we basically didn't gain any kilometres of driving in the direction we required! Frustrating indeed; plus this whole time it was still raining.
When we did make it onto the highway it was pouring with rain and quite dangerous driving. This didn't stop the numerous speed demon drivers racing past us at 140 km/hr. The visibility was horrible yet many drivers did not drive to the conditions at all. As we had already booked a hotel room in Munich for the night we drove directly to Dachau. We wanted to go to the Concentration Camp in Dachau as it was our only chance of going to such a place in Europe during this journey.
Dachau was one of the first concentration camps and the one upon which all others were modelled for rules and regulations during Hitler's 12 year rule. When we arrived in Dachau it was pouring rain and it was only 13C. We ate lunch standing under the car's rear door and added extra layers of warmth and waterproofing to ourselves before heading into the centre.
Admission to the centre is free; parking was 3 Euro. The visitor centre had free maps of the camp and information on all the available tours. We were just in time to join the 1 pm English tour for 3 Euro each; kids were free. Keith, an American guy, was our guide and he did a great job explaining the camp to us. The boys weren't quite as interested in the tour as us but it moved along quickly and you could return to the museum to read more if you desired after the guided tour. At 3.30 pm in the large theatre we saw a 20 minute film about Dachau. There are warnings about the film for children under 12 years; children under 6 years are not allowed to be admitted to the theatre. It was graphic in only a number of parts showing piles of dead bodies being taken in horse drawn carts for burial. We covered Patrick's eyes in these parts and in fact he really didn't watch much of the film as he was too busy looking on the ground for the candy he dropped. Harris, nearly 10 years, was quite intrigued by the film and having seen similar footage of human rights violations at the Killing Fields in Cambodia, he had a keener interest into what had occurred during WWII and in the concentration camps.
It rained the entire time we were at Dachau and was very chilly. Harris was only wearing shorts so he felt the cold more than us. The poor weather made it even more apparent to us all, but especially Harris, about how awful living in Dachau would have been.  At times the prisoners were made to stand in the roll call grounds for hours, regardless of the weather, only wearing thin pyjamas and basic wooden shoes. One night the prisoners arrived for roll call at 7 pm. Some prisoners were missing so everyone had to stand in the yard until 11 am the next morning in the freezing January night; people actually died of exposure. A little bit of discomfort on a cold wet day really pales into insignificance.
After our Dachau outing I had promised hot chocolate to warm up at a McCafe on the way to our hotel. I was sure that within the 17 kms that we would have to drive to the hotel that we would surely find one McCafe. We did and it was only 3 metres walking distance from the door of our hotel to the McCafe door! I had no idea when I booked the hotel that it was surrounded by fast food, restaurants and supermarkets. What a great find. We really enjoyed our hot chocolate and then returned to our hotel room for a rest. We watched the news since nothing else was in English. I went downstairs to the hotel desk to ask about local dinner options and bumped into a family from Australia. Robin, Victor and 12 year old son James were travelling for a few weeks and had been to Paris, Berlin, Turkey and back to Munich. We all learnt that there was a pizza restaurant right across the road.
At 7.30pm we made our way to the restaurant and had ordered when the other Aussie family arrived and joined our table. The boys had a good time playing with their techno gadgets whilst we enjoyed good conversation with other adults over some German beer. We headed to the McDonalds next to the hotel for dessert before saying goodbye and heading off to bed. Thanks for a great night guys!
Robin and James from Canberra, Australia.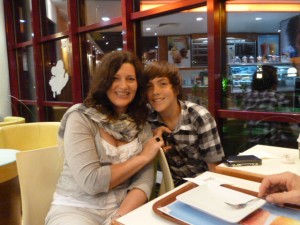 When we went to bed it was still raining and we had no idea what the weather was going to do the next day.  We had no plans or bookings as we wanted to see if the sun was shining in the morning before making a plan.
No comments yet.
Leave a comment