Day 169 Munich to Karlsruhe, Germany
We awoke to sunshine which meant we could enjoy a walk around the city of Munich.  I walked 200 metres down the road to the local Edeka supermarket and bought fresh bread, ham and quark yogurt for breakfast. We then wanted to see Munich before we hit the road again.  Even thought the hotel was close to the train line we thought it was easier to drive into Munich and find a car park.  The cost of parking would be similar to all of us paying for public transport and then when we were finished sightseeing we could just get into the car and drive to Karlsruhe.
I used the free wifi in the lobby before we left the hotel to work out that 3 hours of driving would get us to the city of Karlsruhe, halfway to Luxembourg.  I then booked a hotel on www.booking.com so that we could be assured of a room when we arrived in the afternoon. We could happily tour Munich, have lunch and drive to Karlsruhe knowing we had a room when we arrived. 
In Munich we found the car park near the HofBrauHus in Munich and parked and walked into the Marieplatz, the main square.  We wanted to see the famous Glockenspiel play at 11am.  Whilst we were waiting we listened into the New Europe tour.  These tours are in many European cities and are guided by people that speak many languages.  This tour was in English and the guy that did the most talking was actually Australian.  The tours are free and I think they like to hope that people will tip the guide when the tour is done. 
After the Glockenspiel some of its music and spinning around, we joined the tour and walked around Munich to see some of the sights with Adam as our guide.  The tour was enjoyable and informative but also 3 hours long so we skipped out early and headed off to find some lunch.  We came across the large section of town that is filled with sausage and meat shops, bakeries and biergartens.  It was really busy and we couldn't find a table so we chose to buy a currywurst and chips plate and burger at a stall where you could stand at a table and eat.  It was quite yummy actually but something you probably wouldn't want to eat every day if you have a cholesterol problem!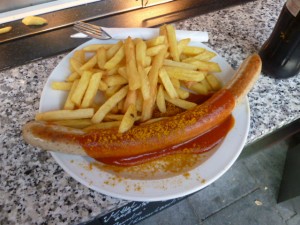 We were ready to head back to the car.  We didn't get to see all the sights of Munich but I'm sure they will be there if we ever return.  Back on the highway for our 3 hours of driving; getting out of Munich was challenging with some heavy traffic and crazy drivers.  The clouds started to build up again and we drove through rain at times along the way. We made it to Karlsruhe; missed the turn off for the hotel and u-turned to find it.  I have a love hate relationship with the GPS that has sat in my hand for the last month!  Anyway we checked into our basic hotel.  The Hotel Am Karlsor is basic but actually had 2 separate and properly adjoining rooms with a fridge,  sink and cooktop.  Not often you can prepare food in a hotel in Europe. 
The boys played with their Playmobil knight figurines, Steve rested and I went and explored the supermarket that was on street level below the hotel.  We ended up with some salad, fresh bread, ham and cheese.  Also got some lollies for Patrick's birthday tomorrow and some quark yogurt for dessert; a favourite of both boys.  We set up the computer so we could all watch a movie in English since there really is a glut of English language tv in Germany.  That doesn't stop the boys from watching 'The Simpsons' in German!  Off to bed for another day of travel to Luxembourg tomorrow.  Our last night in Germany.
No comments yet.
Leave a comment