Day 170 – Germany to Luxembourg (Patrick's 6th Birthday!)
Happy Birthday dear Patrick, Happy Birthday to you!  We started the day with Patrick opening up his little pile of presents.  What do you buy a 6 year old boy who is travelling around the world with limited space to carry 'stuff" – Lego, Lego and a little bit more Lego and an electric toothbrush.  He just announced yesterday he has his first wiggly tooth!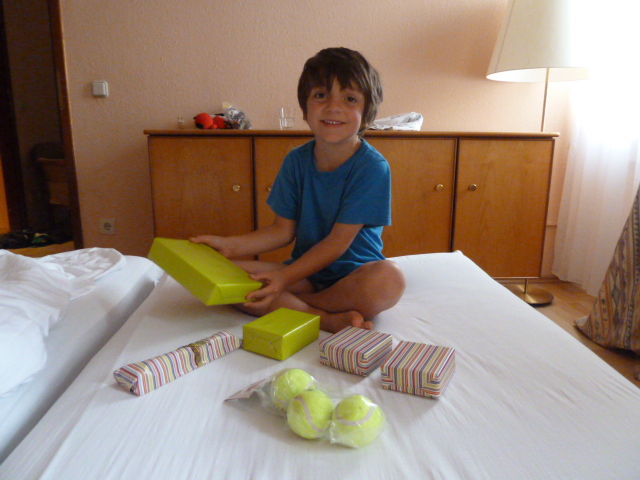 We were able to eat a buffet breakfast today before hitting the road for another 3 hours of driving. We were headed to Luxembourg to visit my old friend Judit.  The boys wanted to know if Judit had any kids; no was my answer; also no pets, but as long as she has a tv with some English on it I'm sure they'll be happy! As it turned out, Judit had an amazing DVD collection so they were more than satisfied!
We stopped in the border town of Trier (Tree-ah) which is World Heritage listed.  Patrick chose to eat McDonald's for his birthday lunch; Steve and I chose to eat a local delicacy, bratwurst and frites (large chips with a generous dollop of tomato sauce and mayonnaise). We came across a hands-on science show for kids in one of the local malls and the boys did some bubble blowing.
We walked around Trier with its beautiful cobbled streets and buildings.  One of the major attractions is the Porta Nigra; a large Roman city gate built between 186 and 200 AD!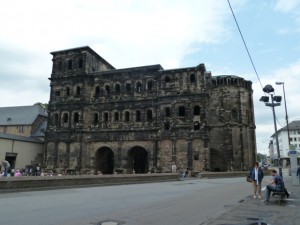 Judit was expecting us in Luxembourg so we hit the road and arrived about 2.30 pm.  Judit had bought a special birthday cake for Patrick and I had bought some decorations; between us we created a delicious good looking cake for a 6 year old!
The boys relaxed after cake watching a movie in English.  When they started getting stir crazy we headed to a local park which was a very good choice.  It is all made out of wood and the flying fox/zipline was a hit.  Harris's favourite playground equipment was a large see-saw type thing we had never seen before.
When everyone, including adults, had played enough, Judit took us to a local pizza restaurant to celebrate Patrick's birthday some more.  The name of the restaurant escapes me, sorry, but it was kid friendly and the food was great.  The boys enjoyed watching some tv whilst waiting for their pizza and then some more when they were waiting for us adults to finish.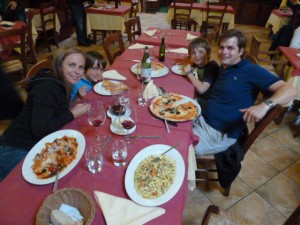 Where is Judit you ask?  We did spend the day with her but to another day for a photo of her!  We returned to Judit's apartment and put the kids to bed.  We were going to watch a movie but the news about the horrible tragedy in Oslo, Norway was all over the news so we were glued to the tv.  We had a lovely day for Patrick's birthday … very sad to realise that so many young people's lives ended that day.
Leave a comment