Day 172 – Fleron, Belgium
We were headed to Fleron, Liege, Belgium to visit my old friend Christelle.  We had not seen each other for 18 years so it was fantastic to be able to meet again.  We drove from Luxembourg to Fleron, via the city of Liege. Just before leaving Luxembourg we filled up the car with diesel since it is about 15 cents cheaper per litre in Luxembourg!  We could have also stocked up on alcohol and very large containers of tobacco at the petrol station … but we didn't!
We made it to Liege and thought we would stop and look around the city before heading to the small town of Fleron … but the city was awful to navigate with the GPS and we didn't come across any car parks close to anything that we thought was worth getting out of the car to take a better look at!  Later I read in the LP that you either love or loathe Liege. I can certainly say that after our driving experience in the city and nearly being hit by a big yellow bendy bus; I loathe the place!  Maybe one day if I ever return I will get a local to show us the sights.
We fled Leige and arrived in the quiet little town, Fleron.  We found the local 'Carrefour' supermarket, bought some lunch supplies and pulled out our picnic rug right under an apple tree and right beside the McDonalds.  We were eating cheese, ham, tomato and baguette! Yum, much nicer.
We wanted to fill in some time before visiting Christelle since she wouldn't be home till late so we thought we'd drive to the Netherlands. Sounds like a big drive but really only 40 kms to Maastricht; a beautiful city just over the border of Belgium.  It was threatening rain when we arrived and parked the car.  We walked around the city for a little while, stopped for a drink at McDonalds and watched the workers dismantle the stage from an Andre Rieu concert and then headed back to Fleron. Exciting huh!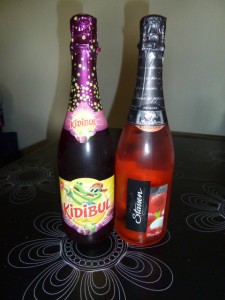 We arrived in Fleron and let ourselves into Christelle's apartment and just got settled when she arrived home. She greeted us with meatballs in a local special sauce and a baked potato dish for dinner and some local wine for adults and special kid's drink for the boys. Christelle has 3 boys aged 9, 11 and 13 so she really knows boys!  We were sad that's Christelle sons were away so we weren't going to be able to meet them. Harris and Patrick would have loved the company.  Next time!
After dinner Christelle and I went for a walk around the small town of Fleron.  It was great to have her as a tour guide and great to go for a walk after the many hours of travellingwe have done recently. We headed off to bed as we had a big day out in Brussels planned for the next day.
No comments yet.
Leave a comment