Day 173 – Big Day out in Brussels, Belgium
We explored the internet the night before to work out what we would like to do in Brussel on our big day out.  My friend Christelle was going to be our guide/translator for the day.  We decided to drive but when we hit some slow traffic at roadworks just out of Brussel I wondered whether the train might have been the better option.  Finally the traffic got moving and we were driving the speed limit again.  The weather was grey and dreary and it looked as if it would rain any second; sometimes handy to have a car in these circumstances.
Our first stop was 'Atomium', the leftover building from the 1958 World Expo that is shaped like a metal atom, only scaled to be 165 million times bigger!  It really was a cool sight.  Christelle generously bought us tickets for Atomium and the nearby 'Mini Europe' (Thanks). We navigated our way up steep escalators and down stairs to see all the circles before joining the queue for the top.  To reach the top ball there is a fast lift up and you can watch the lift go up and down through the glass panels in the elevator roof!  At the top you have a great view of Brussel; better on a clear day no doubt.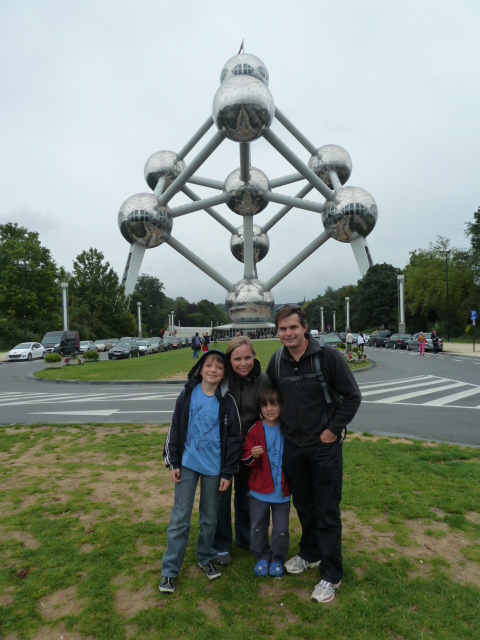 Next stop, 'Mini Europe', a large park area filled with some of the biggest sights in Europe all in model version.  All the models are built to a scale of 1:25 and are very well done.  An English guidebook guides you through the different countries and gives detailed information on all of the models in the order that you walk around.  It really is a good overview of Europe and the guidebook is one of the few pieces of paper that I will keep from our trip. Here are the boys with the only Leaning Tower of Pisa we will get to see this trip!
The other thing you couldn't miss seeing was the giant Smurf onto of the cinema nearby advertising the movie that is due to be realised soon. We came across nearly as many Smurfs for sale as chocolate in the streets of Brussel. Patrick was overcome with Smurf love and had to buy one!  He is fast running out of his pocket money from my aunt and uncle!
We were starving by the time we made it through Mini Europe; it was 3 pm after all!  We dined at Quick Burger, a Belgian hamburger restaurant chain.  It wasn't as expensive as our Max Burger meal in Sweden; I think it cost about $30 AUS for 3 adults and 2 kids to eat; but it certainly wasn't quick!  We then headed into downtown Brussel to see Grand Place and the little guy, Mannekan Pis; the small statue of the naked boy peeing.  I know it's a stupid thing to see in Brussel it's equal to going to Sydney and not seeing the Harbour Bridge and the Opera House (kind of!) 
We found a car park and with GPS in hand and 2 maps we set off to find the little guy.  Two attempts at walking in the wrong direction we decided to go to the Grand Place instead and see if we had better luck in finding the little guy after that. The Grand Place truly is grand.  We have seen a lot of town squares but this certainly has a different vibe.  I haven't added photos because they really don't capture the square in all its beauty.  The square was full of tourists and we added to the numbers.  We found the tourist information centre and they had a decent map that directed us to the little guy.  It wasn't hard to find him in the end because you just had to follow the crowd down the street full of chocolates shops selling chocolate shaped 'Mannekan Pis' statues.  Of course we had to buy two at 50 Euro cents each! I felt no need to buy a Mannekan Pis corkscrew!  There is also a Jannekan Pis the female version, somewhere in Brussel but we didn't get a chance to find her.
We jostled with a group of Japanese tourists to get a photo of him and then set off to find the Chez Leon restaurant that is known for the local delicacy, moules and frites or mussels and fries to the rest of us.  We were seated and then waited and waited and waited to be served.  The service was terrible, worse than the service at Quick Burger earlier in the day.  We were finally served and ordered a large meal for Steve and I to share; a salad for Christelle and the kids received free kids meals with dessert.  Our total bill was 54 Euro which is good value but we made sure to fill out the feedback card voicing our discontent!
Brussel to Fleron is an hour drive so we headed home, all tired from our big day out in Brussel.  The kids went to bed as soon as we could get them organised.  I stayed up till midnight on the computer since we had reliable internet so I could catch up on some blogging, plus I did a little research as we had no idea what we were going to do with our last six days in Europe.   The possibilities were endless …
Leave a comment