Day 179 Back to the UK … Brighton
Up early because we had a boat to catch to Dover.  We packed, ate, jumped in the car and followed the signs to the Calais Ferry Terminal.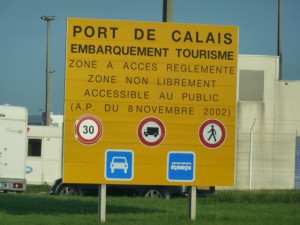 We were on time for boarding for our 9 am boat.  Showed the UK border security guy our passports to get in and he asked what our plans were when we got to the UK. We told him and he asked "Are you ever going home?"  Yes, but not just yet!  At the next counter the French lady gave us a number for our car and a lane number so we could line up correctly.  We joined the queue in lane 22; drove onto the boat and parked our car where they directed us to.  We were then able to gather some supplies to keep us entertained on the 90 minute journey to Dover.
We had an amazing view of the White Cliffs of Dover as we approached the UK. They really are quite spectacular.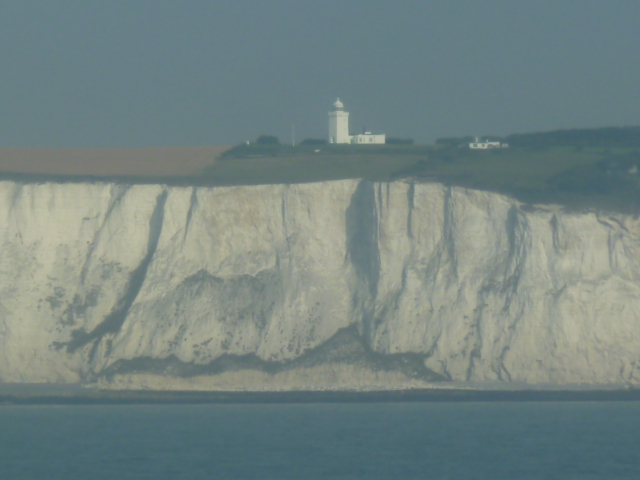 It was nice returning to somewhere slightly familiar and we managed to find the grocery store again for some picnic supplies. Also good to find cheap groceries again e.g. one pound for a kilo of bananas (sorry to all those Australians still paying $15/kg after Cyclone Yazi!)  We drove along the coastal road and made it as far as the beach at St. Mary's Bay.  It was a busy spot with family groups all along the pebbly beach.  We set ourselves up for lunch and it wasn't long before Harris decided he needed a swim and then Patrick quickly after.  So in they went and burnt off some energy.  The tide was coming in rapidly; in fact I have never seen a tide come in so quickly and soon there was no beach left to sit on; good timing to leave. 
Back in the car and we headed to Newhaven for our accommodation at the Premier Inn.  It was conveniently located right beside a 'Sainsbury' for food and also fuel.  We drove into Brighton to check it out.  What a lovely spot, if you like to share your summer vacations with thousands of other holiday makers.  We parked in the local mall which I had researched and learnt it had a Croc shop.  Harris desperately needed new shoes. The pair I bought for him in Sweden were so disgustingly smelly that we actually left them on the fence at the hostel in Paris for someone without a sense of smell to find.  Crocs were hard to find in Europe and were horribly expensive so we held off until the UK and he wore my sneakers at times; which he actually fits into quite well!
So, new Crocs it was and within 10 minutes of hitting the mall we had purchased new shoes for Harris and a Jibbitz to go in them.  We enjoyed hanging out in the mall for a couple of hours and stocked up on a list of items we had made.  Steve's list included an iPad2 which he spent one hour purchasing – Happy (early) Birthday Steve!  I got a dongle for mobile internet access so I can hopefully plan our journey along the way and update the website easily over the next month that we are in the UK. When we finally left the mall we headed down to the beach or rather huge rocky pebbly stretch of land adjoining salty water!  You really could not enjoy a gentle walk along the beach since you had to keep your shoes on to be comfortable and it was quite laborious walking across the pebbles. Bonus of pebbles is you don't walk away covered in sand!
We headed in the direction of the Brighton Pier and walked all the way to the end of the pier. It was fun soaking up the holiday atmosphere of everyone enjoying their summer vacation. I would have gotten more photos of the pier but once again we had two flat camera batteries.  It's a full time job making sure all our gadgets are charged!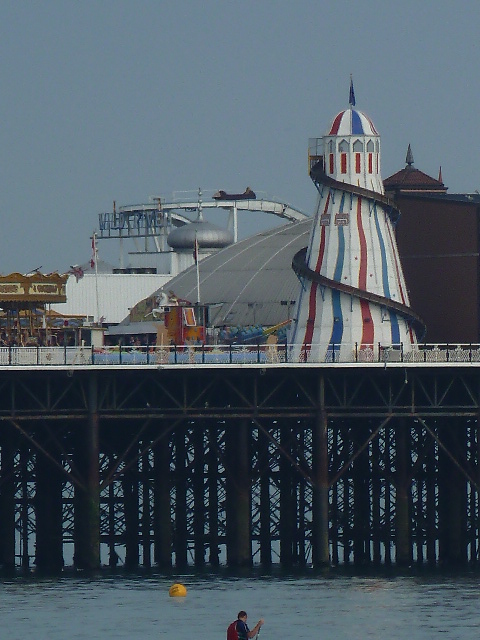 It was after 7pm by now so we headed back to town near the car to find food. The first restaurant we found informed us they children weren't allowed in after 7pm so we walked across the road where it advertised 'Family Dining' only to be told the same thing. So much for 'Family Dining'; wish they advertised the 7pm rule because we were unaware.  Considering Brighton is a family holiday destination I was quite surprised and more than a little annoyed. We then had to walk back to some of the more expensive restaurants along the esplanade and pay twice the price for dinner. Lesson learnt, eat before 7 pm or at least be seated before then! We headed back to Newhaven to the hotel for bed.
No comments yet.
Leave a comment