Day 181 The New Forest National Park
Next day was fine and sunny so we hopped in the car and headed to the first beach we could find which was Avon Beach.
It was a mix of sand and rocks and full of English vacationers.  I sat on the beach and read the book I'd been given by Debbie in Paris; Harris hired a kayak for ½ hour and bobbed around; Patrick enjoyed some rock hopping but managed to hurt himself 3 times and Steve soaked up some sun supervising his sons!  We only stayed one hour but during that time the tide came in so quickly that there wasn't any beach left by the time we left.  The wooden pillars that were in the water to help keep sand on the beach were now completely submerged so swimming was really dangerous.  As we left the beach area I spotted two sisters with their free souvenior rocks.  I had seen the girls on the beach earlier collecting the pebbles and now I could see what they were doing with them.  They had carefully drawn little pictures on each rock and were giving them away to people as a momento of their Mudeford/Avon Beach holiday.  How cute!  I chose one with a miniture deckchair and bucket and spade drawn on it.
We were all getting hungry so we headed to Bournemouth hoping to find a nice place for lunch. It was so busy we couldn't get a car park near the beach so I suggested we drive to Lymington, a small town in The New Forest National Park area; where our friends Pat and Roy live.
Lymington was a lovely little town.  We parked the car and bought picnic supplies at the local Marks and Spencer store and headed to a 'green' space to eat.  The nearest green space was the park behind the local church so we picnicked there.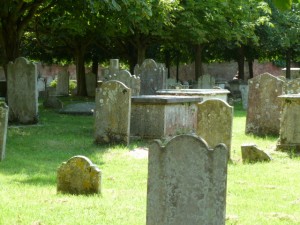 The church had a fun day on but by the time we arrived they were packing up so there wasn't much fun to be had. We walked down the street and made a few stops along the way for supplies e.g. new books and shoes.  When are shopping was over we headed back to the campsite to do another load of washing and cook dinner. The boys found a couple of kids, brothers Charlie and Bradley, to play with.  They were having so much fun that they played until after 9.30 pm and were reluctant to come to bed at all.  We reassured them that they could meet up again the next day … which they did.
No comments yet.
Leave a comment