Day 182 Sailing Day in sunny Southampton
The main reason we found ourselves in The New Forest National Park was so that we were close to Southampton to meet Pat and Roy, a couple we met in Cambodia who live in Lymington.  Roy works for a company called My Boatshare (www.myboatshare.com) that sells vacation weeks on sailing charter boats.  He had said if we get to Southampton we would be able to go out with them sailing.  Both Pat and Roy are experienced sailors with 40 years of sailing between them.  We thought meeting up to sail with them would be a great opportunity so we kept in touch through email and organised to meet on this day.  The night before Roy informed us that the weather forecast was grim.  He was right as we woke to rain in the middle of the night. I prayed we didn't get a repeat performance of our night in Granna, Sweden when we woke to a wet tent.  Steve had prepared the tent for a wet night and when we woke the contents of the tent were dry – hooray, but it was way too wet to hang around the campsite. 
We all got in the car and drove to Southampton to find a spot for breakfast. We were all tired from our late night and hungry, which wasn't a great combination for harmony!  We parked the car close to shops and found a mall with a … Starbucks, yes we do love the place (and it has been good to us!)  Steve bought a coffee and I set off to find cheaper food. Just a few shops down was a bakery and I returned with sausage rolls and sandwiches for brekky.  I did order Starbucks as well whilst we ate our imported food!  I needed to book more accommodation so I made the most of the reliable internet and set about organising as much as I could.  Even though the weather forecast was dismal, we had organised to meet Pat and Roy at the marina at 1 pm to see if things improved. I had until then to get bookings done.  The boys found a toy store and other things to keep them busy whilst I sat and thought.
By the time we headed to the marina that weather had dramatically improved. I was so happy because I really had wanted Steve to get in some sailing.  It was lovely to see Pat and Roy again and for Steve to meet them; he hadn't been with Harris and I at the silk worm farm in Cambodia when we met.  Roy led the way to the boat that we would be sailing on.  The boys and I stayed out of the way as the two experienced sailors and Steve the very keen plebe set about getting the boat ready to sail … and we were off.
We motored out into The Solent (river), heading towards the mouth of the river.  We didn't make it all the way out towards the Isle of Wight but could see it in the distance as we sailed around and tacked back and forth.  Pat had prepared a lovely picnic for us all that we ate on the boat.  The boys enjoyed playing downstairs whilst we enjoyed the sunshine, finally, up on deck. Steve spent most of his time at the helm and looked very comfortable doing so!  It was amazing how different the day had turned out to be considering we arrived in Southampton in pouring rain.
We had a lovely afternoon with Pat and Roy, who were really inspiring to us with their sailing.  They hadn't learnt to sail until 35 and 38 years of age so we weren't too late to learn!  The keep their sailing boat in Greece and had spent 7 weeks on it during the summer.  What a wonderful lifestyle to aspire to.  Something we'd like to work towards … operative word being 'work'!  We bid farewell and hope that one day Pat and Roy may visit in Australia and we can take them sailing on Colby Dam or somewhere slightly better like The Whitsundays!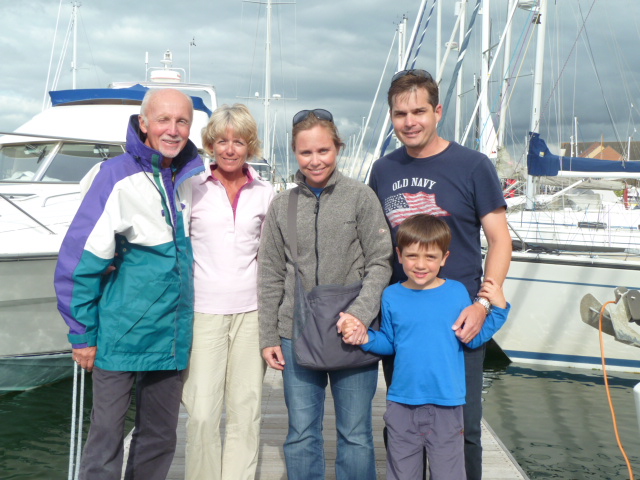 Back at the campsite, the boys eagerly awaited the return of their friends and I cooked dinner with the ingredients I picked up for 3 pounds at the Tesco Express at the marina.  We ate a New Forest Ice-cream from the campsite shop for supper and finally Charlie and Bradley returned.  The boys were like long lost buddies and played until past dark.  Knowing that we were leaving in the morning, the four boys schemed that they would wake early and meet up to play before the adults were even awake.  With that thought in mind they were off to bed early.
Leave a comment