Day 183 The New Forest to Cardiff via Bath
I was woken by a little voice calling 'Patrick, Patrick'.  It was Bradley loudly whispering to wake Patrick. Harris was up and gone at 6.30 am to wake up Charlie in their tent and when Bradley woke and realised the big boys were already playing, he needed to wake Patrick quickly!  The four boys headed off to their 'den' in the forest within the campsite.  Harris informed me later that they had a great time breaking off ferns for their tee-pee. Ahhh! "National Park" I said, please don't do that again!  We had the most amazing peace and quiet as we packed up the campsite.  Whilst Steve took down the tent, I thought I'd better wash my hair as it had been about 4 days.  I was reluctant since the water pressure wasn't so great in the campsite bathrooms, but it couldn't be avoided any longer. 
Every woman in camp had the same plan obviously because I had 5 people in line in front of me for a shower and then 2 in line in front for the 20p hairdryer. I thought I'd let my hair air dry a little and go back for the hairdryer later but in the end I didn't.  I got talking to Lesley, mother of Charlie and Bradley and before we knew it is was time to round up children so we could say our goodbyes. We found the boys in a tree in the forest having a lovely time.  Harris and Patrick needed a wash before they could get in the car!  We said farewell to our new friends and hope that one day the boys will meet up again somewhere in the world. It was great meeting you all – see you in Kent one day or come visit us in Australia!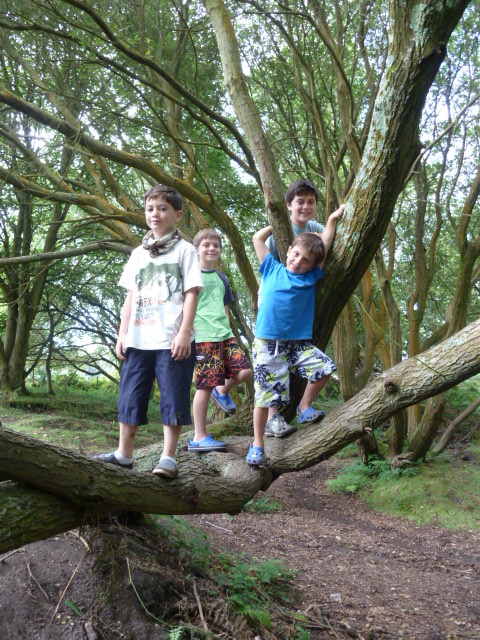 Upon leaving The New Forest National Park we had to drive past a huge number of New Forest Ponies, the world's most sedate horse I am sure; they just don't want to bloody budge even when you are right behind them.  Steve decided to gently nudge the car forward to encourage the ponies to clear the road. One decided it didn't appreciate being asked to move and gave the hire car an all mighty back kick – bugger!  We didn't inspect the damage until we made a roadside pit stop an hour later and discovered the kick had knocked out a small piece that covers a tow hole; plus there was a nice horseshoe shaped dirty mark on the car.  Better than a horseshoe shaped mark on your body if you had gotten out of the car and tried to move the ponies yourself. That would have made for a trip to hospital for sure. The horse's butt that you can see above was the devil!
Today we were driving to Cardiff, Wales, via Bath.  We set the GPS for Bath.  These days I don't immediately trust the GPS gadget and I'm glad we have a map as well. When I checked the map plan it showed the GPS was planning to take us a route that was 60 kms longer. Sure it might have been along a major highway but it was still a significant detour to what we would have done if we purely followed the map.  With a newly set GPS we arrived in Bath in time for lunch.  Bath is truly an amazing city.  I have no thought of wanting to live there and nor could I probably afford to, but I can appreciate how beautiful it is with its hundreds of stone buildings.
We parked the car in the Bath Cricket Club and followed the signs to the Roman Baths; the one thing I really wanted to see in Bath.  The Roman Baths were easy to find and we had been told that you can go into the gift shop and head towards the restaurant to get a 50p glass of local water; with a peek of the Roman Baths on the way.  Sounded like a great plan and it was.  We didn't need to spend a fortune to go on a grand tour of the Baths as the boys wouldn't have really cared.  The water tasted quite foul but we knew it wasn't going to be Evian – note: only buy one glass because nearly no one ever finishes the whole glass!  In our search for food we came across the Bhs department store across from the Baths.  It advertised that children ate for 99p. That was worth checking out.  We headed to the restaurant and learnt that if an adult paid more than 3 pounds, then kids could have a small meal with drink and an apple for 99p. What amazing value!  That's what we did. Steve actually got a really good size fish, chips and side salad for 5.50; sandwiches for me; 2 kids meals = 10.80!  I would have paid nearly this much for groceries to make our lunch.
Now that we were fed we were on our way back to the car. We walked around the front of the Baths and came across a busker with a diabolo.  He was just about to start his show so we stopped and ended up watching the whole show.  It really was quite amusing and not bad at his tricks. The boys thought he was great although compared to the Shanghai Acrobats … they are on a totally different level.  We headed to Cardiff to stay in the YHA for the night.  It wasn't a long drive to the hostel and when we arrived we were happy to see it had free parking. We had a family room with its own entrance and an ensuite.  YHAs are fantastic value and generally clean and family friendly. My only issue is having to make the beds myself when they provide linen. I know it saves them time but making four beds is a pain; plus you have to strip the linen yourself when you leave also!
As we needed food I suggested we head to the Cardiff Port as the brochure I had showed it had parking and restaurants.  It turned out to be a great location and a lovely spot to spend the evening. The area was really busy with lots of locals out and about enjoying themselves and a couple of buskers singing loudly for beer money. We ate dinner at a local burger place; which I don't need to do again in hurry, but it was edible and out of the increasingly cool air.  We grabbed some supplies for supper and breakfast at the local Tesco and returned to the hostel for bed.  Steve and I had a late night on the computer and iPad researching stuff and finally went to bed around midnight!  We didn't have far to drive in the morning luckily.
Leave a comment