Day 186 Brecon to Snowdon, Wales
We left the Llwyn-y-Celwyn YHA in the Brecon Beacons National Park and headed into the town of Brecon.  I was keen to finally send another parcel home with all the Christmas decorations I had collected whilst in Europe.  I headed into the local post office which was part of a supermarket and waited in line.  I couldn't try out the parcel packs etc since they were all behind the counter so when it was my turn I ended up purchasing two small boxes to split the weight of the items.  When I put the box together and filled it I noticed that there were two significant size holes in the box due to the way it is manufactured.  I realised this was just not going to be the best thing to mail some precious things home in so I returned the boxes for a refund and was informed that the local WHSmith bookstore sold packaging.  Off I went to find some better boxes without holes!
I found just what I needed at WHSmith and a small parcel packet for one small birthday girl in Australia. I trotted back to the car so I could pack and address the boxes; then to post office to finally mail them.  What a process!  I have to say that Australia Post has the best selection of parcel packs and post boxes out of any of the postal services we have come across and they are so easy to work with.  It took 3 adults in WHSmith to figure out how to fold the box I bought, and like I mentioned, the box from the Wales post office had holes in it!   After the posting episode it was time to buy some groceries, jump in the car and head to our next destination.  With our supply of food we could pick anywhere along the way to stop for lunch.  We made it to the town of Builth Wells before we decided to stop and eat.  We stopped in park beside the Wye River and attempted to find the sun to lay out our picnic rug.  There wasn't any sun to be found so we shivered in the shade and very cool breeze.  The clouds came over and threatened rain so we got back in the car and drove to the coast of Wales to the university city of Aberystwyth.
What a cool place …. is.  Quite literally it was very cool with a great wind chill factor as the wind blew in from Cardigan Bay.  The wind was so strong that the beach was closed and people standing along the rock wall were showered with waves crashing over them.  Fun to watch others getting wet but we certainly didn't need to.  We walked along the promenade and bought a coffee and hot chocolate to enjoy as we headed up to the castle ruins.  The boys had a great time climbing the ruins and then spotted an even better playground to run around.  Steve and I enjoyed walking around the church ground beside the park which had carefully laid out all the old headstones for people to read.  It really was amusing reading.  Is there anyone in Wales that wasn't called William or Evan?  Some people were lucky enough to be called William Williams and Evan Evans – I'm not kidding. Here is the proof!
Our drive continued north through Wales to the Snowdonia National Park where we had booked a night at the Snowdon Ranger YHA. The scenery driving through the National Park was stunning and on one occasion we came through some forested road to open area and it truly took my breath away.  The mountains all around us felt like they were closing in on us. It was spectacular and no photo could do it justice; I didn't even bother trying to take a photo. 
 We arrived at the YHA at 6.30 pm as it took a little longer to drive than we anticipated due to rain and roadworks along the way.  The YHA was an old inn and looks out over a lake.  It is a gorgeous location and once again we shared the YHA with many families.  I am still amazed by how many families use youth hostels; guess I am still stuck with thinking they are only for young backpackers like they generally are in Australia. I'd bought ingredients for dinner in Brecon since I figured we'd get in late and didn't want to have to find a supermarket. Another one pot dinner!
After dinner we played a 50p game of pool in the games room and then went for a walk down to the lake to see the sun set.  From the YHA there was a board walk down the lake and back again.  A very easy stroll to see an amazing view.  One that might have been enjoyed with a bottle of wine and a blanket to keep warm if it wasn't for tired children who needed a bath and bed! Back to the hostel and into bed so we could be ready to enjoy another day in this beautiful part of the world.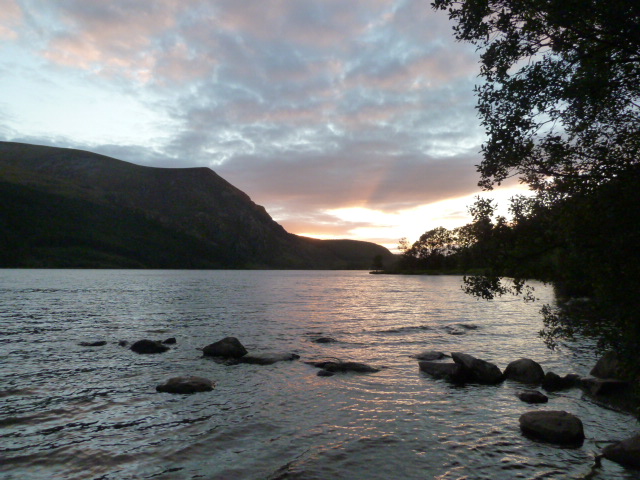 No comments yet.
Leave a comment