Day 190 Book of Kells then headed to Cong, Ireland
We enjoyed breakfast in the Dublin YHA which is served in a renovated church which is linked to the hostel.  Inside it is like a super mini Hogwarts food hall! Maybe they offer a free breakfast to make up for the horrible showers and the fact that the place is a rabbit warren with stairs and corridors everywhere!  We had our glass of juice, teas/coffee, bowl of cereal and 2 toast as specified. We also tasted the freshly baked Irish brown bread and scones that we saw come out of the oven! After packing the car, stripping the hostel beds and checking out, we drove back into Dublin. We (me) were on a mission to see the famous Book of Kells, a 1200 year old manuscript containing the four gospels of the New Testament!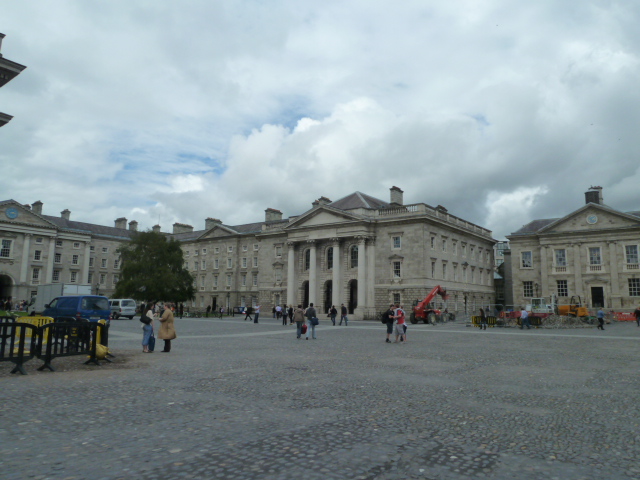 We found a carpark very close to Trinity College which houses the book in their Old Library.  We joined the queue of people, that wasn't particularly long at that stage, and waited about 10 minutes before buying tickets. As we were about to walk in, Patrick promptly needed to go to the loo so Steve had to escort him out of the building to another building for the loo. Lucky the lady at the door was sympathetic to little people so they didn't have to line up again to get in.
There is a small museum that we perused before entering the special room with the Book of Kells.  There were 4 special books to view so we took our time picking out the finer details of the pages that were on display. Obviously we weren't able to take photos so here is a google image; which really doesn't do the amazing calligraphy justice but it is better than nothing.
After the book viewing we went up to the Old Library.  Entering this room was truly a 'wow' moment.  It is spectacular. Here is an image I found through google so you can have an idea of how amazing it is.  Wish I could have a library like this at home!
Book of Kells – tick!  Now to get back into the car, after first buying lunch supplies at the Tesco right beside the carpark; and we hit the road heading to Galway on other side of Ireland.  We were hoping to find a sunny place to have lunch but the rain did not ease. We made it to Athlone and ate some sandwiches standing under  the cover of the open car boot. As good a place as any!  Back on the road to Galway. 
When we arrived in Galway it was still raining and there was traffic chaos.  Apparently Galway is known for its traffic congestion. I was keen to get out and walk around even in the drizzle but we kept on driving north to Cong because it was near impossible to find a carpark in downtown Galway. 
Cong in County Mayo; another small quiet little Irish village; which could be like a Welsh village or a Scottish village (as we were to find out).  We asked about supermarkets at the local information centre and the lady advised to drive to Ballinrobe; off we went.  It was getting late, I was getting tired after a 1 am bedtime and Ballinrobe's Tesco was not appearing before us!  We headed to the local service station for the toilets and petrol and were told to follow the Claremorris road. Off we went and voila, Tesco. I stocked up on supplies for the next 2 days and we drove to our hostel in Cong.
When we arrived it was getting late and we were tired and hungry.  We discovered the hostel was overrun, and I mean overrun with a group of French teenagers!  They had overtaken the kitchen and didn't seem to understand that other people wanted to use the limited space.  Aah!  I managed to successfully cook us a meal of Irish Stew from the fridge section at Tesco; followed up with Lemon Tart.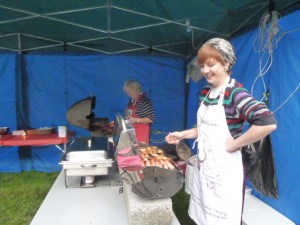 Brigid and her daughter Emma cooking up a storm (on our 2nd night).
Whilst I was cooking I met a local lady called Brigid.  She was cooking for a group of local boating people.  We got talking and soon we were sharing a glass of wine, or two, and I got to taste her amazing stew (secret ingredient: Buckfast wine); followed by her delicious pavlova and strawberries marinated in lemongrass syrup and Malibu!  Now those are two recipes I need to learn to replicate. Here is a photo of the Cong YHA …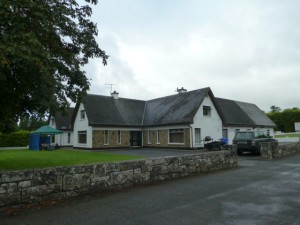 The boys got to hang out with some kids during the evening and then all 3 Baigrie boys retreated to bed early.  I stayed on talking with Brigid for awhile as a couple of men starting playing some Irish music.  Bed was calling so I headed off about 11.30 pm; only to be rudely awaken by the French teenagers about 2.30 in the morning; right outside our door.  I got up first and announced "Quiet" but it was when Steve followed up about 5 minutes later that they settled down. What a day.
No comments yet.
Leave a comment