Day 191 Out and about in Cong, Ireland.
We woke after a rough night's sleep to learn the French group had left – hooray!  The Spanish cyclists learnt that the French ate their oranges and we think they must have enjoyed our drinking yogurt; but the group was gone and that was the main thing. After a quiet breakfast we set off to find some fun in Cong.
As the weather was as good as it could possibly be, we headed off on foot into the village of Cong; about 1/2 hour walk.  It was an easy walk to town; with a light drizzle at times but not enough to make us head back.  First stop, the ruins of the local abbey. Patrick took great delight in spotting all the headstones with 'Patrick' on them, and there were many!
As you walk throught the abbey garden, you come out to a bridge across a river that leads to a nature reserve.  Along the way you pass the ruins of the Monk's fishing house.  The river water is so clear, you really do want to just scoop it up and drink it. A sign indicated that there was a short nature walk in the reserve so we thought we'd enjoy the weather whilst we could and take the chance to walk in the woods.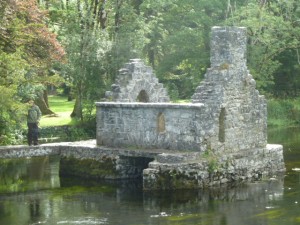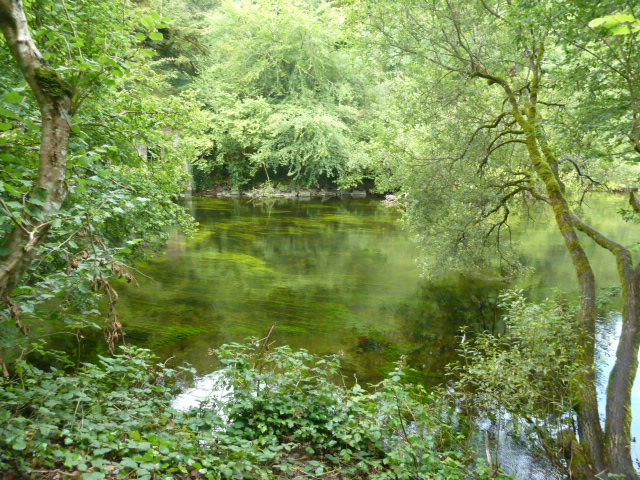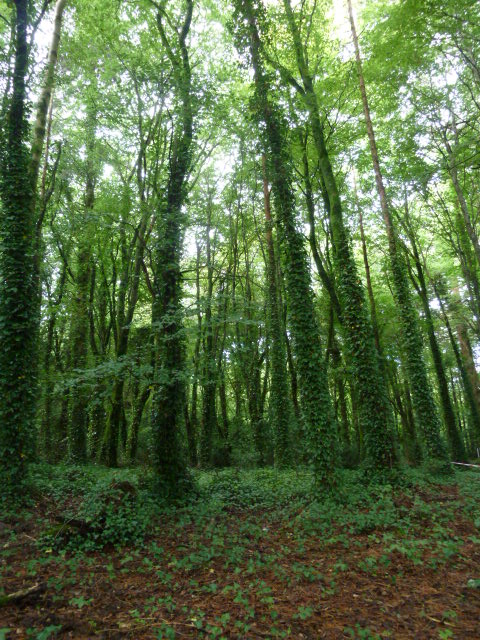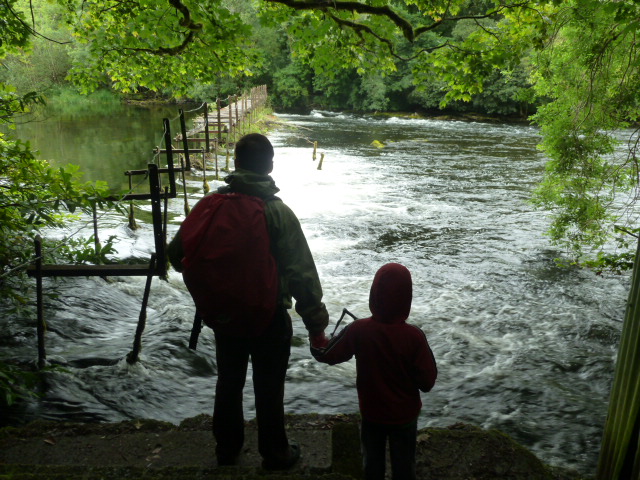 Between the village and the hostel is Ashford Castle; once the summer home of the Guiness family (so I'm told).  After 5.30pm, when the gateman is gone, you can enter the grounds without paying … so we did. We had a drive around and marvelled at how the other half live as it is now a fancy hotel and restaurant.  Back to the youth hostel for us!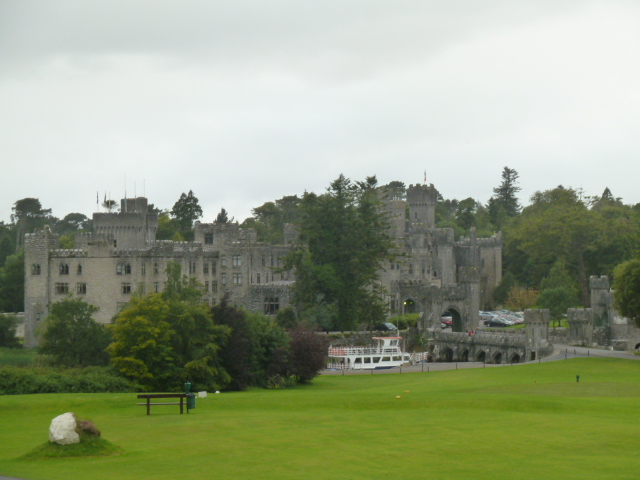 We returned for dinner at the hostel.  I approached Brigid about joining in on the BBQ dinner for the boating people tonight since I thought she would have enough and I'd tasted her cooking and knew it was good!  Yep, no worries we would eat BBQ tonight. When the boating people arrived back from their day out on Lough Corrib the beer and wine starting flowing and we were welcomed into their group.  The boys had a great time playing with a group of kids that were just their age.  Harris was a little miffed at one time because a girl had said he was showing off because he was from Australia. I explained the girl probably liked him and then he was fine about it!
We had a really fantastic evening meeting some locals.  The fun went on into the wee small hours as a few of the group were very musical and started playing guitar, tin whistle and banjo.  Two men took turns singing and often everyone would join in.  We found the craic in Cong!  The boys put themselves to bed about 11 pm but it was 2.30 am before Steve and I headed to bed.  What an amazing experience.  Something you couldn't ever plan. I was hoping to add a couple of photos or even some video but wordpress is playing up.  Hopefully soon!
No comments yet.
Leave a comment