Day 194 Donegal to White Park Bay, Ireland
Our next hostel on the Irish YHA path was White Park Bay; I'm glad I got in and booked this place early.  It was only about 2 hours drive north of Donegal and we had to drive through Derry/Londonderry on the way.  As we came to Derry we decided to find a place to park and have a walk around.  We ate a quick sandwich in the carpark before setting out on foot to walk around the only completely walled city in Ireland.  The wall was built in 1618 and measures one mile in circumference.  We started walking along the wall and spotted the famous murals on building walls on the other side of Derry.
Patrick needed a bathroom so we politely asked at the little church located along the wall and were shown to the cleanest toilets we have seen in a while.  Here is a photo of one of the gravestones that we spotted in the churchyard; certainly have never seen one like this before.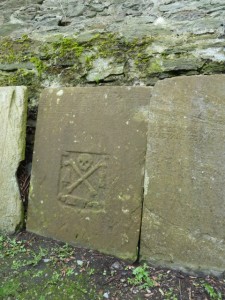 Further down the wall we came across of group of young teens and two 'youth' leaders that were teaching the boys 'Parkour' which is a physical activity that involves jumping all over your environment e.g. off walls, playground equipment and whatever is in your way!  Something Patrick does naturally.  We watched them practicing their techniques of jumping up and down a wall for about 15 minutes.  It was really interesting and I could see Patrick in 10 years time perfecting his techniques of jumping all over any structure that is still.  Harris was keen to have a go as the boys weren't much older than him but we moved since we didn't want to interrupt their good work.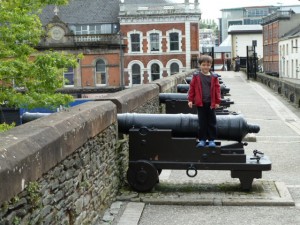 Downtown Derry and we split up for an hour to walk around the shops; nice to have an hour of peace!  Back into the car again for our next destination …  The Causeway Coast and the Giant's Causeway.  Just the other night we had read the story of Finn McCool, the Irish man who argued with a Scottish Giant.  They both starting making a causeway across the water to fight each other.  When the Scottish Giant saw the baby of Finn McCool; which was actually Finn in disguise, he decided that if Finn's baby was that big then Finn himself would be huge so he ran back to Scotland and broke up the causeway – thus the Giant's Causeway. 
The Causeway Coast drive is spectacular and they claim it to be one of the best drives in the world – it sure is.  We along drove part of the drive before coming to Bushmills, a small and very busy tourist town close to the Giant's Causeway, and followed the hourdes of tourists to a closeby carpark.  Once the car was parked (6 pounds later) we walked up the hill to the visitor centre and started up and down the path to get to the beach and those famous stepping stone basalt rock columns. 
The rock formations were really cool to see, even covered in tourists; which made a sight in itself.  The boys had a great time rock hopping and amazingly didn't twist an ankle!  Here are the boys above sitting on the Giant's Boot!
Giant's Causeway – tick!  Pretty cool … have you ever seen the Tesselated Pavement in Tasmania near Port Arthur. That is an amazing site as well.  Now for our youth hostel and I knew it was supposed to be popular for it's location; we were not disappointed.  The coast leading to the hostel was just breathtaking and then suddenly we were at our hostel and it was overlooking the best bit, White Park Bay.  Take a look at our view!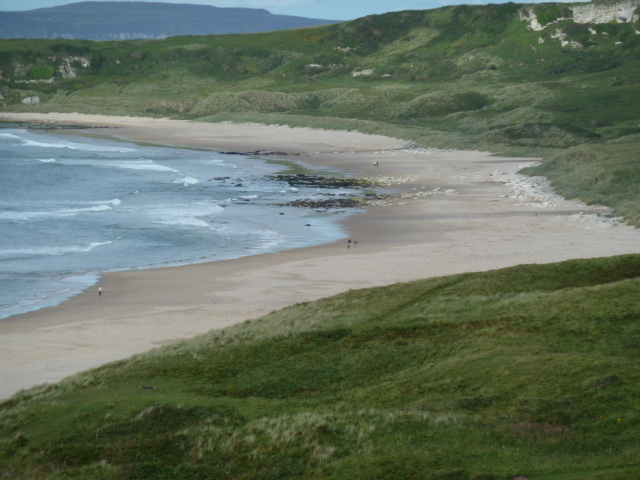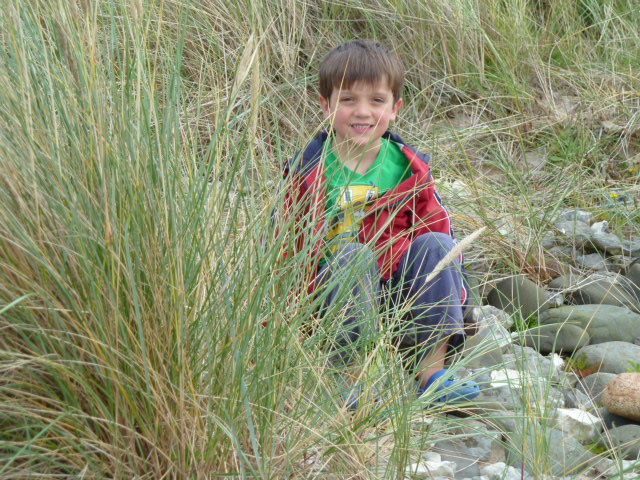 After checking in we needed to go to Ballycastle for a grocery run so we got to see a bit more of the coast in daylight.  Back in the hostel I cooked dinner and we had time to go down to the beach for a walk. How beautiful! A great end to a fantastic day in Ireland.
No comments yet.
Leave a comment