Day 196 Last day in Ireland
Our last full day in Ireland and we didn't have to drive far from White Park Bay to Dunadry north of Belfast.  After doing our routine chores of eat, wash, strip beds and pack the car we set off along the eastern part of the Causeway Coast.  Tiny little towns are dotted along the coast that weren't marked on my road map.  Beautiful serene Red Bay looked like a great spot for morning tea, looking out at the sailing club action whilst we ate our cream bikkies and flavoured milk.
Larne was our next stop for lunch so we bought groceries at the local Lidl supermarket and found a spot down by the water for a picnic. Whilst we were eating Harris let out a 'wow'!  We all turned to look where he was pointing and we saw a huge P & O ferry right behind us passing in the nearby waterway heading to Troon.  Tomorrow morning bright and early we would be on a P & O Ferry too. It really was a site to see – sorry didn't have my camera with me but Steve had his binoculars to survey the area.
Well and truly ready for a break now we plugged in the details for our hotel into the GPS and set up.  I'd booked a night at the Dunadry Hotel. I spotted the sign for it on the main road so we pulled into car park and I thought this can't be it. I only paid 99 pound for the room and this place looked to fancy! The GPS didn't seem to think it was the right place either so we followed it down the road and around the block … right back to the same hotel.  It was right!  We had booked a spacious room with king bed for us and singles for the boys. The bathroom was the same size as some of our YHA rooms!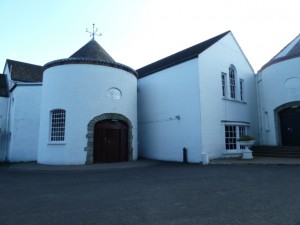 Harris and Patrick turned on the tv and surfed the channels whilst Steve and I tried to get my internet dongle to work … again!  When I'd had enough of banging my head over the frustrating little gadget I went for a walk to find the country club's gym and pool that was included in our room price.
When Harris heard there was a pool he was ready in a flash and out the door in minutes.  Amazing how fast they can move when they want to!  All 3 boys hit the indoor heated pool and I went to the gym to slog it out.  Steve had researched on the net for somewhere to eat in Dunadry.  Right across the road, within easy walking distance, was Ellie May's; off we went.  How could we leave Ireland without a pub meal?
Steve and I both ordered the beef and Guinness pie with fried onion and potato plus a side of vegetables because we didn't know how much food we would get. We'd needn't have worried about lack of food because we all had a huge amount to eat. Luckily our boys have good appetites so they actually helped us finish our meals!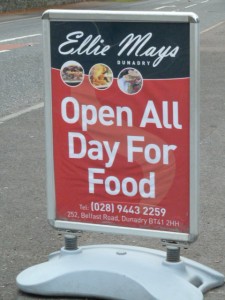 The stroll back to the hotel was much needed after our huge dinner. It was time for bed for everyone since we had a very early start in the morning, perhaps the earliest yet for us … 4.30 am!  We set our alarms and tried to settle to sleep except the thump thump thump of the dance music coming from the wedding reception in the hall was loud and the people talking right outside on the terrace were loud too!  I called the reception at 10.30 pm and asked when the music would settle down, his reply 1 am!  Are you #&%& kidding me?  I was most unimpressed. We are seasoned travellers and don't go anywhere without our ear plugs but let me tell you, even the ear plugs were no competition for the bad dance music.   Maybe if they had had the courteous to inform us when we checked in that there would be a reception we would have been prepared.  Needless to say that Steve and I did not sleep well. Luckily the boys didn't seem to notice the music and slept through the racket.  Roll on 4.30 am …
Leave a comment