Day 207 Dalkeith, Scotland
Goodbye Ivy Guest House and we drove 7 miles down the road to the small town of Dalkeith; certainly not a place high on many people's must see list in Scotland.  Dalkeith was high on Steve's list because of a strong Baigrie Family history link.  Steve had a small list of places to go in Dalkeith so we set off to find them. First stop, the World War I and II war memorial that had his great grandfather's name on it.  The memorial was easy to find as the park was in the main street with the memorial visible from the street.  Here are the photos finally!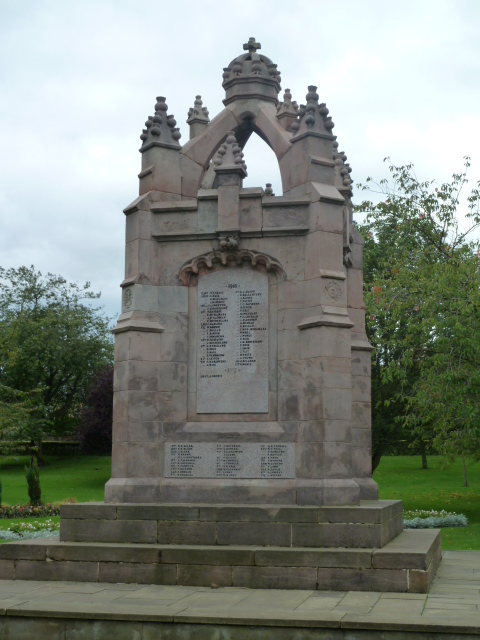 Next stop, the local cemeteries to see if we could find any Baigrie headstones.  No luck in the first church yard.  I had said to Steve that it may be unlikely that we would find a headstone as those that did have headstones were wealthy merchants, professors and tradespeople.  His ancestors were not well to do and may not have marked graves at all.  Not stop was the watch tower in a small graveyard.  The watch tower was built in 1827 so someone to guard the cemetery at night from body snatchers!  We had another picnic lunch in a graveyard; we have had a few picnics in beautifully maintained cemeteries that are like public gardens; this did not fall into that category.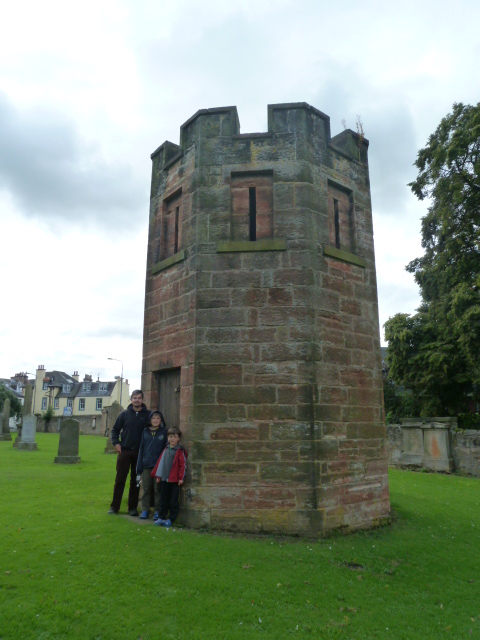 After lunch we headed to the final cemetery (a newer one with more recent burials) compared to the other two.  A workman arrived whilst we were there and I encouraged Steve to ask if there was information or a map available to help locate people.  What luck because David the maintenance man/grave digger then spent the next 45 minutes helping us go through the old written records he kept in his dishevelled shed and walked around the cemetery with us helping us locate the numbered plots.  Without him we would have been totally lost and gone away empty handed. 
As predicted, none of the three Baigrie graves that we set off to find were actually marked.  Old George, whoever he was, did have a very large tree marking his spot!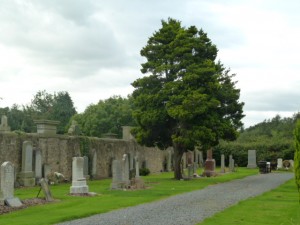 The other two, both William, had nothing on their plots to indicate they were even there so we would have walked past all of them.  There was a headstone for Helen Baigrie but we aren't sure how she fits in the family tree. 
David suggested we head to the local library to seek out more information.  Dalkeith Library suggested we head to Lornham to seek out the Midlothian History Library.  Off we went.  The librarian at Lornham was most helpful and was actually working on a project collecting information about all the local WWI war heroes.  Steve was able to provide him with information that he hadn't found e.g. microfiche copy the local paper with his great grandfather's death notice; and Steve was able to give the librarian copies of certificates and papers that he had found online. We left the Midlothians with a bit more knowledge of where Steve's family had originated and who they were.
Back on the road and we headed to Cramlington near Newcastle to  spend the night.  There was nothing special at all about Cramlington apart from having a motel and accompanying restaurant that we could enjoy after a long day of research.  It really was just a short overnight stop before we headed to our next destination, York.
Note:  Photos to come when internet improves!
Leave a comment