Day 208 Cramlington to York, UK
Cheap cornflakes for breakfast; packed the car and headed out of Cramlington on our way south to York.  Was a quick drive to York and we found a car park overlooking a Castle in the middle of the city.  We headed into the Coppergate Centre to line up for the Jorvik Viking Centre.  I had read about it online and thought the boys would enjoy it, although didn't really know what it was all about. Fifteen minutes of queuing and 26 pounds later we entered the centre. 
York has a long Viking history and the Jorvik Viking Centre attempts to recreate a viking village.  Like the Junibacken centre in Sweden, we sat in a automated carriage like thing that moves on a overhead track throughout the exhibit and gives a running commentary of what you are seeing.  It was kind of fun, lasted about 15 minutes and makes me glad I didn't live in that era; do I recommend the centre?  Hmmm, yes and no.  If you don't want to spend 26 pounds then you can sleep knowing you haven't missed a must see attraction.  If you have kids then it might be worth doing on a rainy day when you have seen everything else in York!  When you buy the ticket you get free admission to the centre for a whole year!  I don't think that is necessary – once in my life is enough.
Next stop, in our discovery of York, the local Marks and Spencer store for lunch for sandwiches and drinks.  When I stepped out of the shop, the boys had a front row bench seat to watch a busker from Australia called Psycho Sam.  I wish I could give him a write up like the NZ Mullet Man, but I can't.  His act was too forced and at times he just was not funny; not even when Steve was called out of the audience to help in his act.  Sorry Psycho Sam; turn it down a notch and get rid of some clique jokes and you'd do a lot better.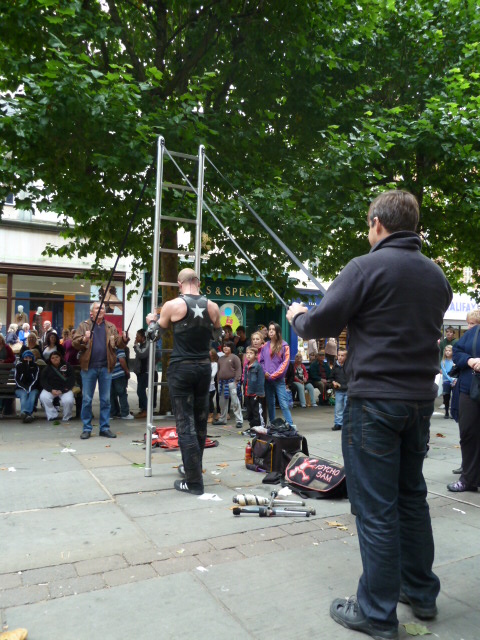 After that we were all ready to head to the youth hostel to check in.  York YHA is huge and one part of it is the original house of the Rowntree family, famous for their confectionary company that made Fruit Pastilles and Kit Kat. Cool and yes I did have to go and buy some Pastilles because I do like them!  We all rested in our room and then I was keen to check out the local shopping area to try and find an extra bag or two for when we go to Spain and USA.  Steve dropped me off for some shopping in peace.  I didn't have any luck finding a bag but found some goggles for the boys for Spain and other items.  Steve picked me up again and we returned to the hostel for dinner; the boys had eaten earlier. Our first day in York was over and we had really enjoyed our time so far.
No comments yet.
Leave a comment