Day 237 Marbella to Granada, Spain
After 24 days in the one place it was difficult to leave the comfort of our 3 bedroom, 2 bathroom, full kitchen and laundry apartment with sea views! The first task was to scout around and find all our possessions that had worked their way into the corner of every room. Unfortunately I didn't think to lift the couch cushions; as Patrick spent some time playing Lego on the couch I am sure a few pieces will forever be in Marbella.  We did willingly farewell some thongs, a sand bucket, a scooter missing a vital piece and my favourite $8 pot with lid that did many a fine meal around UK and Europe.  We did gain a collection of Spanish language books and sailing manuals so we weren't travelling too much lighter for the amount we off loaded.
We made it out the door and up the hill to the busy road that was between us and the bus stop on the other side.  We (me) decided it was better to walk 100 metres up the road to the crossing and then the 100 metres back to the bus stop so that we didn't end our time in Marbella with a tragedy. Finally at the bus stop and the time table indicated the bus was due to come at the time predicted … and it did!  This was an important first step in getting us to the main station.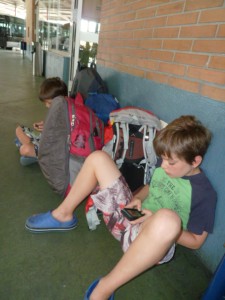 At the main station we checked the platform number and preceeded to wait. We ate our freshly made baguette rolls and sat and waited some more.  Whilst I have previously mentioned that buses in Spain are clean and comfortable … the toilet facilities are on par with many parts of Asia – they are plain disgusting really.  Just like in Asia you must take your own paper and wet wipes; take a kid/friend with you to ensure the door stays closed and you may not want to sit!  You have been warned!
The bus arrived.  We had everything lined up ready to go in the cargo hold and all our carry-on ready.  There is no time to waste when a Spanish bus arrives. At most stations we have been to they don't tell you the bus has arrived and they don't announce its departure.  You snooze you lose!  We were on the bus hooray and ready for a 3 hour journey to Granada via every stop known to man along the way; which was fine because we got to see some unique places.  Also got to see a million, and maybe not an exaggeration, olive trees. I have never seen so many in my life, not even in Inglewood in Queensland that likes to call itself an olive town.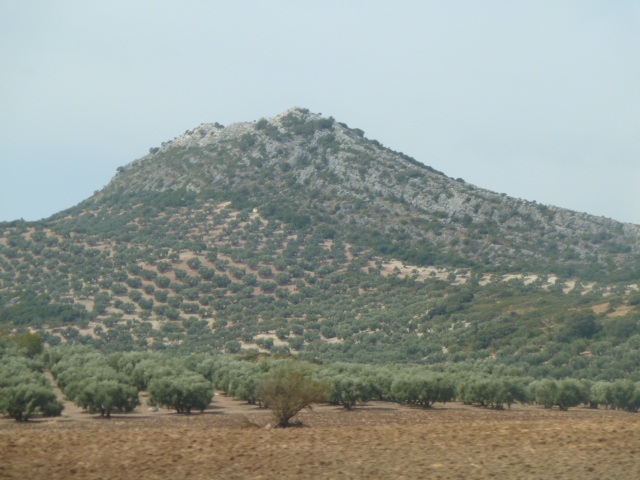 Before we knew it we were in Granada. I was really excited for a change of scenery and after just a few minutes in Granada I was glad to have left Marbella behind.  We found the funniest taxi driver ever who tried to converse with me in Spanish.  I could understand most of what he said when I could hear him but his music was really loud.  The Hotel Molinos was only a short distance away from the bus station and I chose it especially for the price and location; walking distance to La Alhambra (the red fortress).
Our two bedroom suite was quaint and had a nice balcony to watch the world go by.  Granada has a large university and it must be 'pledge week' for all the freshman.  We watched parades of numerous groups of teenage girls and boys go past our building to the drinking place down the street.  They were dressed in costume at times e.g. like prisoners with black and white stripes on their clothes or dressed in large adult diapers!  What fun!
We set off on foot through the city and found ourselves along the river with a view of La Alhambra.  We didn't have tickets yet and as they are notorious for selling out that would be my mission in the morning.  We could have bought advance tickets with an agent for a vastly inflated price but I thought that as it wasn't high season we would take our chances and we had a couple of days in which to visit the fortress. We had made numerous attempts to buy tickets online but their site was never working properly.
By now we were starving and not close to any supermarkets so we bought kebabs, chips and drinks for dinner at 5 Euro a head.  Not too expensive given this is a big tourist area.  We were certainly very full after eating all that food and didn't require any more. The  small supermarket, located across the road from the hotel, was open so we bought long-life milk for our breakfast cereal in the morning.  99% of hotels in UK and Europe do not come with a fridge which is something we take for granted in Australia.  We tucked ourselves in for the night and tried to get a good night's sleep as we had a busy day of sightseeing (something) the next day. Here are some of our first glimpses of Granada … more to come.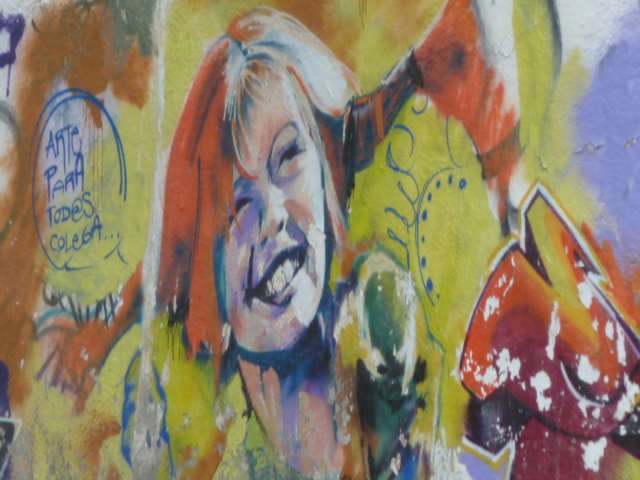 No comments yet.
Leave a comment