Day 240 Granada to Valencia, Spain
Back on the road again or train track today.  Our morning kicked off with a 6.30 am iPod alarm; well actually two iPod alarms and one iPad alarm so there was no uncertainty of sleeping in and missing the train. Steve and I both woke at 5.30 am and that is when I remembered I desperately needed to charge my phone as the apartment complex in Valencia wanted us to call when we arrived at the train station. After sorting out the phone we both attempted to get another hour sleep but that didn't happen. We got everything organised before waking, dressing and feeding children (jam sandwiches) on the run. Once again, we were out the door; checked out of the hotel and in a taxi all within 10 minutes and on our way to the train station.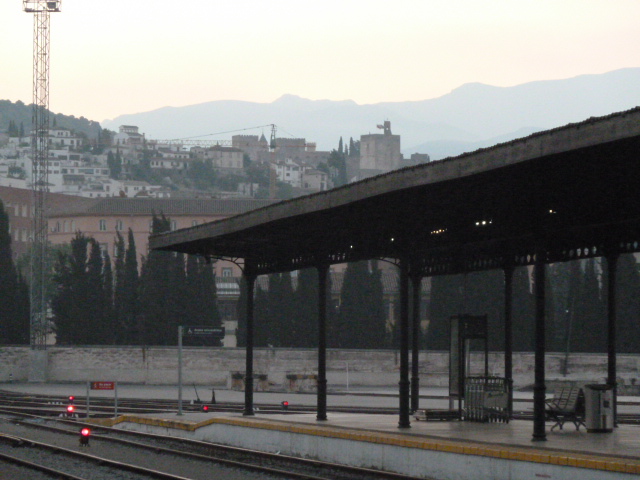 We had no idea what to do once we arrived at the train station and the man seated behind the desk was most unenthusiastic and not terribly helpful. The electronic signage indicated our train would depart from platform 6 which meant walking across three train tracks to get to our platform. Steve grabbed a quick coffee. At 8.10 am a train appeared on platform 6 and we wondered if this could be our train. There were no other trains listed to depart from that platform before our 8.41 am train so we assumed we'd better head over. Sure enough when we showed the 'Atendo' our ticket we were supposed to be on this train! Lucky we got ourselves there and all our bags because there was limited room for luggage and we had a lot! Again, like in Spanish bus stations, there were no major announcements to let you know your train is going to depart and it just suddenly begins to move.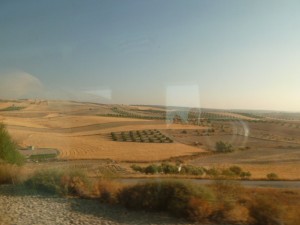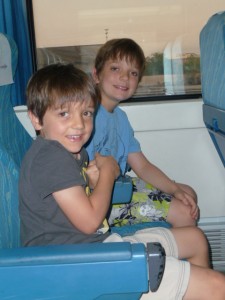 The train ride was very relaxing; comfortable seats, air-conditioning, nice view. We passed millions of olive trees againand whilst it seems like an exaggeration of numbers, it isn't. As far as you can see there were hills covered in olive trees. The ground around the trees is just bare dirt with a grey/red tinge to it and dry as a bone. Sometimes we passed golden fields of harvested hay, but mostly olive trees.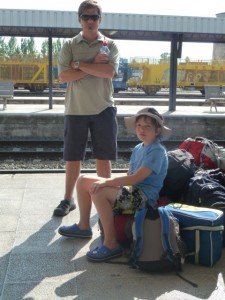 We had to change trains about half way through the journey at a station in the middle of nowhere. Everyone off the train and we all waited on the platform for about 25 minutes.  We passed the time with jam sandwiches and chocolate biscuits. When the train arrived it was a scramble to get the four of us and 10 bags on the train. 10! Yes, we have a bit of extra stuff but we did have 7 bags to start with if I use my handbag and daypack too. We managed to get on and found a guy snoozing where two of us were to sit. Once evicted, and I have no idea why he was there, we were able to get ourselves comfortably sorted again.
We were seated facing backwards on this train ride but we don't notice really as our heads were either in a book, playing with a gadget or staring out the window. The scenery begun to change as we approached Valencia; groves of olive trees were replaced by … yes guessed it, Valencia oranges. Sorry, didn't get a photo of the orchards as it probably would have been too glary and too blurry. There were thousands of trees lining the train line as we headed into the city.
 The Valencia train station is an absolute gem of a building with fabulous mosaic walls and ceilings and tiled pictures all over it. We glanced quickly, and went back two days later to take more photos (as above).  The taxi rank was our destination to get a taxi to our apartment that we were going to be in for 3 nights. We piled into the first taxi in the rank, as you are supposed to do, and I was amazed to see that all our bags fitted quite well into a small sized car; the driver however didn't have a clue where our street was so he yelled out to the other taxi drivers who were just standing around and three of them came over for an animated conversation about how to get to our street!  He did get us to our street successfully but the next dilemna was our apartment we had booked.  It was booked on my favourite booking site but this apartment was different to just a hotel. We were told to email when we were going to arrive, which I did.  We received an email reply with a phone number to call when we got to Valencia.  When we called I spoke to the owner of the apartments (I think) who informed me that he wouldn't be there to let us in for one hour. What the?? No says I.  He informed me that he had called us twice today; well that would be on Steve's phone that has no phone credit and not actually even charged and that he tells me I did not email. I inform him that I most certainly did email him which is how I got this phone number and that I have been travelling for many hours with 2 children and 10 bags and I want in asap!  Aaah!
When he arrives about 30 minutes later, during which time Harris and I have done a couple of laps around the block checking out the sites, he then produces a lease for us to sign. A bloody lease to be in his hotel/apartment for 3 nights!  Well, this is a new experience.  So we read the fine print and sign on the line because what else were we going to do I wonder at 6pm on a Saturday night. We were glad to see the back of him when he left us the two sets of keys. Wonder if we will see him on Tuesday when we hand the keys back to someone? Can't wait to review this place on www.booking.com!
Food was the most important thing so we freshened up and took a stroll down the street to find the two small supermarkets we had been informed about.  We chose to shop at Dia since Harris and I went to one in Granada.  Stocked up with all the essential and a few non-essentials we headed back to our apartment via the local park.  The apartment was in a great location, right down the street from the art gallery, prehistory museum; a bit further to the Torres de Quart (Towers with cannonball pocks from the French!) and a good but easy walk to the other side of the city even (as we would discover the next day). Spag bolg and icecream was on the menu for dinner and we headed off to bed for a good night's sleep.  I'd researched the Lonely Planet guide and we had a big day (2 actually) ahead of us of sightseeing. I had a list of things to see and do.  We would also see some really cool graffiti too.  I thought Granada had a lot of showcase graffiti but we found Valencia had some great walls as well. More photos to come …
No Comments
No comments yet.
Sorry, the comment form is closed at this time.