Day 242 Valencia, Spain
We started the day slowly as the sun doesn't wake you until about 8 am.  I set off for a walk about 9 am and hit peek hour pedestrian traffic with kids going to school and parents off to work.  By the time I returned to our street it was dead quiet in comparison to what it had been 40 minutes earlier. Steve and Harris went on a discovery tour to find a different place for coffee and used the wifi to Skype grandparents.  Patrick and I did some homework today and I did some chores. 
The best use for a bidet, other than the obvious, is … washing underwear.  Yep, if you don't have a laundry then a bidet is just the right size for washing underwear and then rinse in the sink nearby!  Our smalls then got hung on the balcony with our travel clothes line so we really looked as if we were Spanish with our laundry hanging out the window! Other good use for a bidet is washing Crocs shoes!
After Steve and Harris returned we fed the kids a snack to give them an energy boost as we were walking to the post office in town.  Steve carried a backpack full of books and Spanish/sailing manuals to mail home.  I was dreading how much it would cost us!  We arrived at the post office and without our Spanish dictionary worked out we should press the red button for a ticket that would allow us to join the queue of 40 people ahead of us to get to the right counter.  Now I know why the post office is so beautiful, because you have to sit and wait for so long they give you something nice to look at!  It looked to be a very efficient numbering system in operation and finally my number was called to a counter.  With my little Spanish and her little English it was communicated that the books needed to go "no avion, despacho, barato"; ie. Not on the plane, slowly and cheaply!  I had said to Steve that I thought it would cost us about 40 Euro to send the books home.  When the lady showed me the price on the computer screen I was excited 41 Euro it said.  I turned to Steve and we acknowledged I was close … but no in fact I wasn't bloody close at all.  That was the darn price for one of the parcels!  Add the other parcel and we were looking at wait for it … 80 Euro!!  Did that wipe the smile from my face or what!  We paid it and left to find a restaurant for lunch to eat the local speciality, paella.  I said to Steve that we really should now go home and eat our own rice after paying that ridiculous bill!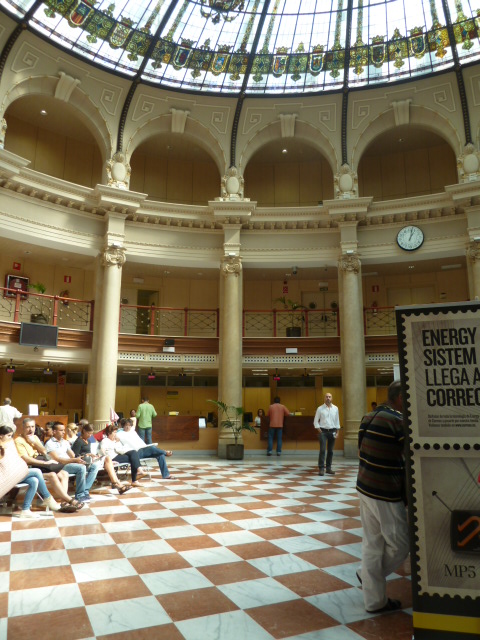 We did continue down some alleys to find the restaurant listed in the Lonely Planet. It wasn't so difficult to find and we seated ourselves ready for some good Valencian food. Hmm, good friendly service and some ok food is what we got.  We did get a discount on the food when I pointed out the insect in with the rice!  Overall though I would rather have cooked at 'home' and saved the money.  That night we ate in again in our apartment and had a great meal for about 5 Euro for all of us – boys had their favourite frozen pizza and Steve and I ate rice with a frozen cook in a pan mix of vegetables and prawns – yum!
After the post office experience and lunch we headed to the Valencia train station to get some photos and also to see the Museo Taurino (Bull-fighting Museum) beside it.  Another Monday casualty, it wasn't open. Bummer.  Apparently they let you into the plaza de toros (bull-ring), next door during your visit to the museum. We decided to head to Mercado Central to see the markets but alas, it was already shut for the day!  Bugger because it is one of the best things to see in Valencia and we wouldn't get a chance now.  Change of plans again so off to the Catedral area to get some ice cream that we had spotted yesterday.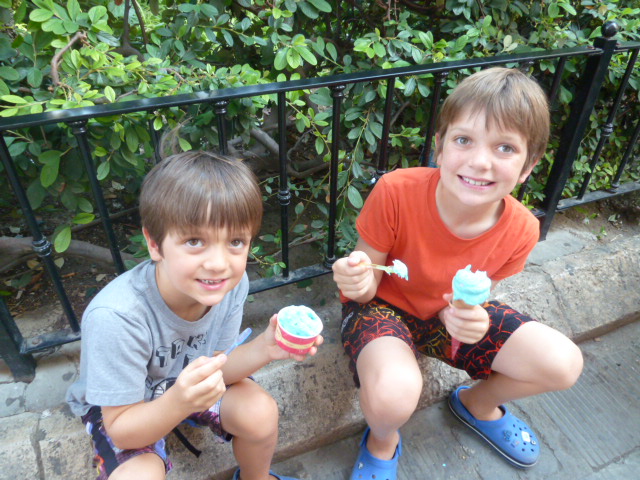 This particular heladoria (ice cream shop) had been reviewed online and was very popular.  The boys couldn't pass up the Los Pitufos (Smurf) icecream which was really blueberry with some pink marshmallows in it!  Steve chose the platano y nuez (banana and walnut).  All up 6 Euro worth of icecream!  You can buy a 900ml tub of iceream for less than 2 Euro but it was a nice treat.  There were so many flavours to choose from that I didn't even bother trying.  I was more interested in the local speciality drink, horchata, served of course at a horchateria.  There were two traditional hortchaterias just near the ice cream shop so I went into the bar area and ordered one.
Horchata (or-car-ta) is a drink made with the grand chufa (choo-fa) nut and mixed with milk, sugar and cinnamon.  There is a South American version that is made with rice milk but apparently is nothing like the traditional Valencian version.  Horchata is supposed to be served very cold and often with flatons, a type of long donut.  I paid 2 Euro for my cold cup of drink and enjoyed it immensely.  I thought the boys were going to follow me to have a taste, they thought I was getting a take-away drink.  In the end I got it all to myself!  Later that afternoon when I went grocery shopping I found a 1 litre bottle of long life horchata in the drink aisle for 90 Euro cents so I brought it home and stuck it in the freezer for everyone to try.  It was probably a little sweeter than the 'real' thing in the cafe, assuming it wasn't a pre-mix, but both were equally as enjoyable.
After icecream and horchata we went to find the La Jonja which was the building which once housed the Valencian silk trade. Even though the building was closed, it is one of the most unique and entertaining buildings we have seen during our travels.  There are little characters all over the building to spot.  Here are some of them!
After our day out we headed back to the apartment and started to get our gear ready for another move.  I went via the local Dia grocery store then home to cook dinner for the hungry hordes.  I spent the evening working on the website and the boys did a great job keeping themselves busy without tv by drawing characters in their notepads.  We had really enjoyed our time in Valencia but were looking forward to our final destination in Spain … Barcelona.
Farewell Valencia …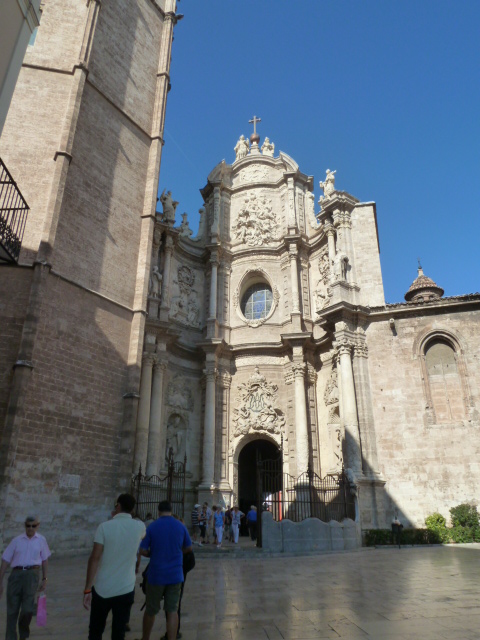 Leave a comment