Day 247 Barcelona to London (again)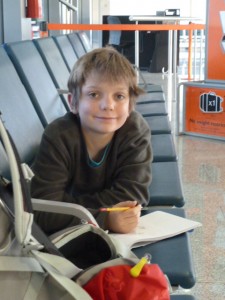 The alarm went off at 6 am and by 6.30 am we had packed up; eaten breakfast and handed in our key to reception at the world's noisiest youth hostel.  We weren't sad to go since we'd had another sleepless night.  Our flight wasn't boarding until 10.10 am but it is always nice to be early at the airport and we weren't 100% sure of the process in getting there.  It turned out to be very easy as we only had to walk two blocks to Las Ramblas; walk along the street to Plaza Catalunya and then we bought  tickets from Aerobus 2 going to Terminal 2 at the Barcelona Airport.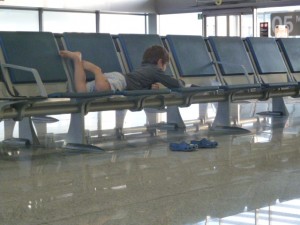 We had a very pleasant walk down the Ramblas since there were so few people. Definitely the best time to try to get to the airport since we didn't have to dodge thousands of people with the kids and all our bags.  Bus tickets were about 5 Euro each and it was a good ride.  We arrived at the terminal, or so we thought, but found out that Easyjet has their own separate building about 10 minutes walk away. Wish they'd tell you that on the ticket print out.
Once we had walked again, we were able to check in andthen make it through all the legal processes before settling into the waiting room. We were the first there and first by at least an hour.  Patrick and Harris had a great time drawing and making paper planes whilst they waited. I don't know if I have mentioned previously but Easyjet has a system where they don't allocate seats; therefore first in line to show your ticket to the attendant means first on the bus and first on the plane. They do let families with children, under the age of 5, check onto the plane first so we thought we'd try our luck again.  The man asked how old Patrick was and I innocently mentioned that he'd just turned 6; well he didn't care and sent us back to the end … and I mean end of the line behind all the people that don't have kids.  So suddenly the first people in the terminal became nearly the last people on the plane! Damn your silly system Easyjet.
When we were able to board the plane,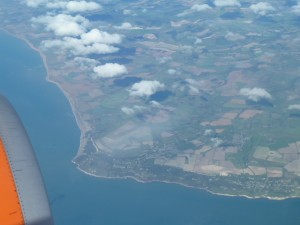 Patrick and I boarded first and scrambled to find two seats together.  We were lucky to get seats that were only about 10 rows back from the front.  Steve and Harris ended up towards the back of the plane together. 
We did manage to get a peek at the Pyrennes Mountains with their snowy peaks as we flew over France.  This photo is our first glimpse of UK soil again.  My seating arrangement did turn out first the best as I met the lady seated on the other side of Patrick, called Louise. I spotted that she was reading a midwifery journal and sure enough she was a midwife.  There went my good intentions of napping all the way to London; instead we chatted the entire way. 
By the time we reached London I was absolutely exhausted.  We still had to negotiate the train system from Gatwick to our hostel.  We had bought Gatwick Express tickets to Victoria Station on the plane which saves some money but more importantly time at the other end.  There was a huge line up of people wanting to buy Gatwick Express tickets at the airport counter and we breezed right by!
Got to Victoria Station and surprise suprise … rail line closures again. We managed to work out how we were going to get to Great Portland Street Station, the nearest stop to us but it certainly required a lot of effort and carting our bags up and down numerous stairs.  I was exhausted after 4 sleepless nights so when we finally arrived at our hostel, after a decent amount of time spent in transit, my first priority was to get some food and then have a sleep.  A well earnt Pimms and lemonade and I slept soundly for 1 1/2 hours whilst the boys played games downstairs in hostel common room. 
I would have been more than happy to just roll over and continue sleeping all night but there were children and a husband to feed so I went to the basement kitchen and began cooking spag bolg for dinner.  After eating dinner we had one thought only and that was getting to bed to have decent night sleep.  We had a lovely quiet room at the London Central YHA and had a great sleep.  We were all going to have a big day of sightseeing ahead.
No Comments
No comments yet.
Sorry, the comment form is closed at this time.