Day 251 A new continent – North America!
At 5.19 am I was wide awake. The iPod alarms weren't due to go off until 6 am but I didn't get back to sleep in that time.  When the alarms sounded I was up and ready to start the day and the final leg of our RTW adventure.  Hard to believe we had just completed 4 months of travel throughout Europe and previously 4 months of travel throughout Asia.  The boys were really excited this morning and very helpful in getting out the door on time.  We ate breakfast in our hotel room which consisted of long life milk and a cheap box of chocolate Weetabix. Side note:  If you are in the UK and fancy a cereal similar to Weetbix and Vita Brits then Weetabix is perhaps as close as you'll get (and doesn't have to be chocolate flavoured).  Here is the 'but':  they are extremely crumbly and the packaging useless.  You can't get the bix out of the box without the whole thing crumbling everywhere and the packaging ripping and hence mess everywhere.  You have been warned.
Anyhow, we ate, packed, dressed, counted heads and bags and set off to the bus stop right outside the Premier Inn London Heathrow to catch the Hopper Bus to Terminal 3.  The first bus that came past was absolutely packed and we were all prepared to get on when informed it didn't go to Terminal 3. This wasn't an issue since there really wasn't enough room for us and our bags on that bus anyway.  The next bus that came by was the right one and we could easily stow our bags and sit for the 15 minute ride.  We made it to the airport easily and again the whole process of check-in, security etc went nicely.  London Heathrow actually has 'family lanes' to speed through security.  Quite handy as you don't have to line up with so many other people, take off your belt, unpack half your carry on and try to spot 2 kids all at the same time. 
Once through to the other side we waited in the large seating area surrounded by shops.  We had about a one hour wait  before our flight was allocated a departure gate so in this time we window shopped; the boys did some homework and we drank our final Starbucks in England.  Finally off to our departure gate and our boarding passes and passports were checked another 3 times; don't think they have ever been so checked in all our flights.  We didn't have to wait too long in this waiting room before boarding but … once we had boarded it was evident very quickly that there was an issue with the air-conditioning.  It wasn't that it was too cold; it was stinking hot and only blowing warm air onto the back section of the plane.  Over one hour later of sitting on the tarmac the problem was finally fixed and we were able to take off – hooray.  Lucky we didn't  have any tricky connecting flights in  Chicago.
The flight was overall pretty good, although American Airlines needs to update their entertainment system. Harris was most disappointed to see that he didn't have his own private TV in front of him, only one to share hanging from the ceiling.  He quickly got over that we he worked out that the first movie on was the latest 'Pirates of the Caribbean' movie. Lunch arrived during the film and I chose to sleep through the rest of the movie after eating.  Patrick managed to have a good snooze too.  There were spare seats throughout the cabin so the original two seats were had been seated on became his bed and he slept for over an hour. 
I enjoyed two seats by the window and got to see the view as we flew over Canada.  Have no idea what I was looking at but could see a lot of water and some snow!
We made it to Chicago finally and through the process of border security, customs, baggage claim and then out into the USA!  We were going to negotiate the public transport system to get to our hostel so the first thing we had to do was find the metro train system, called the 'L' or 'El'.  This was easily done and we were on our way. Chicago has a raised train line so it gives you a really good view of the neighbourhoods as you travel to your destination.  We made it to Fullerton Station and then had a 10 minute walk to the Chicago Getaway Hostel; another hostel I'd booked online.  What a fantastic hostel – if only all hostels could be as great as this one.  We had a large 4 bed room with private bathroom.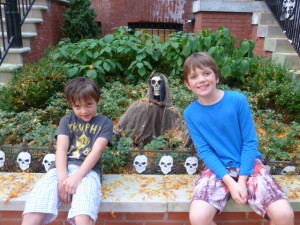 We all freshened up and went for a walk down the street to buy some groceries for dinner.  A few of the houses were decorated for Halloween.  Armed with a few basic groceries we headed back to the hostel for dinner.  As we were so exhuasted (6 hour time difference to London) the boys and I ate cereal for dinner and Steve went to the trouble to cook himself scrambled egg and toast!  It was 1 am London time when we went to bed and hoped for a good night sleep.
Leave a comment