Day 254 Chicago to Calgary, Canada
I woke up feeling like I hadn't slept much at all after my late night of drying clothes.  We got ourselves packed; ate our free bagels for breakfast and set off for the airport.  We had to walk to Fullerton Station; get the train into town; change lines for the O'Hare line and get to terminal to check-in and do it in a hurry.  We probably should have left a good 30 minutes earlier than we did but for some reason we hadn't and today we were cutting it fine to get to the airport in time.  The airline states that you have to check in 60 minutes before boarding or you can't check your bags – we were going to be close.  What on earth would we do if we missed check in and couldn't check our bags?  I didn't want to find out.
Thank God for the Kindle on this occasion.  It has great 3G and wifi so on the way to O'Hare and the train I was able to check our flight details and find out which terminal we needed to go to so we could go there directly when we arrived at the airport.  This was a saving grace when we did get there because we didn't have to wander aimlessly looking for boards etc to find where we needed to be and waste valuable time.  We made it – hooray, but not without some stress along the way.  Steve and I agreed that being 1-3 hours early is much more relaxing than 10 minutes early!  The computerised check-in service was a new experience but not any easier or quicker than a face-to-face check in.
We still had no time to lose once we checked our bags as we had just 30 minutes to make it through security and find our gate.  We arrived at the gate with just enough time to toilet, find a chocolate snack reward at the shop and board our plane.  Our plane was pretty average.  Budget cuts on airlines mean you now get a drink but they don't offer any free peanuts or a cookie anymore.  Luckily I had made sandwiches that morning before leaving the hostel.  We sat back and watched 'Captain America' on the shared tv screen and enjoyed looking out the window.  Calgary was our final destination but we had to fly via San Francisco – yes, all the way across the country and then back track a good distance.  When we arrived in San Fran we were all hungry since our small supply of sandwiches and mini peanut butter cups had only just kept the worms at bay.  We were in luck since our gate for our flight from San Fran to Calgary was just down from a Subway – sandwiches for all and we were all happy travellers again. 
Next flight to Calgary went smoothly and we got a foggy view of the Golden Gate Bridge and San Fran as we flew out.  As we approached Calgary we saw lots of snow capped mountains, which got the boys all excited about the prospect of snow.  It was fantastic to finally touch down in Calgary because it meant our long day of travel was nearly over. Once again we made it through customs and security and retrieved our bags.  We had booked a hire car online and easily found our way to the office to get our Ford Escape – our trusty vehicle for the next 30 days.  The guy who served us noticed me filling up our tiny water bottle at the water fountain and gave us 4 bottles of water – thanks because they were to come in very handy.
We loaded our comfy vehicle; plugged in our address into the GPS and set off for the hostel.  It wasn't a long drive at all from the airport so before we knew it we were checking into our comfy room; drinking some 'free' hot chocolate and going to bed!  We had a big day of sightseeing ahead of us.  As there was only a one hour time difference between Chicago and Calgary, we didn't suffer any jet lag at all following this day of travel.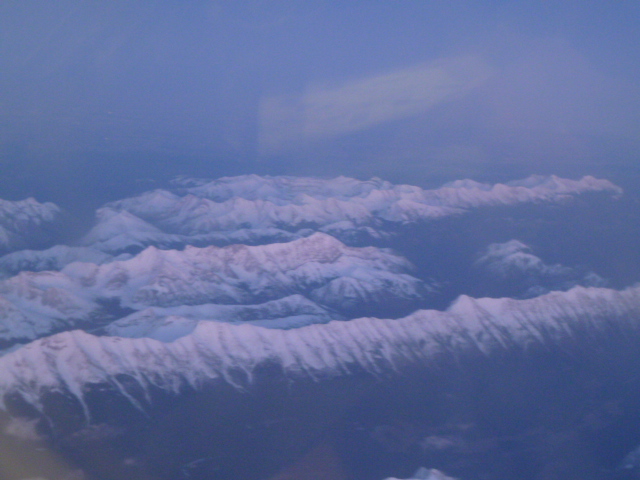 Snowy peaks as we approached Calgary, Alberta, Canada.
Leave a comment