Day 256 Calgary to Brooks, Alberta
Pancakes for breakfast again at the Calgary YHA; great when someone else makes the batter and cleans up the mess after!  Packed and ready to hit the road for road trip Canada (and USA)!  Today we were heading to the small town of Brooks because it was close to the Dinosaur Provincial Park, a World Heritage Site with the largest and most spectacular area of badlands in Canada and where 40 different species of dinosaurs, from the late Cretaceous Period, have been found. Cool!
On the way we made our fourth stop at our fourth different Walmart in two days.  Yes, I am not kidding.  Why so many visits to Walmart? Well, the first 3 where for food and this one was to see if they had a better range of beanies for kids.  Every Walmart we have been to has a different range of products. Some had no kid beanies, gloves or scarfs at all but this one in the small town of Strathmore had a huge range. We walked out with mittens and beanies for both boys and some long underwear for Steve.  Back on the road and we made it to Brooks for lunch.
What do you see on the way to Brooks?  Hmm, lots of farms; small oil rigs pumping away merrily; cattle; round bales of hay and rectangular bales of hay; barns and farming machinery; lots of flat open grassland and a good number of wetlands.  On the highway our Ford Escape is one of the smallest things driving down the road.  The standard size vehicle around here seems to be a Ford 150 and the pick-ups/utes get bigger from there!  Check this one out!
Upon our arrival in Brooks we were greeted with a terrible stench that had Harris and I gasping for breath (nearly).  What on earth was that smell?  We were to find out later.  We drove down the main street and parked the car at a little park with some seating so we could eat our leftover BBQ on sandwiches.  It was a freezing cold picnic in the park so we ate quickly and got back in the car to find the visitor information centre. The centre had a great selection of brochures so I walked out with an arm full of reading.  The staff were very friendly and obviously loved their stinky town!  We set off for the Dinosaur Provincial Park, about a 45 minute drive north of the town.
 Model dinosaurs in some fields indicated that we were approaching the park and we started to see a change in the landscape as it became more eroded.  The Badlands area was once a lush coastal plain but is now eroded by glacial melt-water. Let my photos tell the story!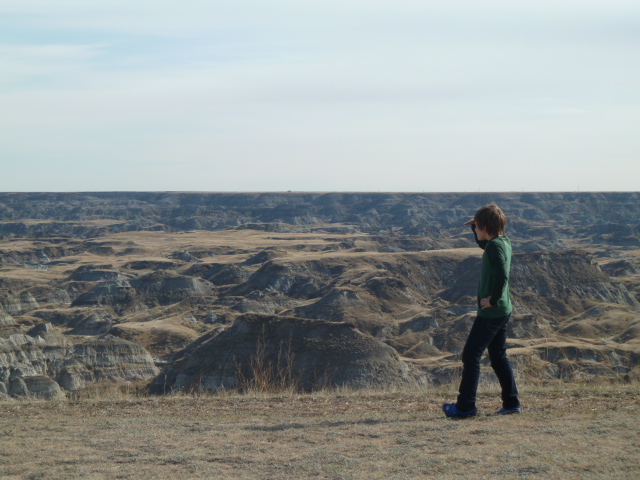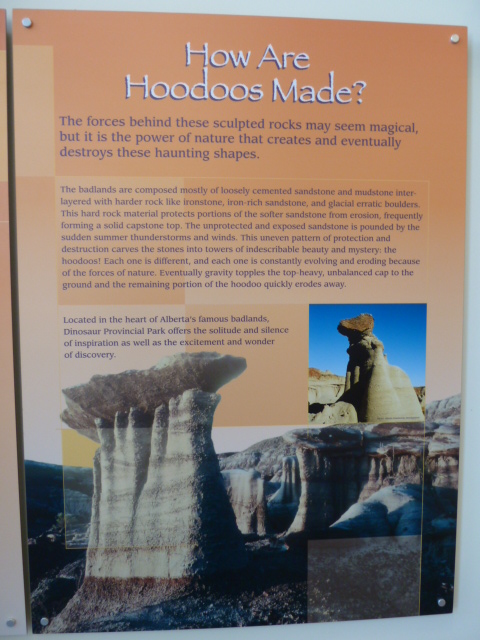 The information centre had a great display and lots of interactive technology for kids to enjoy.  My favourite display was the micro fossils.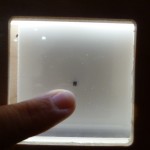 Amazingly I have never thought about fossils being tiny; generally everyone thinks about big dinosaur bones but the micro fossils such as tiny claws and teeth were really cool.  Makes you wonder how many of those tiny fossils are out there in the park ready to be discovered. 
Just beside the information centre is the start of a small trail which we followed.  The landscape has been eroded by water creating 'hoo-doos', rock structures that stick up above the landscape.  We had the entire place to ourselves being a Monday and out-of-season.  As we walked along the trail we spotted two mule deer down by the creek; a couple of cottontail rabbits; numerous bugs and magpie birds.  We enjoyed afternoon tea at the campsite playground and then drove the 3km loop that takes you past two fossil houses. The fossil houses have been built around dinosaur skeletons.
After our share of dinosaurs we headed back to Brooks to check into 'The Plains Motel'; a simple but comfortable motel room with two double beds, fridge, microwave and tv.  The wifi was ok for my computer but Steve had to stand right beside the bathroom to use the wifi on his iPad.  I headed ou for a walk to Walmart and the local grocery store to get some items for breakfast and lunch whilst the boys went to the motel pool for a swim.  After the boys got rid of some energy in the pool we went across the road to Ricky's Grill for dinner.
Ricky's was a nice restaurant with a kid's menu and activity booklets to keep the boys busy whilst waiting for meals.  America and Canada cater for kids amazingly well. Every place we have gone for food has activity booklets and crayons for kids and they put plastic covers on the cups for kids to reduce spills!  Got to love that.  I had a great cobb salad with cornbread; something I have eaten in a very long time.  Steve got the roast beef and the boys enjoyed spaghetti and burgers.  The big screen tvs in the restaurant showed ice hockey and more ice hockey; the sport of choice in Canada.  Back to the motel for some tv before bed and Steve and I did some researching and bookings so we had somewhere to sleep the next night and tickets booked for ice hockey in Edmonton.  You can't come to Canada at this time of year and not go to an ice hockey game!  Did you know they freeze the ice hockey pucks before a game so the rubber isn't too bouncy?!
Leave a comment