Day 258 Red Deer to Edmonton, Canada
We started the day with breakfast at the Howard Johnson motel in Red Deer. I was expecting basic coffee and donuts like we had experienced when travelling 7 years ago, but was pleasantly surprised when greeted with fresh bagels, cereal, juice, coffee and fruit.  We filled up as much as we could and set off for the 2 hour drive north to Edmonton.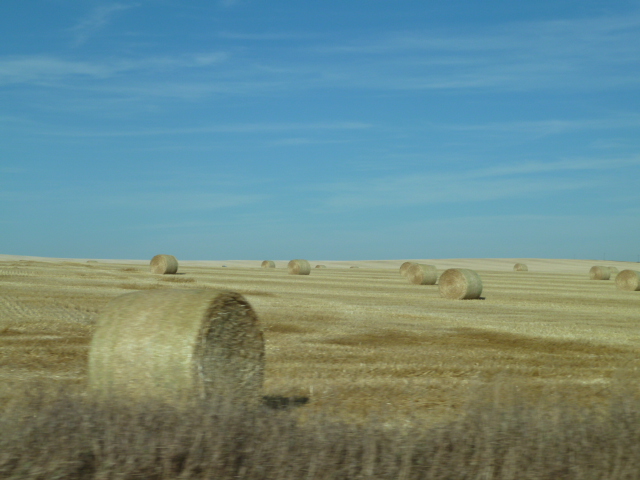 The highways are duel lane and split which is just as well because our car is one of the smallest things on the road.  There is a constant flow of large trucks, farm machinery and unidentifiable large things going down the road.  We set our GPS as best we could to get us directly to the West Edmonton Mall (WEM), the now 4th largest mall in the world (was 1st until 2004).  Well, our GPS sent us astray and we ended up not far from the mall but in a new housing development estate and had to reset the GPS to get us past roadwork and road closures to the mall. About 30 minutes later we arrived at the mall and parked easily since it was a weekday. 
Hooray – first stop in the mall the bathrooms and then a food court.  I had a map already and had marked out the location of the shops I wanted to hit!  On our quest to try different fast food we had Dairy Queen burgers for lunch and I tried the Blizzard of the Month which was pumpkin pie – yum. Patrick enjoyed his icecream sandwich.  Fueled up and ready to shop we set off the discover, first together and then with one kid each.  WEM has all the chain stores that you find everywhere across most of North America but also many more stores and of course you can't forget the world's largest indoor water park, a theme park, an ice skating rink and two live seals that perform daily.  We caught the seal performance completely by chance and it was well worth watching.  You can pay money to sit in the seating arena down at seal level or watch for free from the balcony above; of course we took the free option!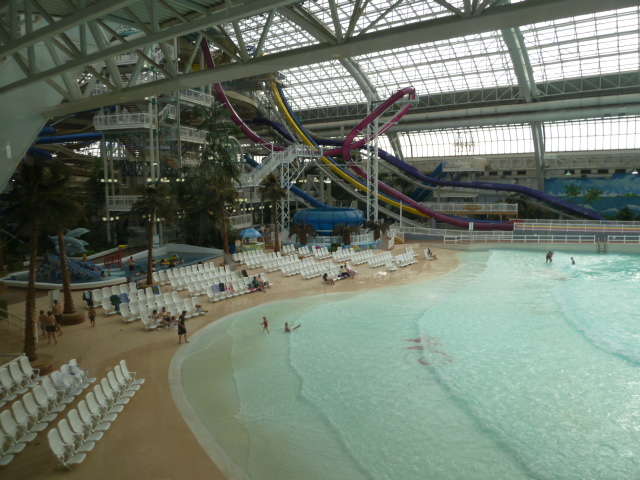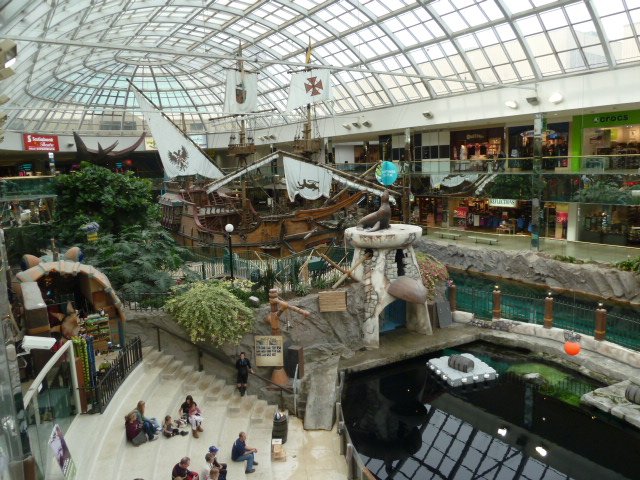 We made it out of the mall without spending too much money and we had plans of returning the next day to see the parts of the mall that we missed and to perhaps go ice-skating.  We decided that we didn't need to spend $90 to enter the water park or theme park since we have been there done that and have Florida theme parks ahead of us.  So, of to the hostel it was. Again the GPS sent us a little astray since it didn't seem to understand one way streets and road work. We were all happy to arrive and check in.  Edmonton HI is quite large and we had a private room with bunks downstairs; close to the tv room, which pleased the boys.  Once unloaded we walked down the street, to the local Safeway supermarket to stock the pantry for dinner, breakfast and lunch.
Spag bolg was on the menu for dinner again and I had yet another opportunity to cook in a hostel kitchen – not always good.  Some hostel kitchens are clean, tidy and enjoyable to cook in but this was not so great.  The fridge and pantry were overcrowded with stuff and it didn't look as if the staff did anything to help keep the place in a state of order of cleanliness.  My favourite was the small food locker with a bag of fermenting fruit in it, that surprisingly didn't smell, but had become a breeding ground for fruit flies! Steve put a sign on the door 'Please Clean Me!'  After dinner, tv and showers the boys all went off to bed whilst I struggled with the intermittent internet.  Finally off to bed, ready for a big day of shopping at WEM tomorrow.
No comments yet.
Leave a comment