Day 259 Edmonton, Canada
Our day begun with our own breakfast in the hostel in Edmonton and then I set off for a walk to the Old Strathcona district just a block away from us.  This is an 'old' area of Edmonton, which really isn't that old but is by Canadian/Australian standards.  The 100 year old buildings are now home to cool coffee shops, clubs, bookstores etc and have 'character'.  When I returned to the hostel the boys were doing a good job with their homework so Steve and I started planning our day.  I was looking into where we could go ice-skating.  I found online that the city of Edmonton offered 'free' drop-in public skating at all their rinks but when I called and spoke to them they no longer have skates for hire, due to hygiene reasons (maybe Canadian all have foot rot?) so that wouldn't suit us at all. We were hardly going to go out and buy 4 pairs of ice-skates so we could skate free for one hour!  We even drove past 2 privately listed skate rinks but one looked shut up and the other wasn't even at the address that was listed!  That left one option – West Edmonton Mall! 
Gosh, if I had to go back to the, once largest but now 4th largest mall in the world, then I'd just have to do it!  We headed straight to the ice-rink as they were only open from 11 am til 1.30pm for public skating today; which was more than enough time for Patrick and Harris's first ever ice-skate.  Once all laced up we headed out.  Steve did well for his first ice-skate in more than 10 years and his 5th time ever.  Patrick, complete with head gear, clung to the wall with one hand and to a parent with the other and tired quickly.  Harris set off on repeated laps around the rink with one hand on wall; then eased off to being close the wall and then by the end of our session was able to skate around really well without needing the wall too much!  Karina, having grown-up in a city in Far North Queensland that actually had an ice rink, took off and nothing held her back!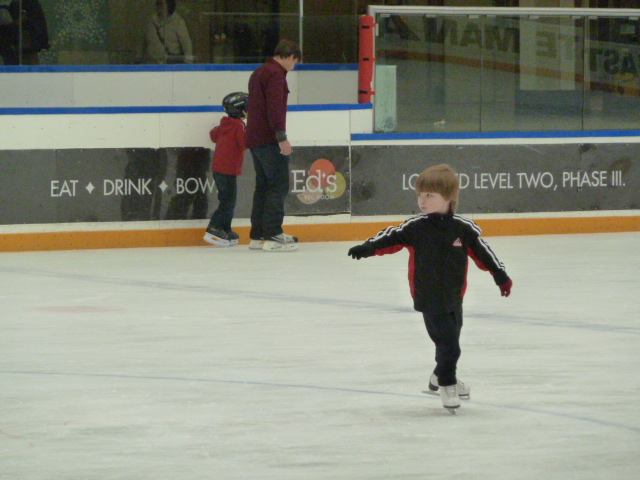 We all had a great time skating and weren't too concerned by the fact that the locals all skated as if they were born with ice-skates attached to their feet.  Check out this little guy in the photo above.  The funny thing is he can skate remarkabley well at about 4 or 5 years of age, but Steve noticed when they were all in the bathrooms together that he couldn't wipe his own butt!  Funny.  By the end of nearly 2 hours of skating, Steve's knees and my ankles had had enough by the time the buzzer went off at 1.30pm and we gladly took off our iceskates.  Next thing … shopping.  We went separate ways so I could have some 'birthday' time in the mall. I bought myself some new boots, scarf, hoodie and shirt.  When I met up with Steve he wanted to buy some boots so we headed off to buy them and get me some 50% off running shoes.  Nice to upgrade our worn out backpackers wardrobe! 
After the public ice skating session there were lessons for kids and teens.  We spent a bit of time watching and enjoyed seeing the  teens in their special outfits skating solos for the crowds of shoppers.  Certainly not your average shopping mall experience.
Back to the hostel and we then set off for a walk to the local supermarket to buy groceries for dinner.  Perogies were on the menu.  What you ask?  Perogies are delicious little Eastern European dumpling things with potato and cheese/onion in them.  They can be fried or boiled and best eaten with sour cream.  I bought whole wheat with potato and cheese and did serve them with fried onion and mushroom and sour cream. They were an instant hit and earnt "This is the best dinner ever" award from Patrick. The leftover sour cream will go well with more perogies for lunch tomorrow I think.
The boys had eyed off the hostel dvd/video collection so we set them up in the tv room with popcorn to watch the first Star Wars movie; I typed away on the website and Steve watched the movie too.  Off the bed then so we could sleep well before our last day out in Edmonton tomorrow … and we had no plans to go to West Ed Mall!
No comments yet.
Leave a comment