Day 261 Edmonton to Lloydminster Border Town
Brekky in the hostel and then out the door to start our journey to Lloydminster, a town bordering both Alberta and Saskatchewan.  As we were staying in the Old Strathcona area of Edmonton then it was nearly compulsory that we stop at the Old Farmer's Market on the way out of town since it is only open on a Saturday.  The market is indoor, as you might expect of a market that opens all year round in Alberta!  We were glad that we made the stop and in about 30 minutes we had walked the whole market admiring the fresh produce and home made delicacies.  Would have loved to have bought some perogies, flavoured cream cheese and gourmet bagels but we left with some peanut brittle and mint chocolate instead which was delicious.  Think I'll eat some now …. yum.
Back on the road and we stopped at 'Value Village' which wasn't too far down the road.  This is a large preloved department store.  We had wanted to go to the one in Calgary but didn't get there because we had heard it was a good place for Halloween costumes and for putting together your own costume.  We weren't disappointed and I declared we weren't leaving without costumes.  The boys successfully chose their attire but I can't reveal what they will be until Halloween!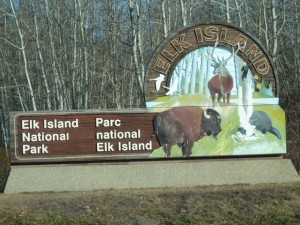 Next stop, Elk Island National Park, not far out of Edmonton and boasting one of the highest densities of grazing animals in the world!  Really?  We didn't notice!  We drove and walked and drove some more looking for these illusive grazing animals. Whilst we could see the scat evidence of them, we could not for the life of us spot a bison, elk or deer. As we walked around small lakes we spotted enough beaver lodges and chewed trees but again no beaver.  We did see a small orangey coloured squirrel; Steve spotted a huge red woodpecker and we all saw and heard a smaller wood pecker.  Check out this tree that has been well pecked!
Best chance of seeing grazing animals was Bison Drive – thankfully within minutes of entering the loop drive we spotted bison!  Finally we believe the park's spruik.  They were pretty cool to see. 
We had a picnic in the park and walked part of the Beaver Pond Trail and saw numerous beaver lodges, but no beaver.  On our search for a loo we stopped at Astotin Lake and nearly got blown away by the wind.  Would love to know what the wind chill was.  The boys enjoyed expending some energy in the large playground before jumping back in the car.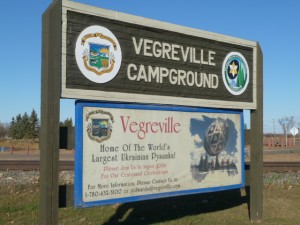 Our drive continued to Lloyminster via Vegreville to see the world's largest  psyanka.  Yep, pysanka or Ukranian Easter egg! Let me just show you the photos.  If we weren't driving past this town I wouldn't suggest going miles out of your way to come here just to see the egg.  The town is good for a fuel stop and pitstop and there is a cool playground not far from the egg.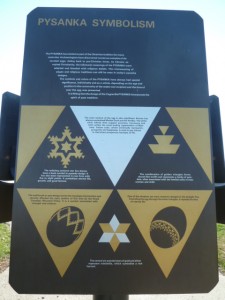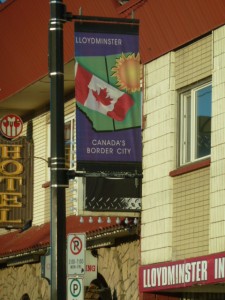 Back on the road to Lloydminster with no other stops anticipated. As mentioned Lloydminster is a border town; in fact that only town in Canada that borders two provinces, Alberta and Saskatchewan; and they are quite proud of the fact.  We were driving along nicely until we got to Lloydminster; we weren't sure where our motel was located so we ended up driving over to the Saskatchewan side of the town before I found the address. We had to turn around and go back to the Alberta side so Steve decided to turn around at the next intersection.  Well, he turned and then said to me there was a policeman behind him and he was being pulled over.  Obviously he had just made an illegal u-turn! Before the policeman approached our car he must have checked the registration and noted we had a hire car.  He probably saw it was being hired by Australians because when he came up to us he did the "Do you know why I pulled you over?" thing and we said perhaps because we turned at the lights. Yes, that was why.  Apparently you are not allowed to u-turn at a 'controlled' intersection. Okey dokey we said, now we know. He let us on our way and happened to mention that we were lucky since the fine is very hefty and that he also couldn't believe that we did an illegal u-turn right in front of him!  Pretty funny but thank God we got off without a fine.  Geez my husband is dangerous; first flying kites in Tiannamen Square and then illegal u-turns in Saskatchewan. I haven't been able to find out exactly how much that fine would have been but preliminary searches suggest perhaps $1000!
So, finally we found our Econolodge which turned out to be a very comfortable room for the night.  In the search for dinner we found ourselves at the nearest fast food outlet which happened to be 'Arby's' which is now for it's roast beef sandwiches.  It was on our list of places to eat (once) and we ate it.  It was edible but we don't need to go there again.  The boys got the kids' meal that came with a prize; the prize being a cookie!  It was now dark and quite cold so Steve walked the few blocks back to the motel to get our car and met us at the 'Canadian Superstore'; a really large Kmart type place that also sold food.  These places are always fun to walk around and check out the different things in stock. Once we'd met up with Steve we headed back to the motel. The boys enjoyed watching a Scooby-Doo movie on tv and we spent time researching our upcoming travels.  Off to bed and another day is over.
No comments yet.
Leave a comment