Day 262 Lloydminster to Saskatoon, SK
The Econolodge offered a basic breakfast of toast, cereal and a selection of cakes and muffins for breakfast which wasn't too bad.  I went for a run around the block in -2C weather with a slight drizzle.  When I got back the boys had started some homework and we commenced packing gear to hit the road again.  Suddenly Harris declared, "It's snowing!".  We all raced to the window to see … and yes it was, just, so we grabbed the camera and jackets and ran downstairs just in time for it to pretty much stop. The snowflakes turned back to icy rain and didn't return.  I told the boys that wasn't 'real' snow and the best was yet to come.  They have no concept of snow yet so it will be exciting when they see big piles of the real stuff.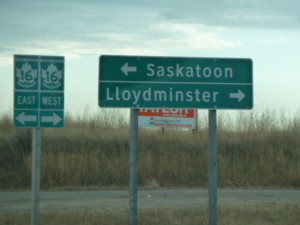 It was time to hit the road as we had a big day of driving to Saskatoon.  A friend asked me why we were going to Saskatoon and the reason being, one day I opened my atlas to the world map and my finger landed on Saskatoon, Saskatchewan.  When we decided to do our road trip to North Dakota and back then it was possible to include Saskatoon in our route. I read about the city and thought it sounded pretty nice and knew it was famous for Saskatoon berries.  Plus it sounded fun to visit a place you just randomly find on a map.
We didn't really have any major things to see on the way to Saskatoon.  We passed exits for numerous small towns and pulled off to see Battleford and North Battleford; just to use the loo and playground at McDonalds; which seemed like 'the' place to be on a Sunday in Battleford. Battleford wasn't a very exciting stop.  As we had a supply of food with us we decided to find somewhere to picnic on the way.  We drove and drove until we were hungry and found the small town of Maymont.  We couldn't have picked a smaller town I'm sure – it was nearly a ghost town.  The Central School had a playground and some outside tables so we had a quick cold picnic and hit the road again.  Later I read that the town has a population of 130 people.
Oil, oil and more oil; evidence of oil production can be seen everywhere we have been in Alberta and now Saskatchewan. We also saw a lot of undulating hills and farmland and not a tree in site. A sign on the highway indicated a look-out was ahead so we pulled over to look-out across the Saskatchewan River.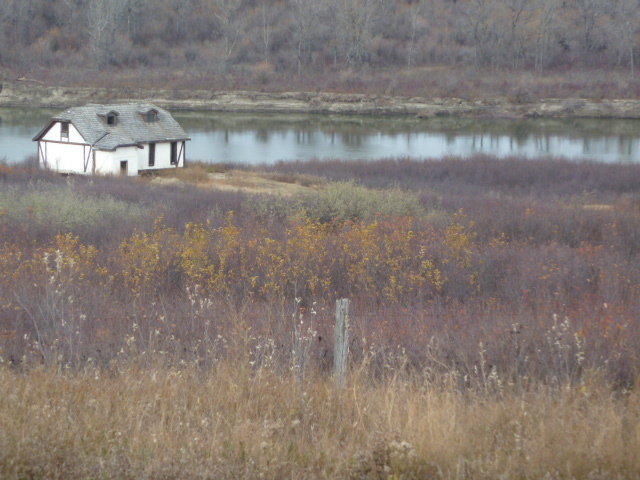 Back on the road and it wasn't far to Saskatoon. It was nearly 3pm so we went straight to the Motel 6 to see if we could check in. As they had a room ready we brought our gear in; freshened up; grabbed a couple of local maps and got back into the car to head to the Berry Barn.  This place is famous for Saskatoon Berries; a small purple black berry that I think tastes kind of like a cherry; and it grows them in its farm that is set along the Saskatchewan River.  The weather was absolutely fantastic as we strolled around the farm after eating our Berry Treasure with icecream – a crumble with Saskatoon berries, raspberries and rhubarb.  We shared one dish between us all as we weren't very hungry, plus it cost $6.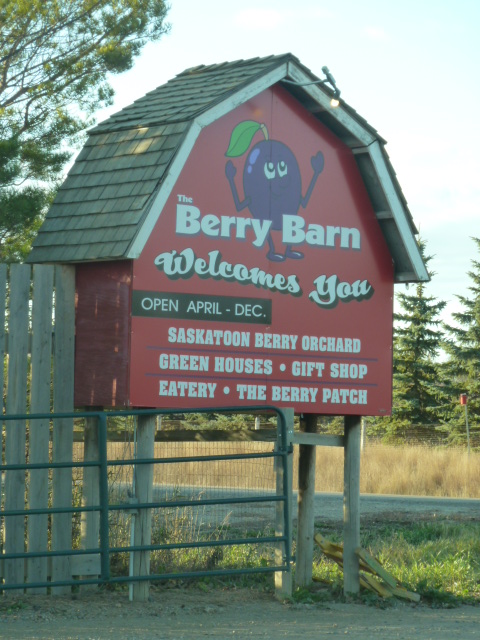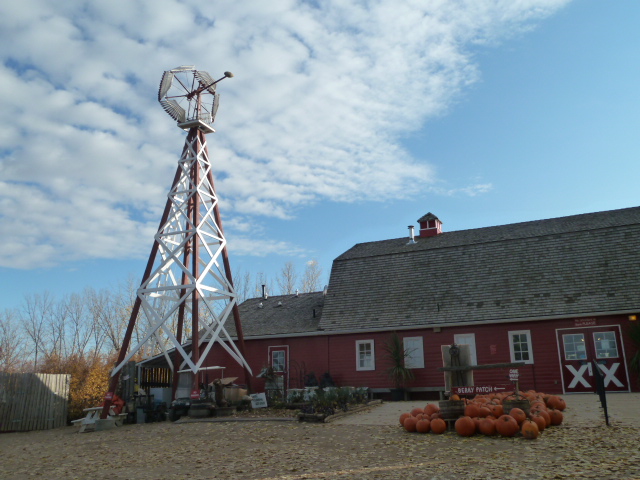 Since the afternoon was still young, we drove around Saskatoon on a lovely Sunday afternoon, found some free parking downtown and went for a stroll along the river.  The Delta Bessborough is a beautiful hotel built before The Great Depression and takes pride of place overlooking the river.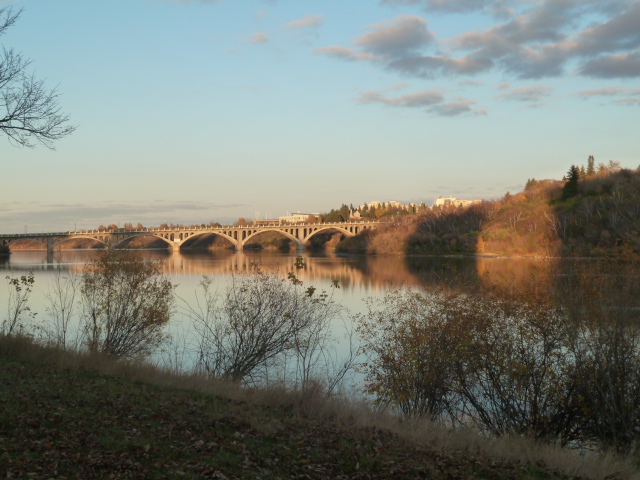 Now it was getting cold, dark and we needed food for dinner. Not wanting to eat out, we found a local mall for a Safeway supermarket and grabbed some salad and mashed potato for dinner. We were wanting to buy a roast chicken for dinner but there weren't any in the display.  Whilst we were trying to think of other options Steve returned to the chicken display and voila … chickens had appeared!  We got to eat a roast chicken for dinner after all in our hotel room.
The motel had an indoor pool and we couldn't hold the boys back any longer so I accompanied them to the large square pool, that was only 1.1 metres deep at the most ,with an adjoining hot tub.  Patrick got to practice his swimming skills.  It is amazing how well he can swim after a couple of weeks of swimming in Spain and only about 10 'proper' swim lessons under his belt this time last year in Australia.  Harris is a great fish already and can swim very well even though he has not had lessons in a long time.  This got some energy out of them and off to bed.  We were looking forward to a lovely day out in Saskatoon tomorrow.
No comments yet.
Leave a comment