Day 264 Regina, Canada to Mandan, USA
We set off early today as we had a long and probably not a very riveting drive to Mandan, North Dakota.  Our motel offered a basic breakfast of cereal, muffins and toast so we filled up; packed the car and hit the road.  It was cold outside, the roadside signs indicated it was -7C.  The sun was still rising as we left Regina for the USA border.  We saw numerous flocks of birds heading south again.  It really was an amazing site to see thousands of birds in 'v' formations and then on the ground together. 
The most excitement came with the border crossing at North Portal from Canada to USA.  We drove up and waited for border security to approach our car.  They asked a few questions then instructed us to park our car, give them the key and then all go into the office for processing; so we did.  We sat and waited until we were called and then handed over our passports.  I filled out another entry card and then started to wonder what all the hoo-har was about. The officer asked me to go to a back room and asked me questions then took Steve and asked questions. He then went out and inspected our car to see if we were trying to smuggle bananas across the border and other contraband items.  Finally we got the all clear and were able to enter the country (again); we didn't expect any issues but were surprised with the attention we received.   Only later when we were talking with our friends in ND did we realised how bizarre it probably seemed for Australians to use that border crossing in the middle of Canada to cross into North Dakota, the least visited state in America!
Lunch was on our minds so we were on the lookout for food. Our best bet was to get to Minot (say My-not) and drive along the main road until we found somewhere to stop.  Minot was hit hard by summer flooding of the Mouse River, which runs through town; we saw some evidence of the flooding still which abandoned houses and piles of debris.  We had attempted to book a motel room online in Minot to break up our journey but due to the housing crisis, coupled with the large number of miners that rent out motel rooms, we gave up on that idea and were going to head straight to Mandan.  Every fast food chain and family style restaurant was on offer in the town so we settled on Perkins's; somewhere we hadn't been to on this trip so far.  I like Perkins because it is very family friendly and the meals are good. We all had a good feed and hit the road for Mandan, a small town over the river from the ND capital city of Bismarck.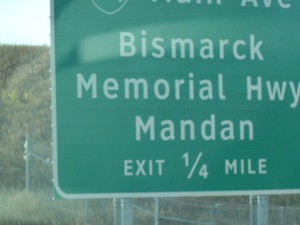 We arrived in Mandan at about 4pm in the afternoon to meet my friend Sandy, her husband Steve and their 4 children Hannah, Tyler, Paige, and Evan, and Cocoa the cute dog; a modern American family.  It was great to be back in the company of friends in a real house again.  Hannah kindly gave up her room for the 6 nights that we were going to stay and the boys scored a comfy couch each to sleep on.  We instantly felt at home in their house and enjoyed Sandy and Steve's company; we had many laughs over Flat Tyre and Blue Moon beers, wine and more beer!  The boys loved having other kids around, not to mention access to a computer and a Wii to play games.
What did we plan to do in Mandan?  Well, not a lot.  Sandy tried to find us 'fun'; we were happy to hang out and celebrate Harris's birthday and Halloween and enjoy their good company.  We didn't feel any great need to see too many sights or drive too far.  Our first night we enjoyed a lovely welcome dinner of chilli and cornbread and got some clothes through the washer and drier. We had another 5 fun days and nights ahead – we would find the fun in Mandan! (and we did!)  More photos to come …
Leave a comment