Day 272 Glasgow, MT to Shelby, MT
Today we got off to a healthy start with a swim and gym session at the motel.  I knew the motel in Shelby, where we were spending the night, has closed their pool for renovation so there was no need to hurry there; instead we chose to make use of the facilities we had available to us before driving for the day.  We had a long drive ahead as we were detouring a good distance to Great Falls and then back up to Shelby.  Our detour was purely to shop for coats as the boys and I still didn't have coats each and the weather was getting colder and the need for good warm clothes was getting more and more necessary. Great Falls was our last chance to get to a big centre to shop and pay in US$ since Canada is more expensive. 
On the way we stopped in Chinook, a tiny little town in the middle of nowhere; had another freezing cold picnic lunch and then jumped back into the car. 
What did we see on the way to Shelby?  Hmmm. Lots of undulating hills; tiny little towns that you barely slow down to drive through before you speed up to 70 miles per hour again; old tumble down barns; occassionally an old covered wagon or two and black cows.  Apparently there are 3 cows to every 1 person in Montana!
The GPS was handy in helping us find the shops when we arrived in Great Falls.  Battle of the coats was close  with a tie between a coat in Scheels and a coat in JCPennys.  Penny's coat won since it was half the price and the boys both got coats with zipout inner jackets like mine that were all on sale!  Hooray.  Last stop before leaving Great Falls was Starbucks so we had enough umpf to keep on driving.  It was a gorgeous drive north as mountains came into view and the sun was setting throwing pink colours everywhere.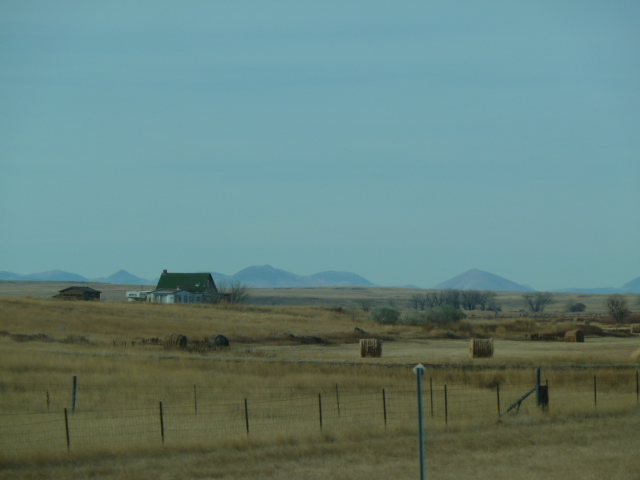 It wasn't at all difficult to find our motel in the small town of Shelby. We drove down the main street and could easily picture it in days gone by as a wild west town!
Dinner was a trip to the local 'Albertson's' supermarket again and I got some microwaveable dinners and meat pies as we had a microwave in our room. The motel had a great guest laundry so we managed to wash and dry everything for $2!  Bargain wash.  With the laundry done, kids fed and tucked into bed we toasted the end of another day of travel and another day of driving.  We had an amazing day ahead of us as we were headed to Waterton Lakes, a small town in the Waterton National Park.
No comments yet.
Leave a comment