Day 273 Shelby, MT to Canada again
Time to swap currencies again and put aside the US dollars and whip out the Canadian loonies again, we were going back to Canada!  We had the best 'free' breakfast at our motel with make your own waffles; biscuits and sausage gravy and all the other breakfast regulars.  Today would be just a short day of driving compared to our last 2 days of trekking across North Dakota and Montana.  On the way from Shelby we took the scenic drive that runs parallel to the Glacier National Park. We didn't enter the park because it would have cost us money and we already had a national park pass for Canada so entering the nation park would be 'free'.  We passed through some very small communities that were pretty much ghost towns; not very helpful when trying to find a bathroom.  The small town of St Mary's is basically a supermarket, without public restrooms, and a huge lodge, restaurant and gas station, all closed for the season. The penguin, taken somewhere in Montana, claims to be the coldest place in the nation; it really was such a blink of the eye place that I don't feel the need to look it up since I wouldn't recommend heading there anyway even if its claim to fame is true!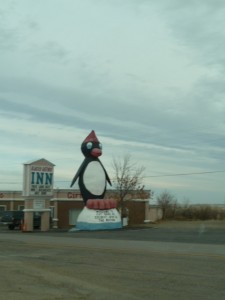 We had another USA/Canadian border crossing to get through and again Steve (this time) got the 3rd degree over why we were travelling; why we were travelling for so long and what we were going to do with the car we had. Duh – it's a hire car what do you think; but of course you can't say that to a border patrol officer!  Our passports were stamped (again) and we used their public bathrooms and hit the road to the small town of Cardston so we could find lunch.  As we got closer to town we spotted a billboard for Subway; this was the best place in town for a quick cheap lunch so we got subs for lunch.  Once refueled we hit the road to Waterton National Park. Along the highway to Waterton Lake are a number of small towns and a large Indian Reservation.  We were really out in the middle of nowhere (again) but it was a really lovely nowhere with fantastic mountain view; hence one town was actually called ' Mountain View'.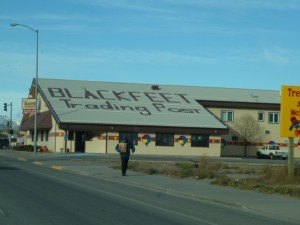 The mountains were getting closer and closer to us as we drove towards Waterton National Park; said to be one of the most beautiful national parks in Canada and rival to Banff and Jasper.  We were so excited to be heading there and the chance of snow of overnight snow was very high.  When we arrived in the park we checked into the lodge and set off on foot to check out the town of Waterton Lake and go for a drive in the park because if there was more snow on the horizon it might limit what we could do with our one full day in the park tomorrow.  Our cosy room was on the second floor of the Wildflower lodge building and had a big comfy bed for Steve and I and a fold-out sofa for the boys.  Check out our photos of our time in Waterton Lake – one of the most beautiful places we have been in our 273 days.  We spotted snow along the way and when we could pull over in a 'turn-out' area we stopped so the boys could touch snow for the very first time!
Mountains, snow, mountains and more snow was the view as we got closer to the park, which made us more and more excited; but nothing prepared us for the beauty of the park.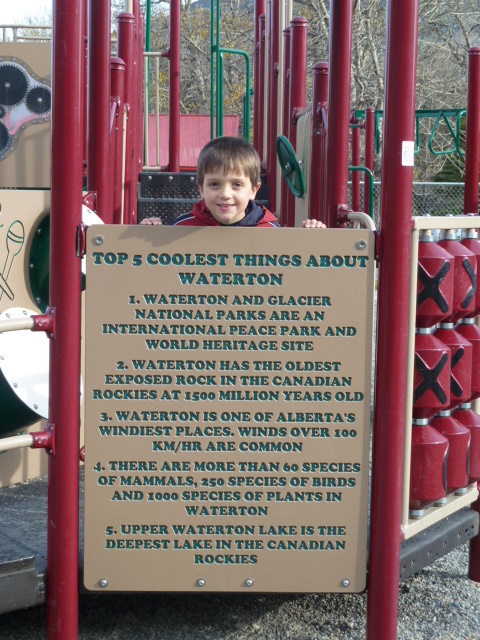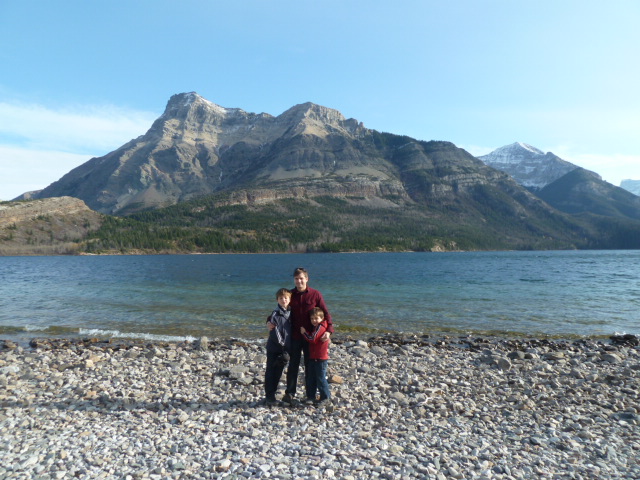 When I booked our lodge I didn't really think about Waterton Lake being a seasonal holiday destination for summer hiking and camping enthusiasts.  As we walked around the town we spotted more deer than people and 'Closed for Season' means closed up, boarded up and don't come knocking until May! That means we had no option but to eat what food we had with us and to eat all other meals in the lodge restaurant.  Breakfast was included in our room deal so that meal was covered.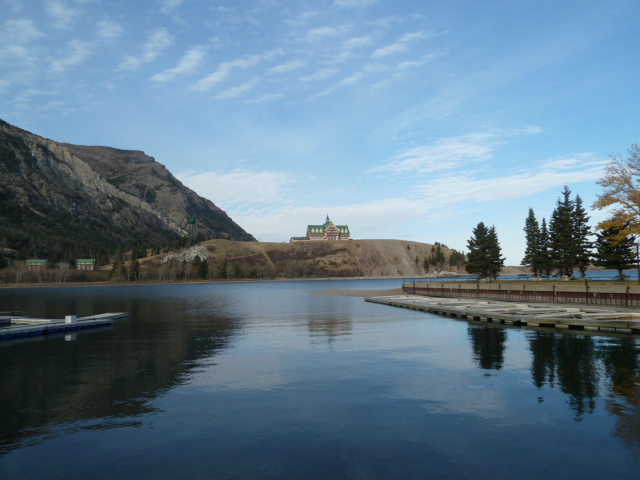 Having seen the sights of the town in our short quick walk, because nothing and I mean nothing was open, we set off for a drive to check out more of the park before dark and to beat the snow. Not too far into our drive we hit a road closure so we turned around and made a few little stops along the road back to the lodge.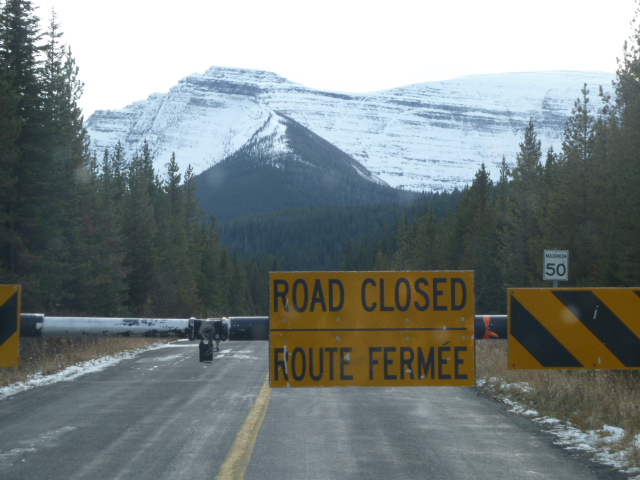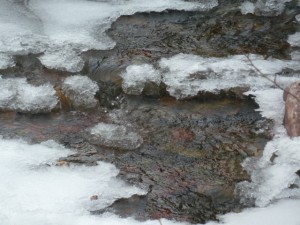 Rowe Creek was one of our stops. As we had the road to ourselves we could safely park the car; get out and walk down to the creek.  The boys started throwing rocks to try and break the ice on the surface.  Small rocks became big heavy rocks and Steve even joined in; but nothing they threw on that ice could crack it.  They made some dints in it but the rocks just bounced and skidded across the ice.  It was very entertaining and we really couldn't believe that the ice was that thick this early in the season.
Before dinner we headed to the recreation centre that is part of the lodge to use indoor pool and gym.  We worked up a great appetite for our yummy dinner at the lodge.  The boys enjoyed big burgers and fries and Steve and I both got the Alberta beef stew – it was delicious and we all walked away full.  Off to bed with the promise of snow and Harris, who lost a tooth in North Dakota, was now the proud owner of another tooth for the tooth fairy with the matching tooth on the other side having fallen out!  Here is his note for the tooth fairy … and yes, the tooth fairy did bring another 5 US dollars.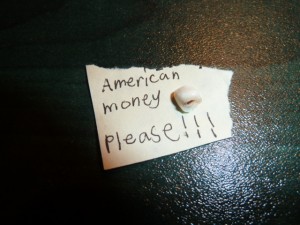 No comments yet.
Leave a comment