Day 274 Waterton Lake, Alberta, Canada
First thing the boys did this morning was run to the window to check to see if there was any overnight precipitation – success, it had snowed and was continuing to snow! A chance to wear the new coats and snow pants that we'd bought and see how our clothing held up in the -5 C weather (with a good wind chill too). We headed off to enjoy a continental breakfast of cereal, toast, yogurt and fruit in the lodge and then out for a walk.  Very quickly we realised we would need to put snow pants on so we returned and got dressed in another layer and set off again. We were now very snug.  It was snowing quite heavily but there was no stopping the boys playing in the snow.  The playground took on a whole new fascination when it was covered in snow and for all we knew, our 2 boys may well have been the only kids in Waterton Lake at that moment to enjoy the snow covered slides.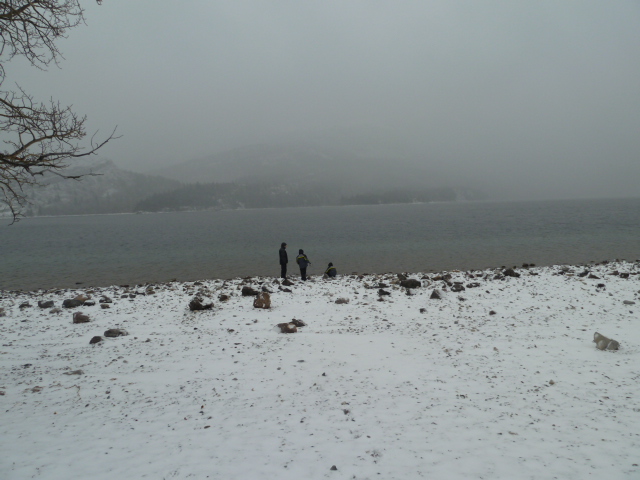 Amazing the difference a little snow makes.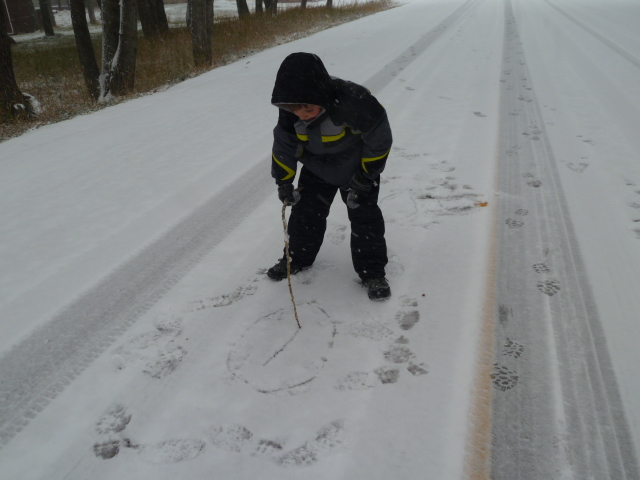 Patrick found a special stick that could be used to make an oval shape when stamped into the snow and then he drew a line down the middle of the oval.  He announced it was a coffee bean!  Have we spent too much time in Starbucks?  After our walk we returned to our cosy room to warm up and have some lunch.  Tinned ravioli, bread and tinned baked beans was on the menu.  The boys headed out for another play in the snow after lunch whilst I rested with an unwelcome headache.  After a rest I gave up and decided some fresh air might help so we all headed out for another walk to the waterfall we'd seen yesterday.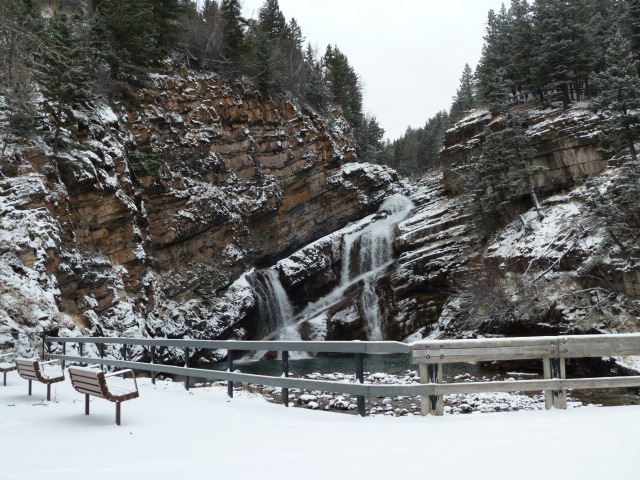 A path beside the waterfall that led up to the top of the hill so we followed it along.  I spotted a blue jay and finally managed to get a decent photo of it after numerous attempts.  I'm sure it was teasing me!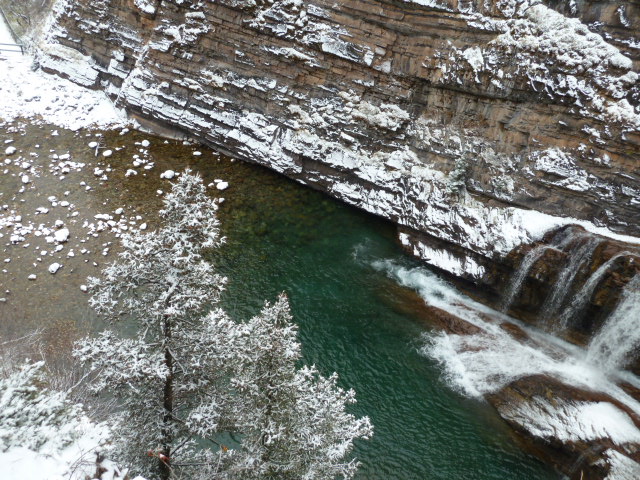 After our walk we headed over to the rec centre where Steve and I both had a session at the gym whilst the kids swam their little legs off.  On the way back I booked us a table in the restaurant and asked if we could have the two tables near the gas fireplace put together so we could sit there; last night I was chilly sitting near the large glass windows.  Booking ahead was a moment of brilliance because being Friday night there were a good number of people checking into the hotel and eating in the restaurant and whilst we ate dinner we saw people being told they would have to wait for a table in the lounge area.  Nobody obviously wanted to sit near us in the regular table and chair area so we had a wonderful quiet dinner, apart from the noise made by our own 2 children.  Burgers and fries were on the menu again for the boys whilst Steve and I shared the vegetarian chilli and the sweet potato fries; what a great choice as those two dishes went really well together.  Can't wait to get back into my kitchen to cook.  We headed back to the room and flopped into bed after a busy day of snow play.  Our wonderful new snow clothes had done a great job of keeping us warm but we realised that we needed different gloves for the boys who were intent on making snowballs and touching every bit of snow they could, plus Harris needed some better shoes as his were not equipped for snow at all. Check out what became of his regular sneakers.  The ends of his shoelaces became ice cubes at the end and we had to smash the ice of them and then leave the shoes in the shower to defrost!  Next item on the shopping list, boots similar to Patrick's that survived walking and playing in the snow very nicely and only cost $20 at Walmart. Not another trip to Walmart? Yep, better get some sleep – Goodnight!
.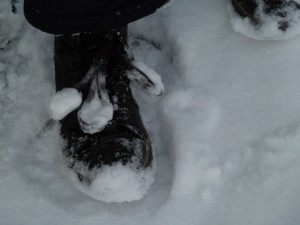 Leave a comment