Day 276 Driving to Lake Louise
I woke up early in our motel room.  The clock said 7 am and then I remembered it was daylight saving time was over so now it was only 6am – bonus time to get online and work in quiet. Everyone started to stir so we got ourselves ready for a biggish day of driving from Lethbridge to Lake Louise.  Our motel had a continental breakfast with make your own waffles and the world's biggest apple and blueberry muffins.  We made sure we had our share before getting into the car.  It was freezing outside and the boys didn't need any telling to get their hats, mittens and coats on just to sit in the car before it warmed up!  The forecast said it would be -14C overnight see we didn't leave any beer or softdrink in the car because it would surely have frozen.
It was an easy drive to Calgary where we stopped for a pitstop and a spot of shopping. I got myself a pair of snow pants and some more long underwear and we enjoyed some Starbucks before hitting the road.  Patrick managed to take one sip of his kid hot chocolate and knock the whole thing over. Luckily he spilt most onto the table and the floor and being for kids it wasn't too hot.  Starbucks made him another one and all was well.  Back to the car and Steve and I sat and ate our chicken sandwiches, made from last night's chicken, before driving towards Lake Louise.
Somewhere on the way we spotted this person on ski-type things with a kite out on a frozen lake. Luckily the part of the lake they were on appeared to be frozen through but the other end of the lake wasn't fully frozen!
One of Steve's workmates in Australia had been announcing her travels on Facebook so Steve knew she was going to be in the same area as us over the next few days.  By chance we sent Nicole a text message and she replied that she was hiking at Johnston Canyon. I quickly perused the map and realised that was along the scenic road I had wanted to drive along and that we had the exit coming up in about 2 minutes! What great timing.  We made it to Johnston Canyon and set off along the walk to the waterfalls, calling out 'cooo-eee' as we went. We figured any Australian would understand that call. We hiked for maybe 15 minutes to the lower falls and Nicole hiked down; we met up along the trail.  Our first contact from home in months since we met up with our friends in Paris.
As you can see, Johnston Canyon was spectacular.  The Lower Falls were great and we hear the Upper Falls are nice too but we didn't hike that far up since we still had more driving ahead of us. We were really glad that Nicole was there at the canyon because we probably wouldn't have stopped there otherwise. Other sites along the way … mountains, snow, more mountains and trees.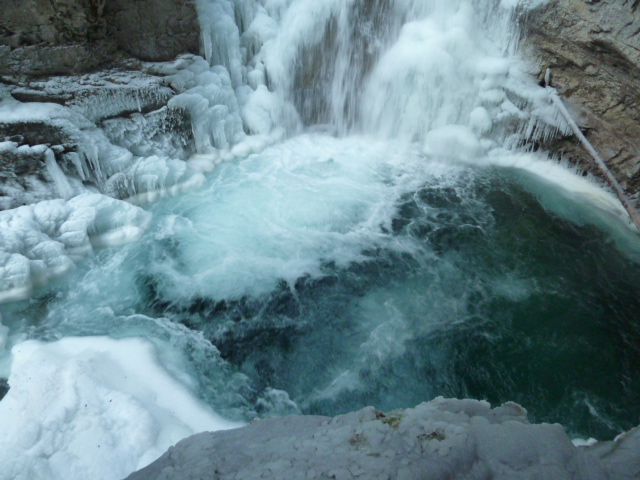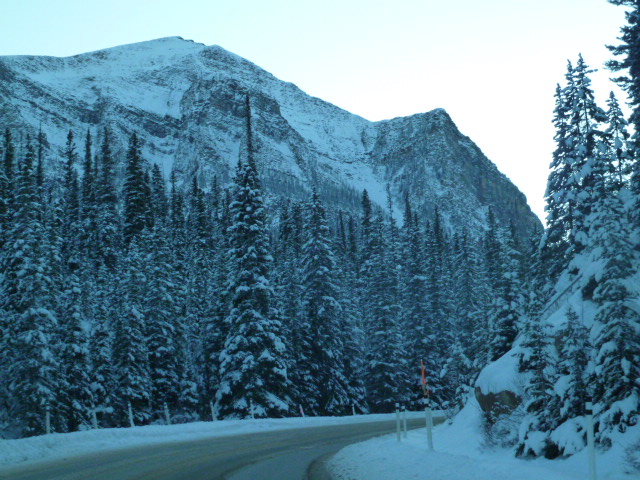 We had made a quick pitstop in Canmore before heading to Lake Louise. I had wondered whether I should buy food whilst in the supermarket but pushed the thought aside as we wanted to try to meet up with Nicole.  Well, when we arrived in Lake Louise there was one option for buying groceries and it was horrendously overpriced.  I was going to make spag bolg, our favourite hostel dinner, but when a small packet of mince, probably 200 grams only, was going to cost me $12 (yes $12) I gave up on that idea and opted to buy a tiny tin of tuna for $3 so I could make a tuna pasta instead. Dinner managed to come together nicely and we all enjoyed a cheaper dinner with the promise of spag bolg as soon as we could get cheap mince.
We also drove up the hill to Lake Louise but decided that dinner was more important and we weren't sure how far it was to walk to the lake.  As the sun was starting to set we thought it better to go back to the lake in the morning. We enjoyed hanging out in the hostel in the evening as it had a wonderful lounge area upstairs.  Our room was also quite cosy so we grabbed a pile of books that were on the public shelves, with a great selection of kids' books as well, and the boys loved sitting on the top bunk reading until bedtime.  Another night in a hostel and a big day of snow play ahead.
No comments yet.
Leave a comment